The number of confirmed cases in the U.S. is doubling approximately every three days. The U.S. has the second-most active cases behind Italy.
As a result of this rapid growth, at least ten states have issued shelter-in-place orders; Louisiana, Connecticut, New Jersey, Ohio, California, Illinois, New York, Delaware, Michigan, and Massachusetts. Philadelphia issued a shelter-in-place order effective 23 March. More states and cities are likely to issue similar orders this week.
New York City mayor Bill de Blasio says the city's public hospitals will run out of critical supplies before the end of March. New York state has over 20,000 confirmed cases, the majority of which are in NYC. The state is testing 10,000 people per day in an effort to control the spread of the virus.
Senator Rand Paul (R-KY) tested positive for COVID-19 over the weekend. He is asymptomatic and self-quarantining. Because of this, several other Republican senators are self-isolating due to potential contact with Senator Paul. This led to a 47-47 split vote over the weekend on a Senate Republican stimulus bill. As more lawmakers test positive or are forced to self-isolate, they may be forced to miss votes, leading to delays or other problems in passing bills related to addressing the COVID-19 pandemic.
On 22 March, President Trump announced the federal government is sending National Guard troops to California, New York, and Washington to support state efforts in fighting the outbreak. These units will be under the direction of governors of those states. President Trump said that the government has "deployed hundreds of tons of supplies from our national stocks pile to locations with the greatest need in order to assist in those areas." According to the president, these supplies include gloves, medical beds, N95 masks and gowns and will be delivered within the next 48 hours. This includes 1,000 additional hospital beds for New York.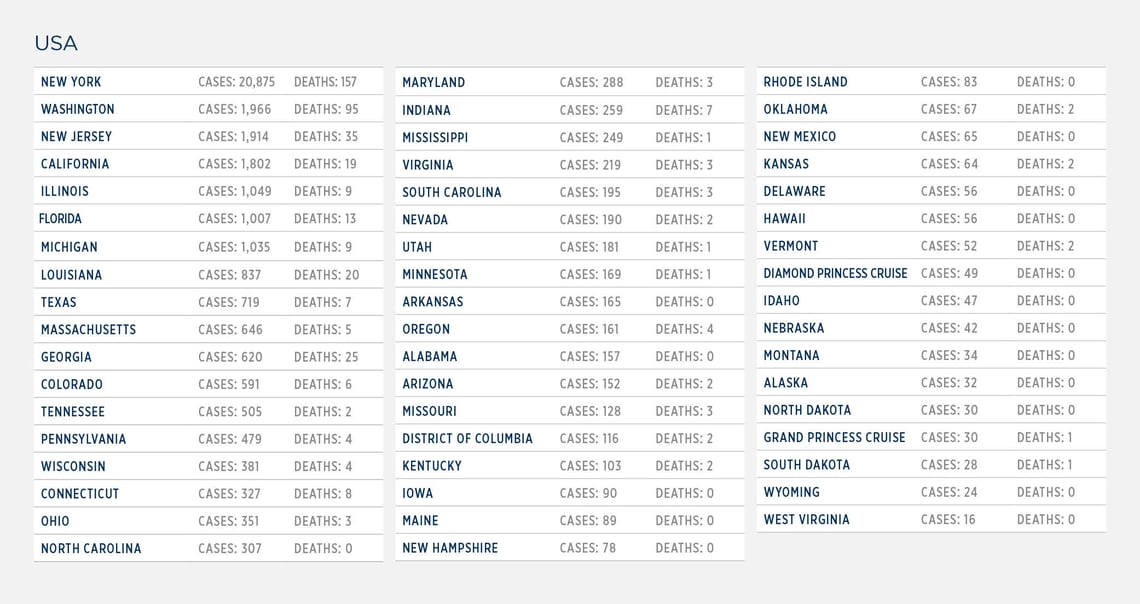 Latest global updates:
The U.S. State Department issued a Level 4: Do Not Travel advisory for the entire world late on 19 March. In countries where commercial departure options remain available, U.S. citizens who live in the United States should arrange for immediate return to the United States, unless they are prepared to remain abroad for an indefinite period.
On 18 March, China recorded its first day without a new domestic COVID-19 case, though new imported cases continued to be reported.
Indian authorities ordered a lockdown for 75 districts with COVID-19 cases - including Central Delhi, Bengaluru, Chennai, Hyderabad, Kolkata and Mumbai and other districts in Andhra Pradesh, Chandigarh, Chhattisgarh, Delhi, Gujarat, Haryana, Himachal Pradesh, Jammu and Kashmir, Karnataka, Kerala, Ladakh, Maharashtra, Odisha, Puducherry, Punjab, Rajasthan, Tamil Nadu, Telangana, Uttar Pradesh, Uttarakhand and West Bengal - until 31 March. Essential services will be available.
Hong Kong announced an entry ban for all non-residents effective 25 March.
Kenya announced all international flights are suspended effective 25 March.
The U.S. closed its border with Mexico to all but non-essential traffic.
Saudi Arabia implemented a nationwide curfew for the next 21 days.
Madagascar, Cape Verde, Papua New Guinea, Zimbabwe, Haiti, the Bahamas and Vanuatu imposed national lockdowns after discovering their first cases on 20 March.
Serbia, Morocco, India, Sri Lanka, Honduras, Paraguay, Gabon, Burkina Faso, the Dominican Republic and Jordan imposed new internal travel restrictions and curfews.


What we know:
358,045 confirmed cases worldwide

15,427 deaths

100,645 recovered

Major ongoing spread areas are now in Iran, Europe, and the U.S.
CURRENT STATUS
The focus in the U.S. is shifting to shelter-in-place measures to limit the spread of COVID-19, with possible full quarantine for certain cities or states with major outbreaks. Working from home, closing of schools, and social distancing in public are all part of an effort to "flatten the curve" of cases to help hospitals and clinics deal with sick patients over a longer period of time, instead of in a sudden spike, overwhelming healthcare systems.
As COVID-19 spreads, more and more countries will institute travel restrictions both externally and internally. These policies are changing constantly as the pandemic evolves. The International Air Transport Association maintains a list of airline travel restrictions.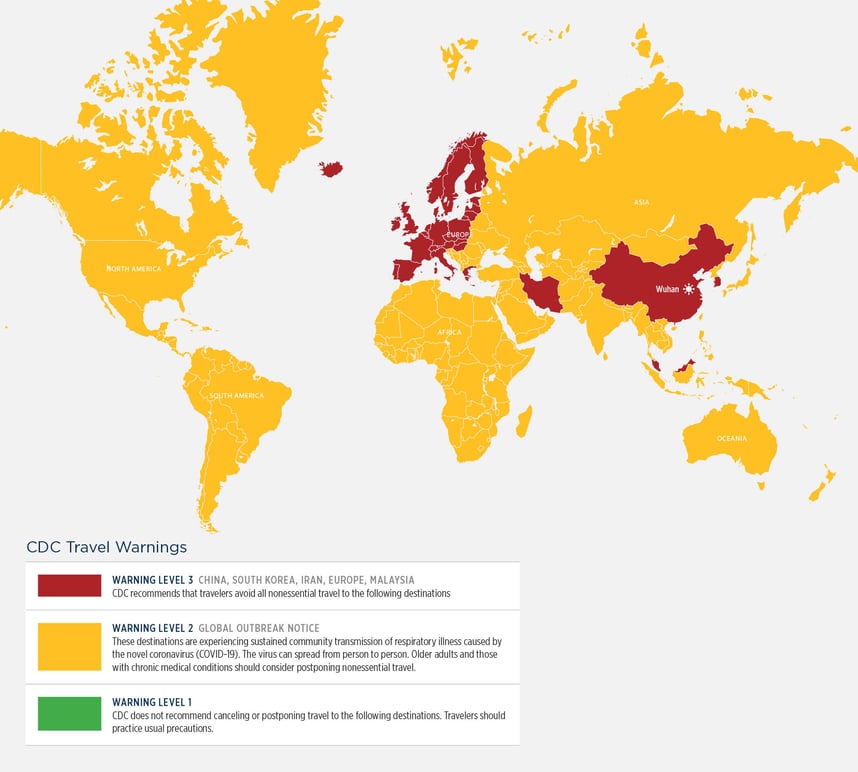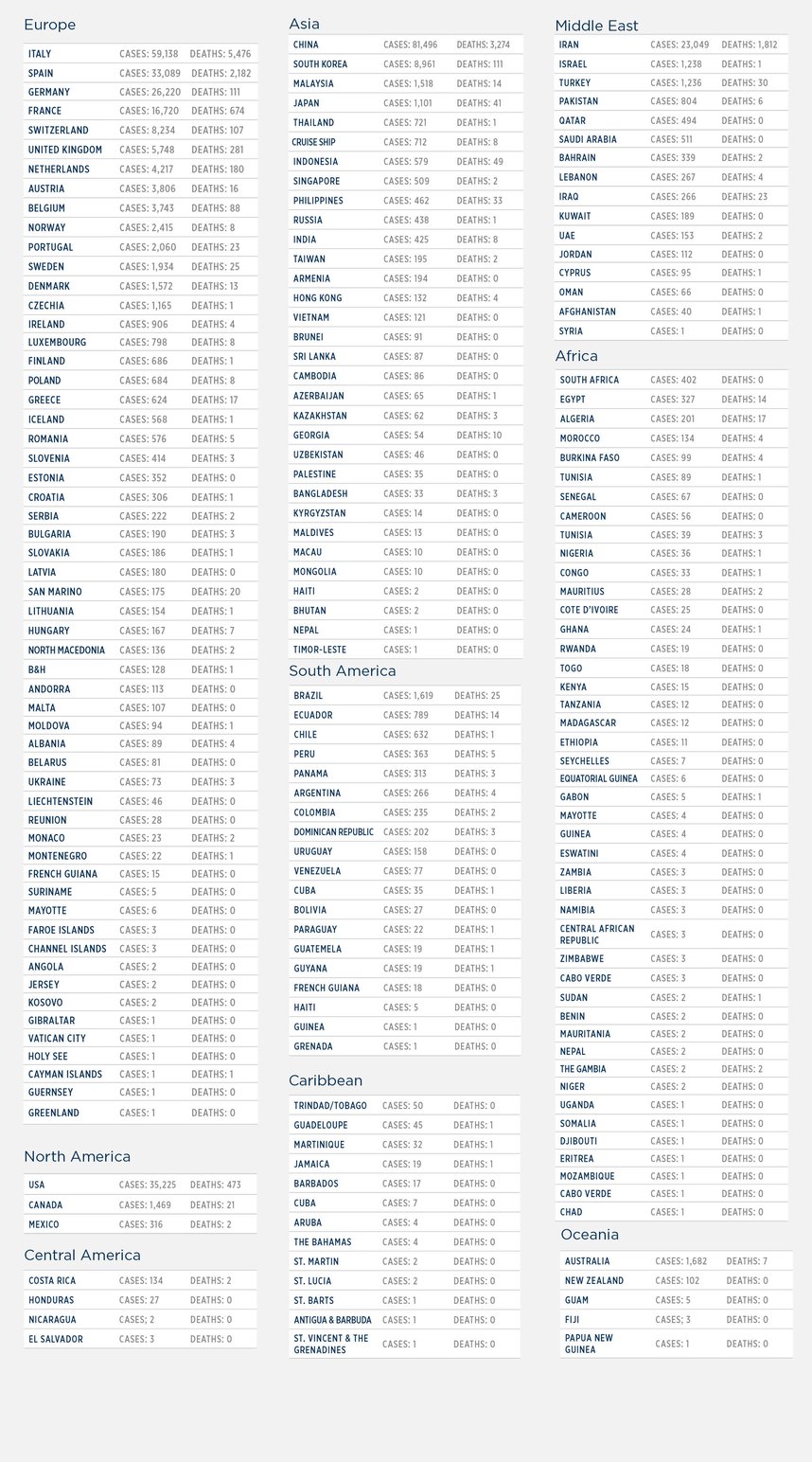 TRAVEL ADVICE
The U.S. State Dept. has issued Level 4: DO NOT TRAVEL guidance for the entire world amid the COVID-19 pandemic. In addition, Global Guardian recommends the following:
Return to the U.S. if currently abroad while commercial means are still available. Otherwise, prepare to remain abroad for an indefinite period.
Avoid all travel to

mainland

China, Iran, Italy, South Korea, Kuwait, Lebanon, Israel, and any other countries with global travel restrictions.

Avoid

all travel to continental Europe.

Reconsider all travel to the rest of the world due to ever changing travel restrictions and border closures.
Do not go on a cruise. Several cruise lines have already canceled all planned cruises.

Practice advanced careful hygiene measures, including frequent hand washing and sanitizing.

Practice "social distancing" while in public spaces.
OUTLOOK
The experience in Europe may serve as a glimpse of what is to come in the North America if the virus continues to spread. The U.S. and Europe need to be prepared for significant strain on economic and healthcare resources in the coming months.
See below graphs from Worldometers highlighting rapid growth of cases in the U.S.: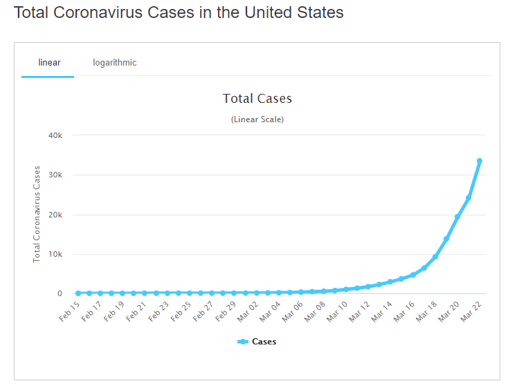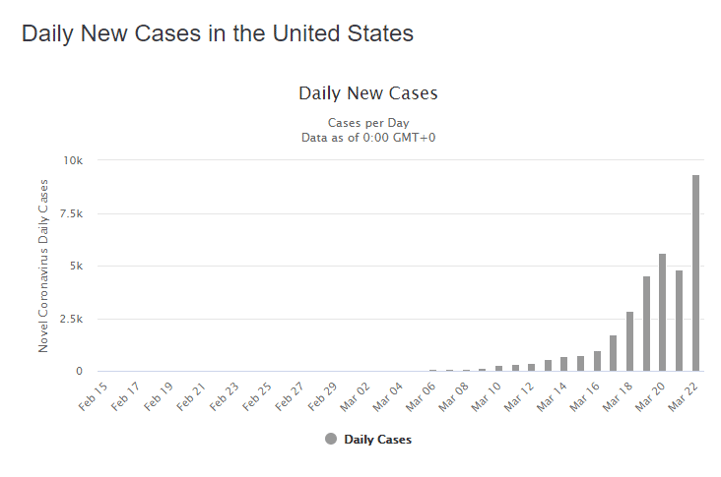 Support
Global Guardian is closely monitoring the situation. To request additional support or learn more about pricing on customized daily intelligence reports tailored to your organization's interests, please reach out to our security analysts by clicking below.