In response to the COVID-19 pandemic, the governors of California and New York announced a statewide order for all residents to stay at home except for essential needs.
Dine-in restaurants, bars, nightclubs, entertainment venues, gyms, public events, and convention centers have been ordered to close. Essential services such as pharmacies, grocery stores, and gas stations will remain open. These are the most severe restrictions issued thus far in the United States, but California and NY are unlikely to be the only states to issue such an order. The orders are expected to remain in effect for at least eight weeks.
Residents of other states should anticipate similar restrictions in the next 7-10 days, especially in those areas with significant community spread of COVID-19, including Washington and New Jersey. All 50 states have confirmed cases. New York has over 7,000 confirmed cases and NYC hospitals are bracing for a surge in patients. More than 1,000 retired or private practice doctors and nurses in NYC have heeded a call to help. Hotels largely empty of guests are being considered for triage centers or as makeshift hospitals.
In response to the economic shock, Senate Republicans unveiled a $1 trillion economic stimulus plan to provide funds directly to businesses and the American public. It would be Congress' third emergency coronavirus bill following a $105 billion-plus plan covering free coronavirus testing, paid sick leave and expanded safety-net spending, and an $8.3 billion measure to combat the spread of the pathogen and develop vaccines.
Several states have ordered a moratorium on foreclosures and evictions and the Department of Housing and Urban Development announced that all single-family homeowners with Federal Housing Administration-backed mortgages would be shielded from foreclosure or eviction until at least mid-May. This covers around 65% of all outstanding mortgages in the U.S. through government enterprises Fannie Mae and Freddie Mac. Bank of America also announced it would allow customers to defer payments on mortgages and small business and auto loans.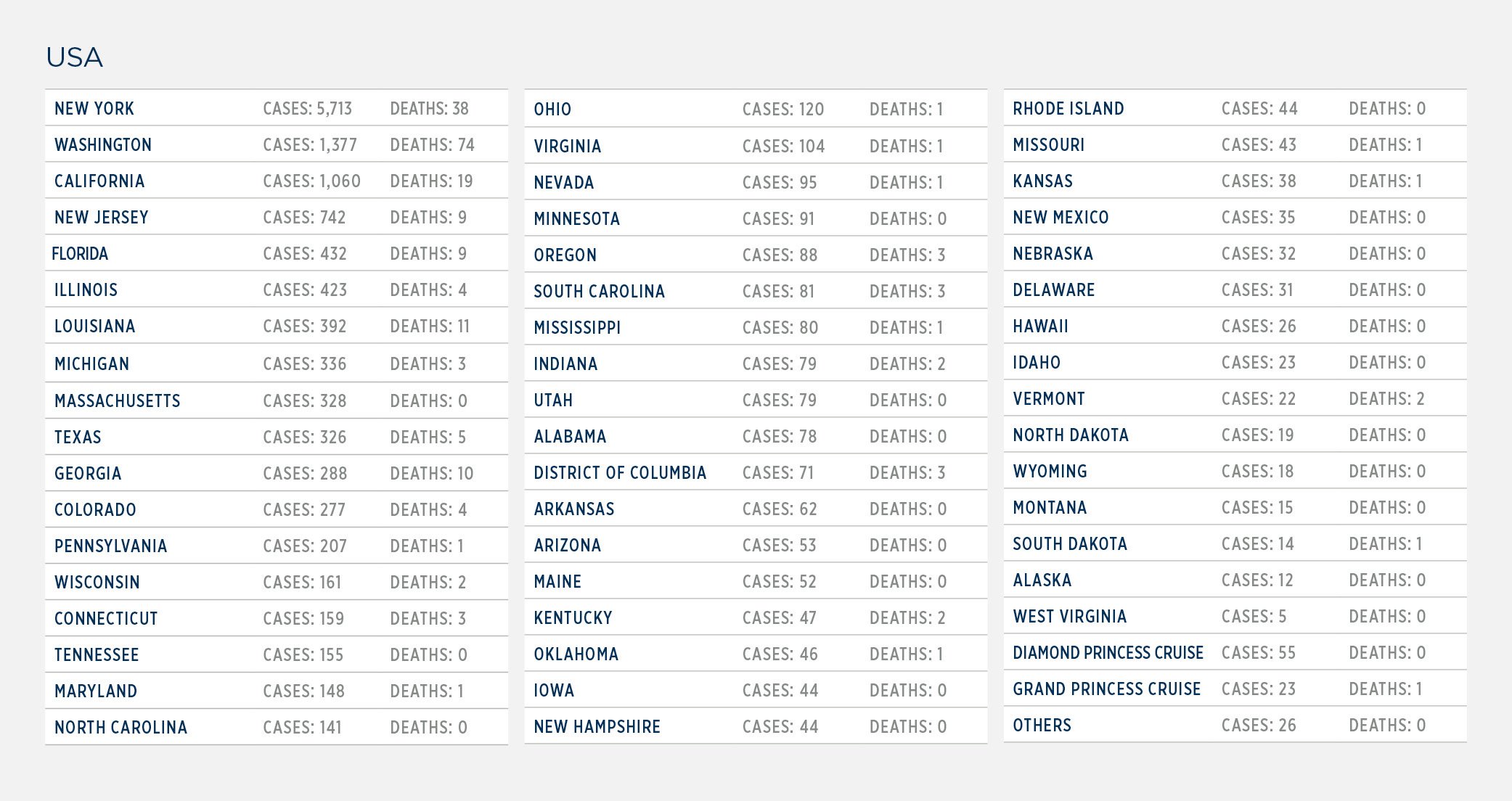 Latest global updates:
The U.S. State Department issued a Level 4: Do Not Travel advisory for the entire world late on 19 March. In countries where commercial departure options remain available, U.S. citizens who live in the United States should arrange for immediate return to the United States, unless they are prepared to remain abroad for an indefinite period.
Brazil will bar entry to anyone from the EU, UK, Norway, South Korea, China, Switzerland, Iceland, Northern Ireland, Australia, Japan and Malaysia, without a valid residency/work permit from 23 March onwards.
Argentina ordered a nationwide lockdown until 31 March, requiring people to self-quarantine at home and prohibiting non-essential movement outdoors.
The U.S. will likely close its border with Mexico, and it has already suspended all routine immigrant and non-immigrant visa services worldwide.
Saudi Arabia suspended all domestic flights, buses and taxis until at least 3 April. All international flights are suspended. Most shops and offices were closed from 16 March.
Australia and New Zealand suspended entry for all foreign nationals and non-residents into the country until further notice effective from 20 March.
In the United Arab Emirates, government authorities announced the extension of a travel ban for all visa holders, including Residence Visa holders, wishing to return to the United Arab Emirates for a period of 2 weeks. The ban is subject to extension. Exempt from the ban are all UAE nationals, GCC nationals (as of 21 March) and diplomats.
What we know:
255,201 confirmed cases worldwide

10,456 deaths

89,918 recovered

Major ongoing spread areas are now in Iran, Europe, and the U.S.
CURRENT STATUS
The focus in the U.S. is shifting to lockdown measures to limit the spread of COVID-19, with possible full quarantine for certain cities or states with major outbreaks. Working from home, closing of schools, and social distancing in public are all part of an effort to "flatten the curve" of cases to help hospitals and clinics deal with sick patients over a longer period of time, instead of in a sudden spike, overwhelming healthcare systems.
As COVID-19 spreads, more and more countries will institute travel restrictions both externally and internally. These policies are changing constantly as the pandemic evolves. The International Air Transport Association maintains a list of airline travel restrictions.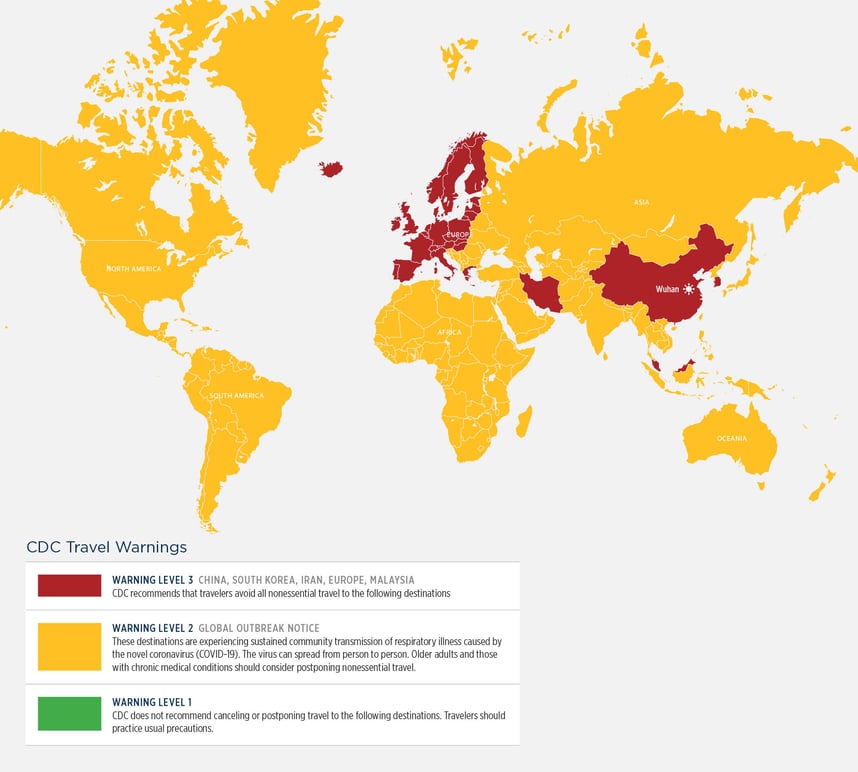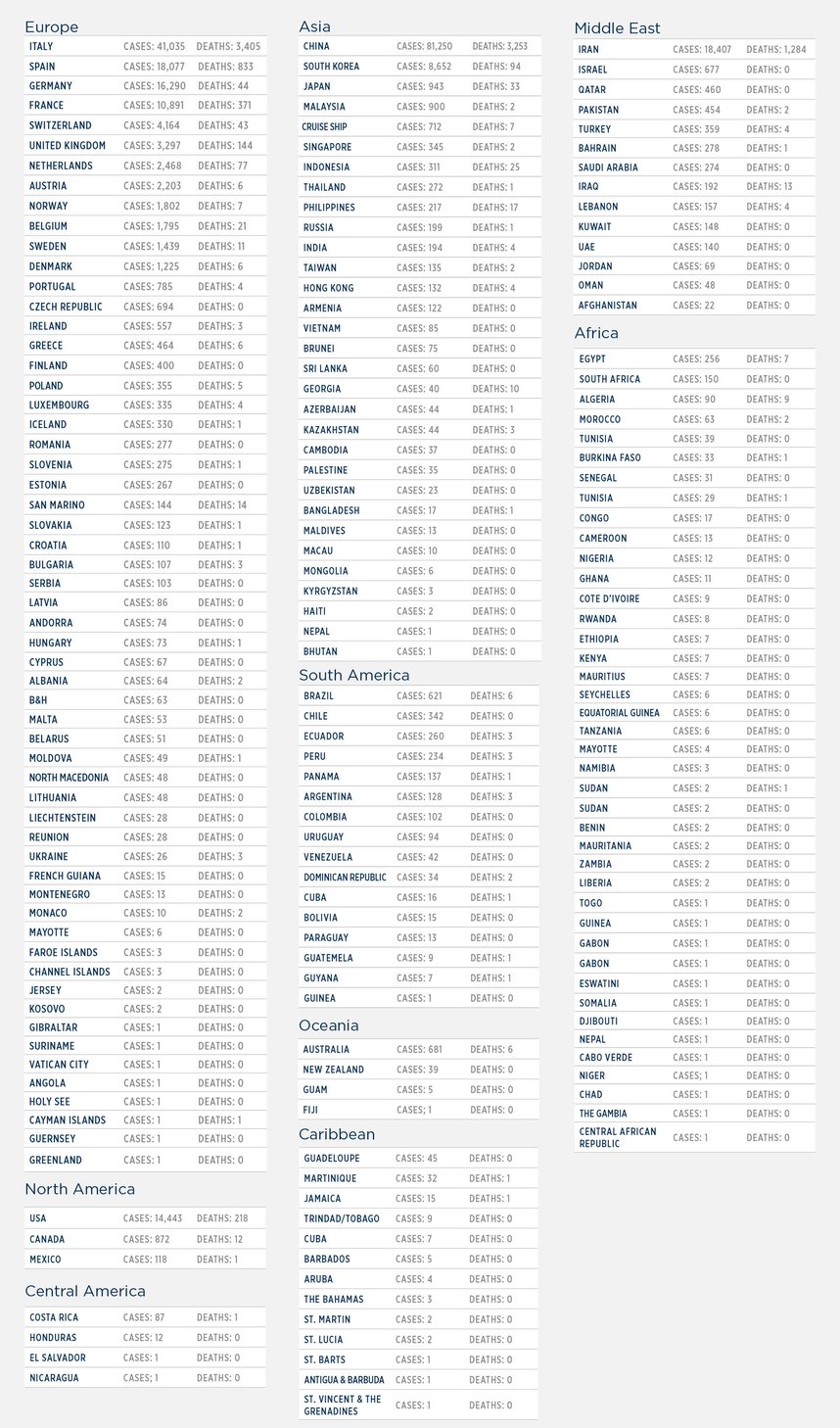 TRAVEL ADVICE
The U.S. State Dept. has issued Level 4: DO NOT TRAVEL guidance for the entire world amid the COVID-19 pandemic. In addition, Global Guardian recommends the following:
Return to the U.S. if currently abroad while commercial means are still available. Otherwise, prepare to remain abroad for an indefinite period.
Avoid all travel to

mainland

China, Iran, Italy, South Korea, Kuwait, Lebanon, Israel, and any other countries with global travel restrictions.

Avoid

all travel to continental Europe.

Reconsider all travel to the rest of the world due to ever changing travel restrictions and border closures.
Do not go on a cruise. Several cruise lines have already canceled all planned cruises.

Practice advanced careful hygiene measures, including frequent hand washing and sanitizing.

Practice "social distancing" while in public spaces.
OUTLOOK
The experience in Europe may serve as a glimpse of what is to come in the North America if the virus continues to spread. The U.S. and Europe need to be prepared for significant strain on economic and healthcare resources in the coming months.
See below graphs from Worldometers highlighting rapid growth of cases in the U.S.: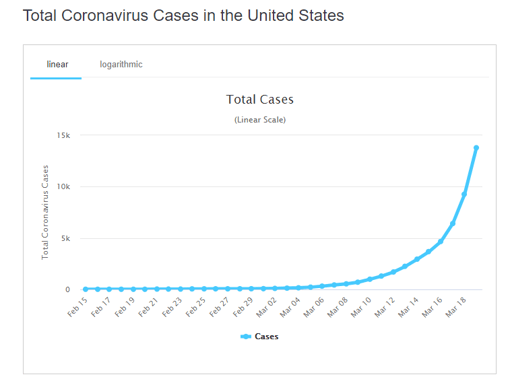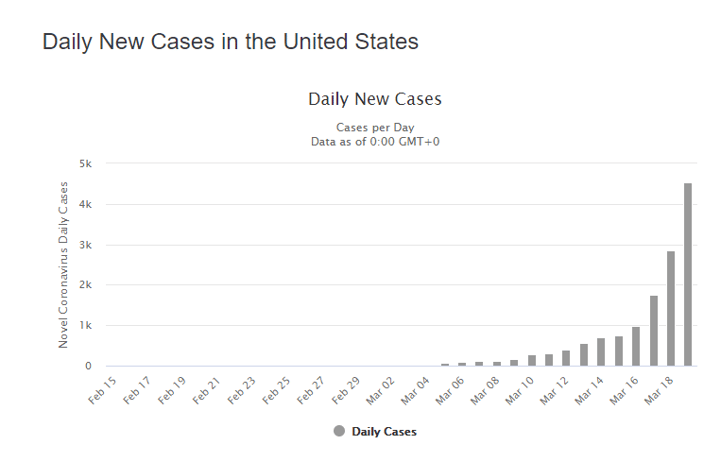 Support
Global Guardian is closely monitoring the situation. To request additional support or learn more about pricing on customized daily intelligence reports tailored to your organization's interests, please reach out to our security analysts by clicking below.