New cases and hospitalizations continue to rise across the country. The U.S. saw a record high 198,000 new cases on 20 November and hospitalizations are up 49 percent across the country compared to the same period two weeks ago. The dramatic rise in cases and hospitalizations prompted the CDC to urge Americans to reconsider travel during the holiday season.
The U.S. has now recorded 12,500,000 confirmed cases and nearly 260,000 deaths. Daily deaths are increasing and remaining high, up 60 percent from two weeks ago. The 14-day rolling average for daily deaths stands at 1,500.




Hawaii in the only state in the U.S. where new cases are lower and staying low. The worst-affected states per-capita remain the Dakotas, Iowa, Wisconsin, Wyoming, New Mexico, Minnesota, Montana, Nebraska, and Kansas.


Multiple states have issued mandatory mask orders while others, including California, Ohio, and New Mexico have issued stay-at-home or curfew orders.


The Oxford/Astra-Zeneca vaccine candidate became the third one to announce positive results after Pfizer and Moderna. The vaccine is reportedly 70% effective after one dose and 90% effective after two doses.



On 20 Nov. Pfizer submitted a request to the FDA for emergency authorization use of their vaccine. If approved, they could begin distribution of their vaccine in mid-December.
For the latest United States case counts, click here.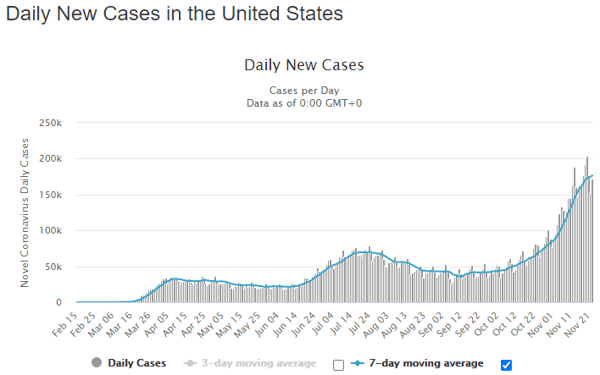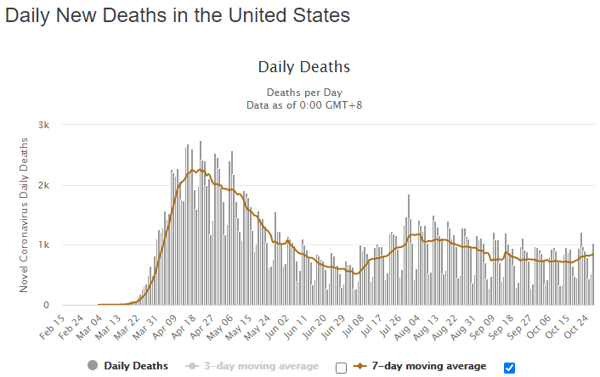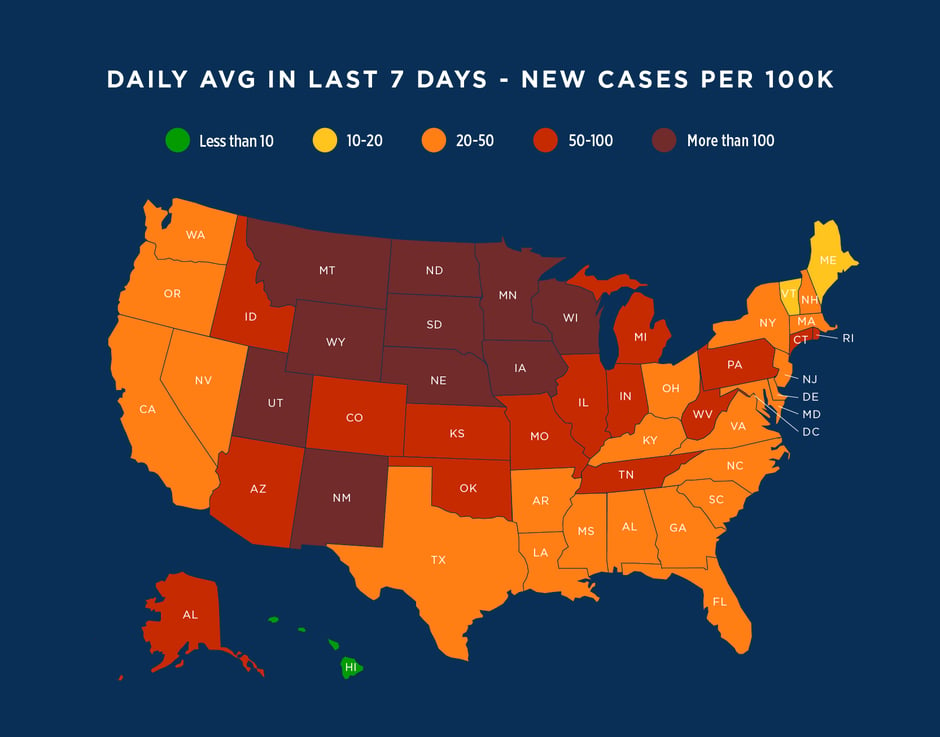 Latest global updates:
Europe continues be impacted by this "second wave" of cases. New deaths, a lagging indicator of new cases, are increasing the most in Bulgaria, Poland, Italy, Switzerland, Hungary, Austria, France, Romania, Greece, Portugal, and the U.K.


Greek Health Minister Vassilis Kikilias indicated that the nationwide lockdown was likely to be extended beyond its initially intended end date of 30 November, due to the continued spread of COVID-19. All non-essential businesses are closed and a permit is needed for people to leave their houses among other measures during the lockdown.


China reportedly cancelled 277 flights through Shanghai Pudong International Airport on 22 November, after authorities ordered all of the airport staff to be tested for COVID-19 as several cargo handlers tested positive over the past several days.


Authorities in Northern Ireland announced a two-week lockdown, beginning from 27 November, requiring the closure of all hospitality, aside from delivery services, non-essential retail, leisure and entertainment facilities as well as a recommendation to work from home.


England announced that effective 15 December, travelers arriving from countries not on England's travel corridors list will have the option of taking a COVID-19 test five days after entry, paid for at their own expense, to avoid completing the full 14-day self-quarantine requirement if they test negative. The measure does not apply in Northern Ireland, Scotland or Wales.


Mexican authorities announced that the border closure to non-essential travelers including tourists between the U.S. and Mexico, was extended through 21 December.
For the latest Global case counts, click here.
OUTLOOK
Daily new cases continue to level out or drop in Europe following implementation of restrictions. New deaths continue to rise in most of Europe, straining healthcare systems.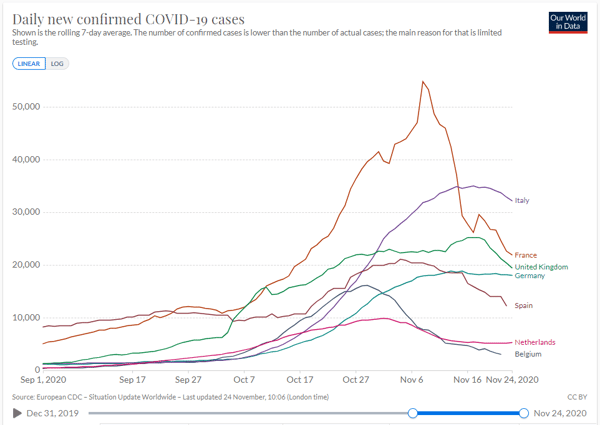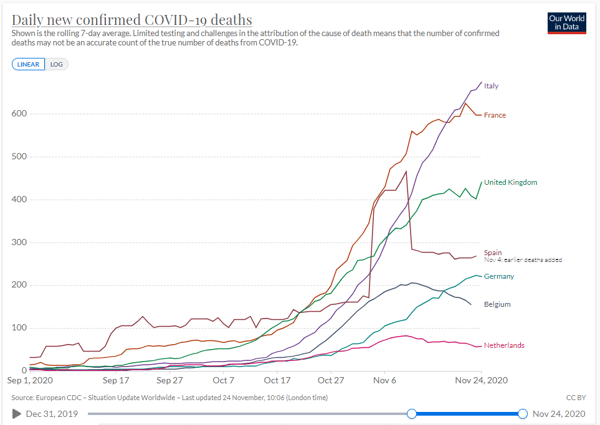 RESOURCES
UPCOMING WEBINARS
Global Business Travel Association Presents: Global Affairs Beyond COVID-19: What's Ahead in 2021 | Wednesday, December 2, 2020 | 11:00 AM ET
Join us for "Global Affairs Beyond COVID-19: What's Ahead in 2021" hosted by the Global Business Travel Association (GBTA) and sponsored and presented by the Global Guardian team. Featuring Dale Buckner, CEO, Michael Ballard, Director of Intelligence, and Mike McGarrity, VP of Global Risk Services, the discussion will take into account looming global affairs and the continued pandemic when it comes to business travel, returning to work, and more.
Business Travel Network (BTN) Group Presents: 30 Minutes with Global Guardian CEO Dale Buckner & HospitalityLawyer.com Founder Stephen Barth I Thursday, December 17, 2020 I 11:00 am to 12:00 pm ET
Join Global Guardian CEO, Dale Buckner, and HospitalityLawyer.com Founder Stephen Barth as they discuss the year ahead and the state of global affairs beyond COVID-19. The discussion will include an overview of current global affairs and risk factors, business travel projections for 2021, and new considerations for your Duty of Care program.