New cases and hospitalizations continue to surge. The U.S. saw a record high 142,000 new cases on 11 November and hospitalizations are up 37 percent across the country over the last 14 days. Daily new cases are averaging 128,000 over the last seven days, an increase of 69 percent over the week prior. Hospitals in the Midwest are approaching capacity, and some states, such as Wisconsin, have deployed a field hospital to deal with overflow.
The U.S. has now recorded over 10,400,000 confirmed cases and over 241,000 deaths. Daily deaths are slowly increasing, up 36 percent from two weeks ago. There were over 1,400 deaths on each of the last two days.

Almost every part of the country is being impacted by this latest surge, which comes before the anticipated major travel holiday of Thanksgiving. Louisiana, Maine, Hawaii, and Vermont have the fewest new cases per 100,000 people over the last week, while the Dakotas, Iowa, Wisconsin, Wyoming, and Nebraska have the highest number of new cases per 100,000 people over the last week.

Cases have reached record levels in more than 20 states. Several states hit hardest in the spring and summer are seeing significant increases, including New Jersey, New York, Maryland, Arizona, Texas, and California. Only a few states are seeing cases stay low, including Virginia, Delaware, Washington D.C., Oregon, Washington, and Hawaii.

Pfizer announced that its vaccine candidate was 90% effective following analysis of trial data. The company plans to ask the FDA for emergency authorization of the two-dose vaccine later this month, after it has collected the recommended two months of safety data. The company says it could have enough doses for 15-20 million people by the end of the year.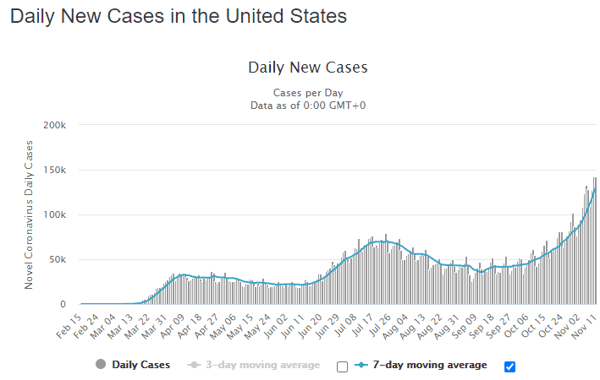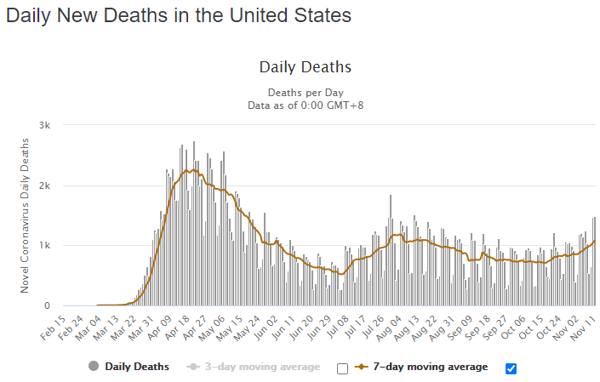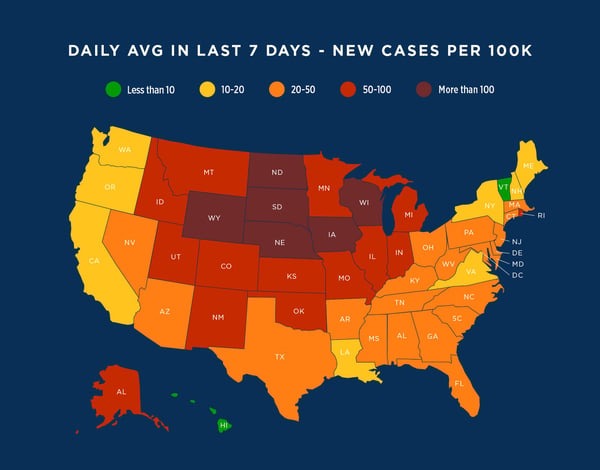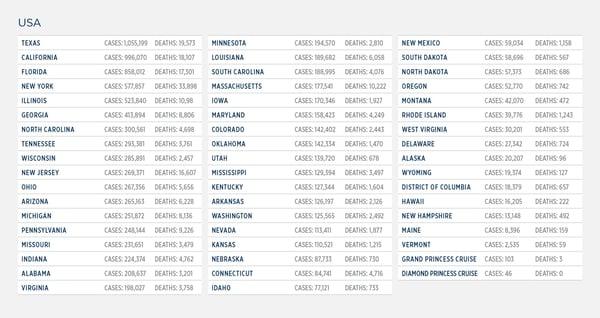 Latest global updates:
Europe is on track to record over 300,000 total deaths in the foreseeable future after a massive surge in new cases during the second-wave over the last several months.

Belgium, which had the highest per-capita rate of new cases in Europe and is currently in lockdown until 19 Nov, appears to have curbed the outbreak. Daily new cases have dropped significantly in the last week but new deaths continue to climb.

Hungary is in the midst of an exponential outbreak. New restrictions are in effect, including an extension of the existing night curfew, ban on gatherings of more than ten people, and the closure of bars, restaurants, and cultural venues.

Italy's new cases and deaths continue to rise, prompting reports of overwhelmed hospitals and calls by healthcare professionals for increased restrictions.

Denmark is holding off on plans to cull millions of minks in the country after a COVID-19 mutation was discovered in mink farms across the country.

In Brazil, construction began on Latin America's first COVID-19 vaccine factory in São Paulo. The facility, slated to open in September 2021, will reportedly be capable of producing 100 million vaccines a year.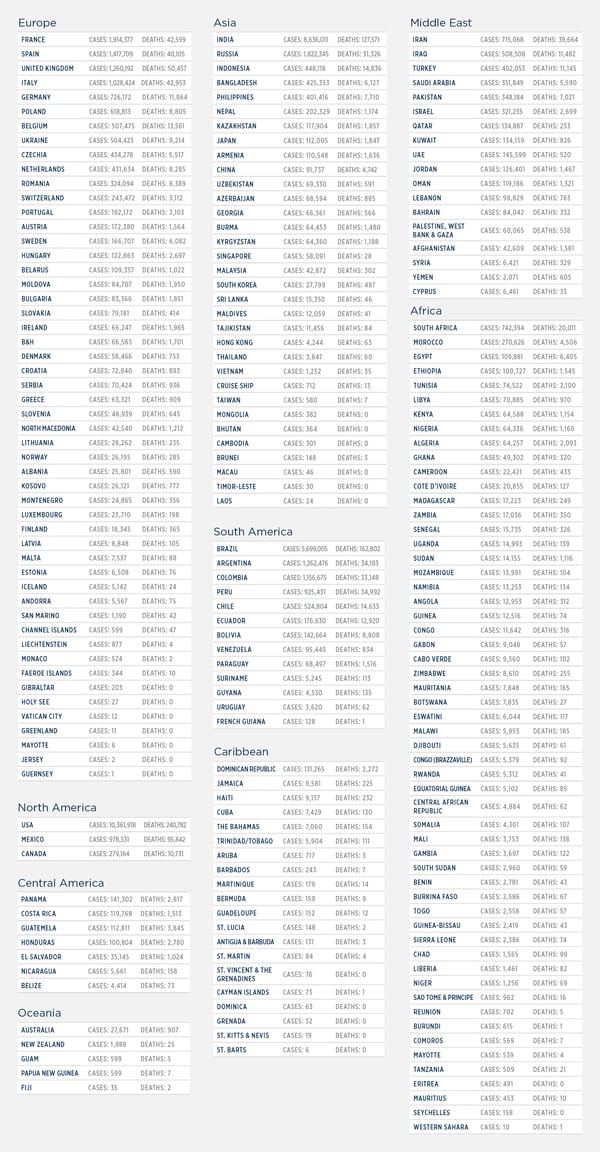 OUTLOOK
Daily new cases remain high in Europe as the continent grapples with a massive second-wave outbreak. Strict measures have worked in some countries, like Belgium and the Netherlands and others such as Italy and France may consider nationwide restrictions.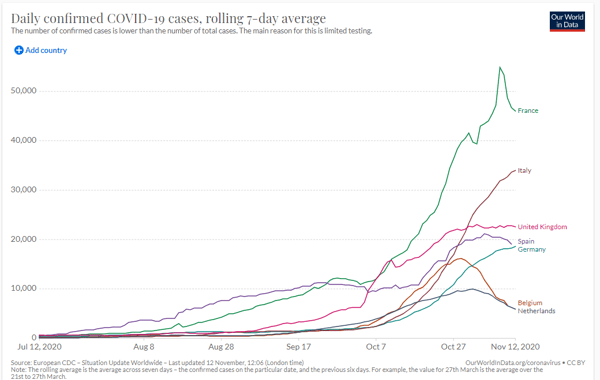 RESOURCES
Protecting Your Workplace and Employees: COVID-19 and Duty of Care Solutions
Ensuring the health and safety of employees is accounted for is crucial for employers as offices reopen amid COVID-19. Global Guardian is now providing Facility Duty of Care and Contact Tracing solutions to provide clients with turn-key technology needed to alert employees in real-time of potential infection and prevent further spread should a colleague test positive for COVID-19. To learn how it works, watch our quick introduction video by clicking here.