The onus is increasingly on corporate leadership and lawmakers to adopt security solutions that better protect themselves and their employees against a growing and diverse array of threats.

As more and more CEOs face threats for taking stands on emotive issues, members of Congress are forced to hire personal security in a highly charged political environment, and the government finds it increasingly difficult to protect its respective citizens overseas, private security providers have a critical role to play in tracking a rapidly evolving threat landscape and providing effective solutions.
I believe the following titanic shifts will dramatically impact and shape the security solutions of the future.
---

Members of Congress turning to private security firms
In March, nearly three months after the January 6 incident at the U.S. Capitol building in Washington, DC, the Federal Election Commission voted to allow members of Congress to use donors' money to pay for their personal security.
The decision was a direct response to a steady increase in threats against members of Congress over the past several months. With the internet, even an offhand remark from a lawmaker can go viral online, eliciting sharp, and at times violent, reactions. Lawmakers face threats in their homes and when out in public where their presence is publicized either by well-meaning hosts or the prying eyes of social media.
A report from the U.S. Capitol Police's watchdog in May found threats to members of Congress had increased 107% compared to 2020. "Provided the unique threat environment we currently live in, the Department is confident the number of cases will continue to increase," U.S. Capitol Police said in response to the report. However, neither the U.S. Capitol Police nor the U.S. Secret Service have sufficient personnel to deal with these threats—they are understaffed and overwhelmed.
Firms like Global Guardian are stepping in to fill this void. Today, we are keeping our lawmakers safe. In the weeks and months since the January 6 incident, several members of Congress have contacted Global Guardian seeking protection for themselves as well as for their families. We are providing around-the-clock security, intelligence reports and threat assessments, and secure transportation. That is a titanic shift.
---
Don't count on the government for protection
A little-noticed guide prepared by the State Department strongly encourages travelers overseas to "create plans for emergencies that do not rely on U.S. government assistance."
The "Guide to U.S. Government-Assisted Evacuations" produced by the Overseas Security Advisory Council in the State Department's Bureau of Diplomatic Security makes clear that "organizations should not rely on U.S. government assistance in emergency evacuations and, when possible, should make independent and proactive evacuation plans."
The fact that the State Department came out and said publicly for the first time that U.S. citizens traveling overseas should not count on the U.S. government to help them out in a difficult situation that is not of their making represents another titanic shift.
---
Corporate America is taking a stand
Thirty years ago, CEOs would never have spoken out about the importance of vaccinations, expressed their opinions on the need to address climate change, or jumped into the political fray. Today, that is changing driven in part by what society expects of its leaders.
The Edelman Trust Barometer 2021—a survey of 33,000+ respondents in 28 countries conducted in late 2020—found 68% of respondents agree "CEOs should step in when the government does not fix societal problems" and 66% said "CEOs should take the lead on change rather than waiting for government to impose change on them." Further, it found 86% of respondents want CEOs to speak out on the following societal challenges — pandemic impact (59%), job automation (51%), societal issues (43%), and local community issues (40%).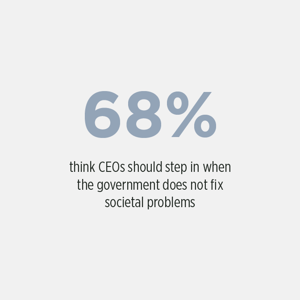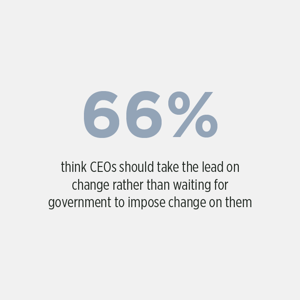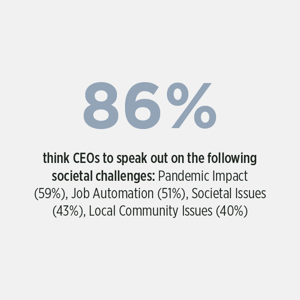 Source: Edelman Trust Barometer 2021
This strategic shift—taking a public stance on an issue that affects today's deeply polarized society—comes with its share of risk as well as reward.
In terms of risk, CEOs immediately attract unwanted attention from someone who disagrees with their position. The same, it turns out, is even true for CEOs that prefer to keep their views private.

In May 2021, a survey by the Ontic Center for Protective Intelligence of 300 senior executives at U.S. companies with more than 5,000 employees found 58% of the respondents said their CEO had received physical threats after taking a position on a racial and/or political issue, while 40% said their CEO had received physical threats because they had not taken a position on a racial and/or political issue. That is astounding.
The threat to CEOs today is more real than ever before. These threats will only grow as more and more executives speak up and societal divides deepen.
---
The growing cyber threat
Cybersecurity is an area where clearly the U.S. government and corporate America get a failing grade. Thirty years ago, it would have been next to impossible to get one's hands on the personal information of a CEO or a high-net-worth individual or their families. With the internet, those details are now just a click away and easily misused by malevolent actors. Today, cyberattacks and data theft have become alarmingly regular occurrences.
Technology in the hands of someone warped by personal grievances—whether genuine or not—who wants to do harm can produce dangerous outcomes. The genie is out of the bottle and we cannot put it back.
The good news is that corporations are slowly waking up to the cyber threat. Attention and budgets are shifting to cyber security. But investments need to be made wisely.
While the gut instinct is to pour money into technology, it is the user of that technology that is invariably the weakest link. Companies should invest in training their employees on best practices of cyber hygiene.
---
A focus on results
Faced with this ever-evolving threat landscape, executives at Fortune 500 companies, high-net-worth individuals, and even lawmakers are beginning to prioritize security services that not only map the threat but offer solutions to mitigate or defuse it. They want tangible protection, not a superficial window dressing of executive protection or cheap security solutions. They want professionals with the skill sets, capabilities, and real-life experience to keep them safe.
At Global Guardian, our team includes members with backgrounds in the armed services, law enforcement, and intelligence.
We offer a solutions-based approach to security that is focused on the "so what"—how to prepare for any eventuality—and the last mile.
That last mile is the outcome. It's what our clients want. They don't want to buy a service, they want an outcome. But going the last mile is also the hardest, most complex, and something most providers are unwilling to do. That's what distinguishes Global Guardian from the rest.
---
Looking to the future
The world is going through turbulent times. The past 18 months have been especially tough. In the United States, the social fabric is fraying in a way (and at a speed) I have never before seen in my lifetime.
We must better understand the titanic shifts taking place around us, recognize the accompanying risks, and develop a plan, working with professionals, to address them. As a business owner, a lawmaker, or even a parent, the onus is on us to protect ourselves, those who depend on us, and our assets.
---
STANDING BY TO SUPPORT
Find out how our team can support your security needs. For assistance, call our 24/7 Operations Center at 703.566.9463 or complete the form below.