On 06 June 2021, Mexicans went to the polls in the country's largest ever vote, electing 500 federal legislators, 15 governors, members of around 25 state assemblies, and over 20,000 local politicians. The midterms were marred by a series of political assassinations targeting local and state level officials.
While President Andrés Manuel López Obrador, known as AMLO, was not on the ballot, the elections at the state and federal levels were largely a referendum on AMLO and his statist political program that would include amending the constitution to make way for radical political and economic reforms, most importantly, the renationalization of segments of the energy industry.
It appears that AMLO's Morena party will maintain control of both houses of Congress but will fall short of achieving the two-thirds majority in the lower house that it needs to amend the constitution. Morena won 10 of the 15 gubernatorial races and made electoral gains in less affluent states, yet it was punished in middle and upper-middle class areas. The elections also highlighted Mexico's problems with escalating violence.
In general, Mexico's criminal elements use the ballot as a means to gain more power and profit. The cartels and smaller gangs seek political proxies among future elected officials. In the lead-up to the midterms, almost 100 politicians were assassinated, 35 of whom were running for election. Bodies were found in in two voting stations in Baja California state and threats from criminal actors forced the closing of several polling sites in Sinaloa state. This political violence is a result of a quid pro quo whereby criminal groups help a politician into office in exchange for impunity, friendly relations with state or federal security forces or even government contracts. The narco-corruption nexus often creates stalemates on the ground, preventing one criminal group from becoming dominant in a given area. Ultimately, this dynamic is fueling the violence in Mexico, which for the fourth straight year is home to the most violent city in the world and is the country with the highest number of violent cities.
In April, the Citizen Council for Public Safety, a Mexican NGO, unveiled its annual global crime report which concluded that Mexico is home to seven of the top ten most violent cities in the world. While in the past, many Mexican cities have made the list of the 50 most violent cities in the world, this year, smaller cities and towns have shot up in the rankings, marking a shift. This new trend is being driven by larger cartels, primarily Cártel de Jalisco Nueva Generación (CJNG), moving into new territory previously held by smaller and highly socially and politically entrenched organizations.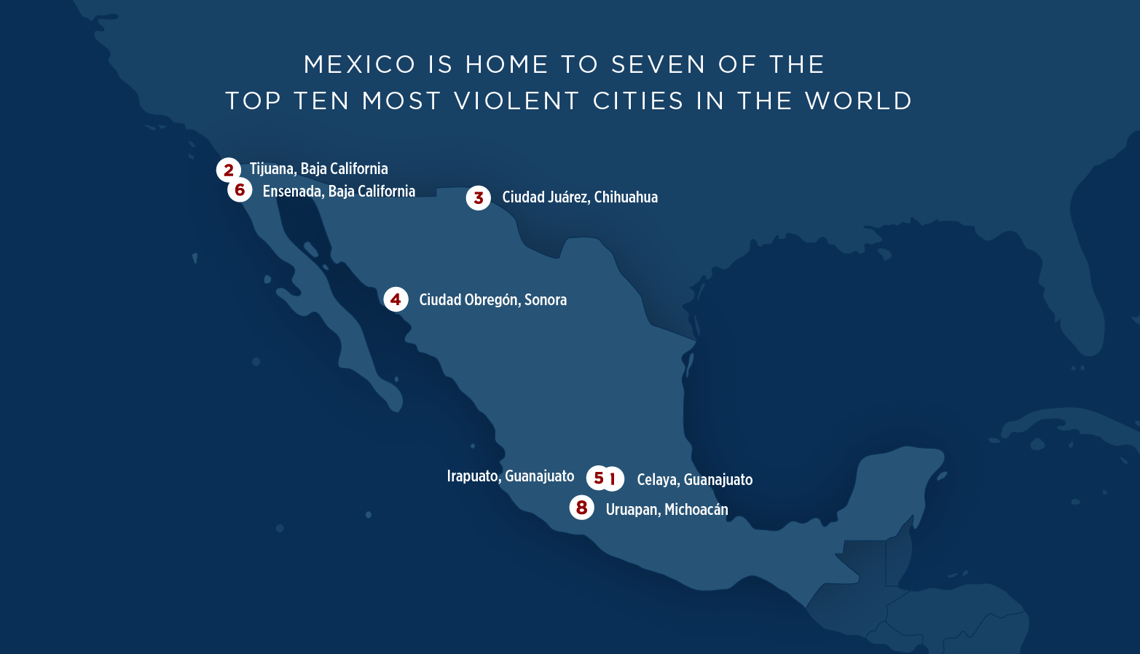 | | | |
| --- | --- | --- |
| #1 & #5 | #2, #3, & #6 | #8 |
| In Celaya and Irapuato, CJNG and the Santa Rosa de Lima Cartel are vying for control over oil theft and other criminal enterprises. | Mexico's border cities have long been hotspots for cartel related violence, as competing groups fight for control of smuggling routes and logistics hubs to facilitate cross-border narcotrafficking. | In Uruapan and other parts of Michoacán, CJNG is battling Cárteles Unidos for cocaine and fentanyl trafficking routes, local drug production, and the ability to extort avocado producers. Cárteles Unidos is an alliance of Cartel del Abuelo, Los Viagras, La Familia Michoacana, Knights Templar and other local groups opposed to CJNG encroachments into Mexico's Tierra Caliente region. |
HOW GLOBAL GUARDIAN CAN HELP
Security Response: With one phone call to our 24/7 Operations Center, highly-trained, dedicated armed or unarmed agents can be deployed on the ground to mitigate the risks associated with business travel or day-to-day business operations in Mexico.

Executive Protection and Transportation: Whether facing an active emergency or merely seeking extra safeguards while traveling in Mexico, executive protection and secure transportation services offer personnel-based support that prioritizes the welfare of your business travelers. Customizable services include secure transportation, security officers, medics, executive protection (EP) details, and many other forms of low profile security operations.

Kidnap and Ransom: Mexico is one of the top locations in the world for kidnapping. Clients have access to pre-event, real-time and post-event crisis response services, which may include security protection, support from local authorities, emergency relocation, and the client's safe return home. Global Guardian's international network of consultants maintain an intimate knowledge of local cultures, communities, and political climates as well as a culturally and politically sensitive approach to resolving all conflicts.

Business Continuity and Online Training: Our highly skilled experts offer a full range of custom in-person and organization-wide e-learning courses to provide your business the necessary resources to keep running in the face of any challenge within Mexico. Global Guardian's tailored business continuity plans address everything from protocol development to evacuation planning. Our courses can help mitigate risk and inform employees how to respond in a crisis.

Global Tracking and Intelligence Alert Platform: With precise location and itinerary tracking, our 24-hour Operations Center can monitor and support travelers in any emergency. Our mobile app provides a one-push panic button that instantly shares your location with our 24/7 Operations Center which will immediately dispatch local emergency response teams.
Standing by to Support
Global Guardian is closely monitoring the situation for developments and we are standing by to support across Mexico. Click below to request security assistance.