Situation update
As the situation deteriorates and Russian forces continue to expand targets and ground control within Ukraine, freedom of movement is becoming more and more restricted. The window to leave Ukraine is closing. Anyone still in the country who wishes to leave needs to do so as soon as possible.

Russian forces continue to bombard the eastern city of Kharkiv along with targeted strikes in Kyiv, where a Russian missile strike destroyed the main TV tower in the city and the nearby Babyn Yar Holocaust Memorial, where tens of thousands of Jews were killed by the Nazis in a two-day massacre during World War II. Ukraine is reporting that over 2,000 civilians have died since the onset of the conflict.

A 17-mile-long convoy of Russian vehicles heading south towards Kyiv has reportedly stalled, possibly due to logistical issues. The convoy, along with incoming forces from the east, is believed to be preparing to encircle Kyiv and cut the city off from the rest of the country, including Western aid.
On the southern front, Russian forces claim to have gained full control of the southeastern city of Kherson (local officials deny these claims). If true, Russian forces may head west and begin an assault on the port city of Odessa. Mariupol is now completely encircled. If taken, Russia will have formed a land bridge from Rostov-on-Don to Crimea, which would allow for better logistics, in turn speeding up operations in the south.
Over 800,000 Ukrainian refugees have fled to neighboring countries (predominantly Poland). Very long lines exist at all official border crossings as westbound transportation arteries are clogged; however, wait times at border crossings are significantly lower than in previous days. In Poland, these are now less than 10-hour wait times compared to 30+ hour waits.
China has begun to evacuate nationals from Ukraine, indicating they may have thought the conflict would be over quickly and not require the mass evacuation of Chinese nationals. This shift in stance may indicate China believes the conflict will last for weeks if not months.
India issued an evacuation order for nationals in Kharkiv. This comes after an Indian national was reportedly killed in the city after a Russian strike.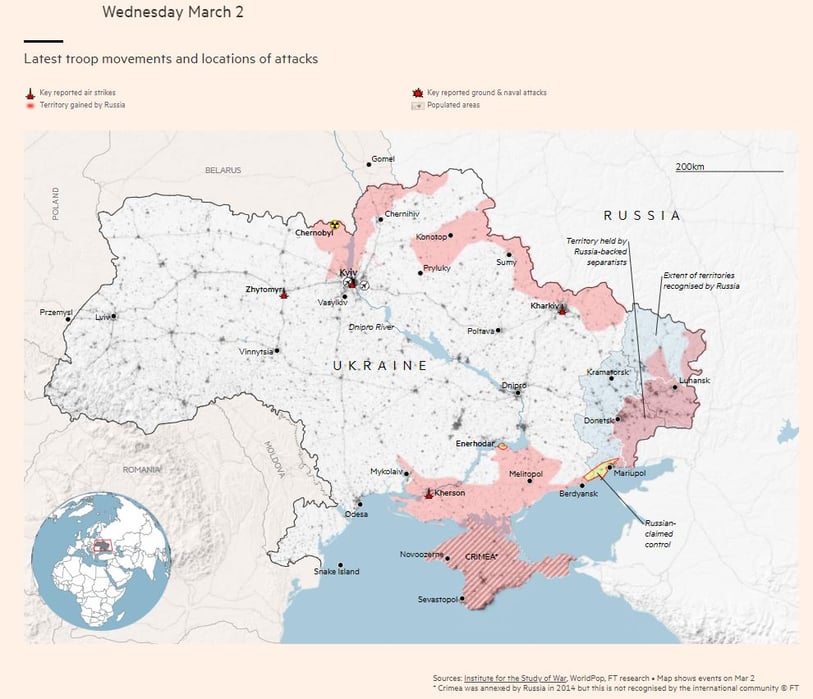 Sanctions
The U.S. banned Russian carriers from its airspace, joining Canada and most of Europe in this policy.
Exxon-Mobil joined BP and Shell in becoming the latest petroleum companies to exit Russia or suspend investments.
Boeing announced it would halt maintenance and technical support for Russian airlines. It is unclear how long Russian airlines will be able to maintain their fleets and flight routes with European ownership of many Russian commercial planes and without access to insurance or maintenance from Western parts manufacturers.
Apple halted sales of iPhones and other products in Russia, along with the suspension of Apple Pay services. GM and Ford announced that they would suspend operations in Russia.
International logistics firms such as FedEx, UPS, Maersk, Hapag Lloyd, and MSC suspended bookings to and from Russia, increasingly shutting the country out of world commerce.

Russia's economy continues to take a hit. The Moscow Exchange—Russia's largest stock exchange—has been suspended for the third day in a row with no signs of reopening. Russian banks are unable to issue new Visa and Mastercard credit cards and are placing hard limits on cash withdrawals.
Advice
Expats wishing to leave Russia will likely need to transit to a third country first to connect to a flight home, as flight options are limited. India, the UAE, & Qatar remain viable options. Consider leaving the country sooner rather than later, as flight options are dwindling.
Those who remain in-country in Ukraine must carry valid identification at all times.
Those who remain in-country should follow their evacuation plans or shelter in place depending on their location and circumstances.
Support
Our team can respond immediately with the following capabilities:
Bespoke intelligence reports and briefings
Armed or unarmed security personnel
Satellite communications (phone and wireless internet)
Emergency medical and tele-medical support
Logistical support (food, water, generators, fuel)
Evacuation by ground, air, or sea
Click below to contact Global Guardian's 24/7 Operations Center or call us directly at +1 (703) 566-9463.