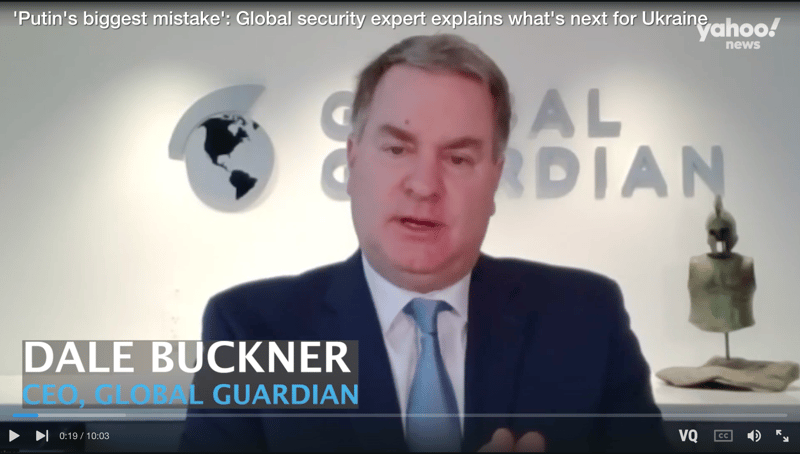 "There is a uniform response to all crises like this. Whether it is the 2017 back to back hurricanes that hit the Caribbean, whether it is the Paris attacks in 2015, whether it is the Myanmar coup just last year or the Turkey coup...what's uniform about all these situations is you have a threat...and you have to move people away from that threat."
In an interview with Yahoo News Australia, Global Guardian President and CEO Dale Buckner shares insight on the evacuation process in Ukraine—and the similarities between other crises where Global Guardian has conducted emergency evacuation efforts—and discusses how evolving conditions have made evacuation efforts more difficult as the situation on the ground continues to deteriorate.
---
ABOUT GLOBAL GUARDIAN
Global Guardian is a McLean, VA based global security firm that provides its clients with access to a comprehensive suite of security services. Its capabilities include personnel tracking supported by a dedicated 24-hour Operation Center, a full range of personnel-based security and executive protection services, medical support and transportation, travel intelligence and emergency response and evacuation services in over 125 countries. Global Guardian's suite of risk mitigation services provides organizations with innovative and cost-effective solutions to help them protect their staff and business operations around the world.
Find out how our team can support your security needs. For assistance, call our 24/7 Operations Center at 703.566.9463 or click below.