Situation update
Peace talks are underway at the Ukraine-Belarus border between representatives of Ukraine and Russia. These talks are unlikely to bear fruit.
So far, Russia's "shock and awe" campaign has been met with severe setbacks. According to Ukrainian sources, Russia has lost over 5,000 troops, 29 warplanes, 29 helicopters, and almost 200 tanks and 800 other combat vehicles. Russia has failed to take any of Ukraine's major cities and has yet to command air superiority (destroy Ukrainian air defenses, drones, or air force), leaving its forces vulnerable. As a result, it appears Russia took its foot off the gas around Kyiv on 27 February as more reinforcements enter from Russia and Belarus.
As a result of the setbacks and casualties, it appears Russia has become more open to inflicting civilian casualties. Early reports indicate that cluster munitions have been used in northeastern Ukraine and there are accounts that thermobaric weapons are en-route to Ukrainian population centers in the northeast. Civilian casualties are starting to increase as Russian tactics grow more brutal.
There are signs that Belarus is mobilizing to possibly enter operations to open a Northwest front (along with Russian forces already in place) in Western Ukraine to cut off EU/NATO supply routes and control refugee flows.
Russian forces have reportedly crossed Dnepr in the South and are advancing north of Nova Kakhovka towards Zaporizhzhia or maybe Dnipro. If Russia reaches Dnipro, it could cut off the Ukrainian army in the east altogether.
The EU—in a historic first—pledged to purchase and deliver $500 million of arms to Ukraine, including fighter jets. Separately, Germany and Sweden (non-NATO), who are typically averse to antagonizing Russia, have pledged to distribute anti-tank and other forms of lethal and non-lethal aid to Ukraine.

Nearly 500,000 Ukrainian refugees have fled to neighboring countries (predominantly Poland). Very long lines exist at all official border crossings as westbound transportation arteries are clogged. Poland is seeing 30+ hour wait times to cross the border.

The U.S. Embassy Kyiv recommends anyone trying to leave Ukraine to try crossings at the borders with Hungary, Slovakia, and Romania as wait times are much shorter (less than 15 hours in most cases).
Curfews remain in place across much of Ukraine, and there are reports of shortages of food, fuel, and medicine in Kyiv and other areas.
In response to sanctions, President Putin ordered Russia's Strategic Missile Forces on high readiness. This likely means that Russia's nuclear arsenal is being primed and disbursed. This is a political—not strategic—reaction to robust international pressure and can be taken as a sign of perceived weakness. The U.S. and Western allies did not escalate by raising their own nuclear readiness posture.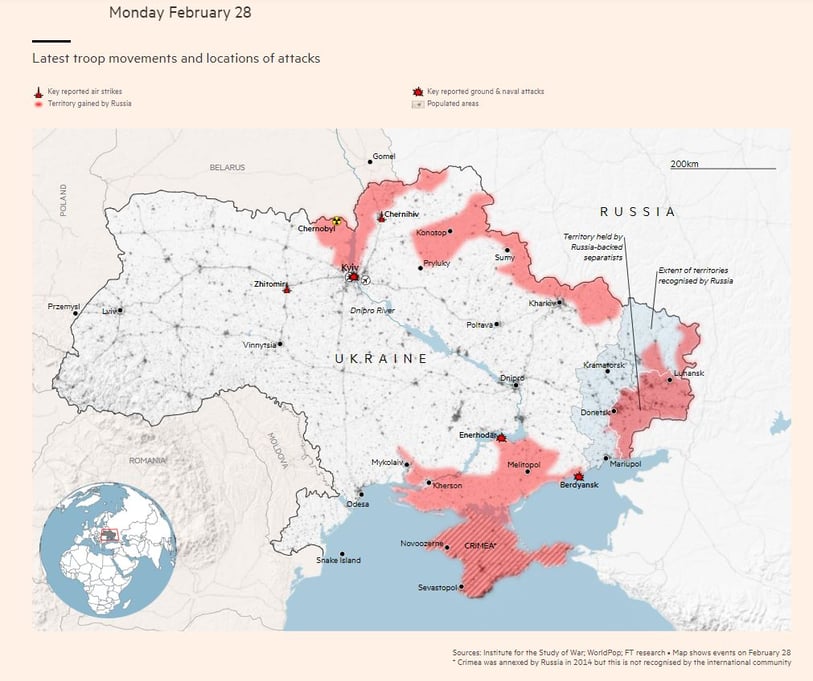 Sanctions
Western nations, along with Japan, Singapore, and others, have introduced even more stringent sanctions on Russia, leaving Russia a pariah state.
Nearly all of Europe plus Canada instituted a ban on Russian air carriers, including private jets and all overflights of their territory. In retaliation, Russia banned its airspace to airlines from 36 countries, including Europe and Canada.
The EU plans to ban Russia's state-owned news outlets Sputnik and Russia Today. This move will likely result in Russia revoking the credentials and banning EU news outlets from reporting out of Russia.
Switzerland, historically neutral, has closed airspace to Russian aircraft and is set to enforce financial and economic sanctions against Russia.
Various logistics companies have either halted or are considering halting shipping into Russia.
Russia's economy is set to take a major hit. The Russian ruble is down 30% in value, the Moscow Stock Exchange has been closed, there are runs on ATMs and banks across the country, and Russia's massive foreign reserves (600bn USD) have been rendered nearly useless. Russia's Central Bank has instituted capital controls and more than doubled the key interest rate to 20% in an effort to stave off a currency collapse.
Advice
Expats wishing to leave Russia will likely need to transit to a third country first to connect to a flight home, as flight options are limited. India, the UAE, & Qatar remain viable options.
Those who remain in-country in Ukraine must carry valid identification at all times.
Those who remain in-country should follow their evacuation plans or shelter in place depending on their location and circumstances.
Support
Our team can respond immediately with the following capabilities:
Bespoke intelligence reports and briefings
Armed or unarmed security personnel
Satellite communications (phone and wireless internet)
Emergency medical and tele-medical support
Logistical support (food, water, generators, fuel)
Evacuation by ground, air, or sea
Click below to contact Global Guardian's 24/7 Operations Center or call us directly at +1 (703) 566-9463.