SITUATION UPDATE - WEEK 9
The newest phase in Russia's invasion of Ukraine continues to take shape as Russian troops south of Izyum made slow but steady progress toward Slovyansk. Elsewhere, explosions rocked Transnistria—a pro-Russian breakaway state within Moldova—raising fears of a false flag attack on Ukrainian territory originating from the west. In the south, Russian forces defended captured territory from Ukrainian counteroffensives with intense artillery fire.
Tactical Update
Russian forces likely led the false flag attacks in Transnistria on 25-27 April. Russia may be seeking to lay the foundation for Transnistria to join the war to support Russian troops with reserve forces or as a platform to launch attacks on Ukrainian territory. Transnistria is unlikely to develop into a significant new front in the conflict, but could destabilize Moldova, putting additional pressure on NATO to divert aid from Ukraine. Alternatively, Transnistria could allow a Russian force to stage limited attacks on the Ukrainian city of Odesa to cause panic and potentially benefit Russian activities in southern Ukraine.
Russian airstrikes continue to target Ukraine's transport infrastructure to slow down foreign military aid to the front lines in south and eastern Ukraine. Recent strikes targeted a railway bridge connecting neighboring Romania to Odesa and railway facilities in Ukraine's central Vinnytsia region. As many transport hubs are also passenger hubs, danger to passenger travel remains extreme throughout the country despite ground fighting becoming localized to the south and east.
The United States announced an extra $332 million of military aid to Ukraine, bringing total U.S. security financing provided to Ukraine since the start of the invasion to more than $3.7 billion. The previous military aid package, which was announced on 14 April, included 18 American 155mm howitzer cannons and anti-artillery radars for the first time. U.S. officials have likewise confirmed that Ukrainian troops are being trained to use the new equipment in an undisclosed location outside of Ukraine.
Improvements to Ukraine's artillery capabilities are expected to have a significant impact on the newest phase of the invasion due to Russia's strategic shift away from assaulting urban centers such as Kyiv toward capturing the wide-open plains of the Donbas.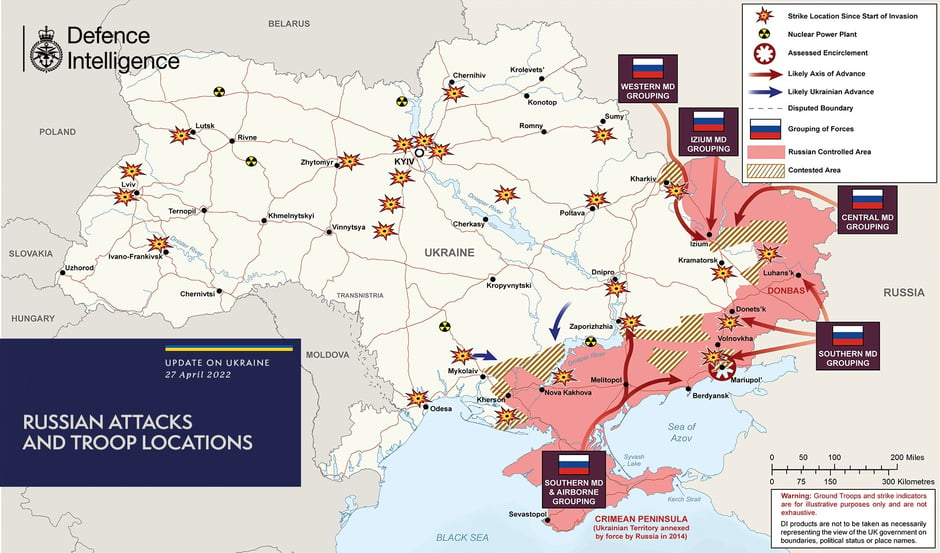 LOOKING AHEAD
It remains too early to conclude exactly how Russia's offensive will unfold over the next several weeks. Although a renewed offensive could appear in the southwest toward Odesa with assistance from Russian forces in Transnistria, existing supply, fatigue, morale, and organizational issues suggest a poor outcome. Meanwhile in the east, even should Russian forces make territorial gains in the coming weeks, exhaustion may mean Russia cannot hold the captured territory.
Support
Our team can respond immediately with the following capabilities:
Bespoke intelligence reports and briefings
Armed or unarmed security personnel
Satellite communications (phone and wireless internet)
Emergency medical and tele-medical support
Logistical support
Evacuation by ground where feasible
Click below to contact Global Guardian's 24/7 Operations Center or call us directly at +1 (703) 566-9463.