Strategic UPDATE
Russian president Putin is expected to make a major announcement on 09 May to mark Russia's annual celebration of Victory Day. As the commemoration of Russia's victory over Nazi Germany in 1945, Victory Day 2022 is certain to acknowledge Russia's "denazification" of Ukraine.
Some analysts fear that Putin will use the moment to formally declare war on Ukraine. This would allow Russia to issue a mass mobilization of forces to overwhelm Ukraine's defenses with fresh soldiers. However, there are several reasons why this is unlikely to occur:
Existing logistics and organizational issues in Ukraine would be increased by an influx of new troops that would normally receive months of training.
Russia's existing stockpiles of munitions are running low as the invasion enters its third month of operation. Russia cannot reliably both outfit a larger force and commit to a sustained offensive that allows it to hold captured territory.
Mass conscription would be highly unpopular among the general Russian population, which has so far not been directly affected by events in Ukraine. This could endanger Putin's historically secure political position at home.
A formal declaration of war is opposite to Russia's historic Victory Day celebrations—which are celebrations of peace and victory after war—and would not signal strength to the Russian people. This too could endanger Putin's domestic appeal, which he is unlikely to risk.
On the contrary, Putin is more likely to announce victory in the second phase of Russia's "special operation" regardless of the situation on the ground. Russia will signal its intention to defend captured territory from falling back into the hands of "fascists" while seeking a satisfactory, if temporary, end to Ukrainian counter-offensives.
Russian forces have succeeded at capturing Kherson and Mariupol despite fierce resistance, allowing Russian forces in south Ukraine to establish a land corridor to Crimea.
Russian forces are making slow but steady progress toward capturing the Donetsk Oblast that comprises the territory claimed by the pro-Russian Luhansk and Donetsk People's Republics of eastern Ukraine.
Putin can deflect attention to alleged Western aggression toward Transnistria, where Russian state news sources allege a Moldovan-Romanian alliance, backed by U.S. advisors, is conspiring to reclaim territory occupied by pro-Russian forces.
Putin can claim that captured territory has been "denazified" and that the remainder of Ukraine will be close behind.
Putin may announce intent to recognize referendums that will accede Kherson and other occupied territory in the east and south to Russia. Russia is already consolidating control of Kherson, beginning with a transition to the Russian ruble on 01 May and followed by rerouting local internet traffic through Russian-controlled infrastructure the day after.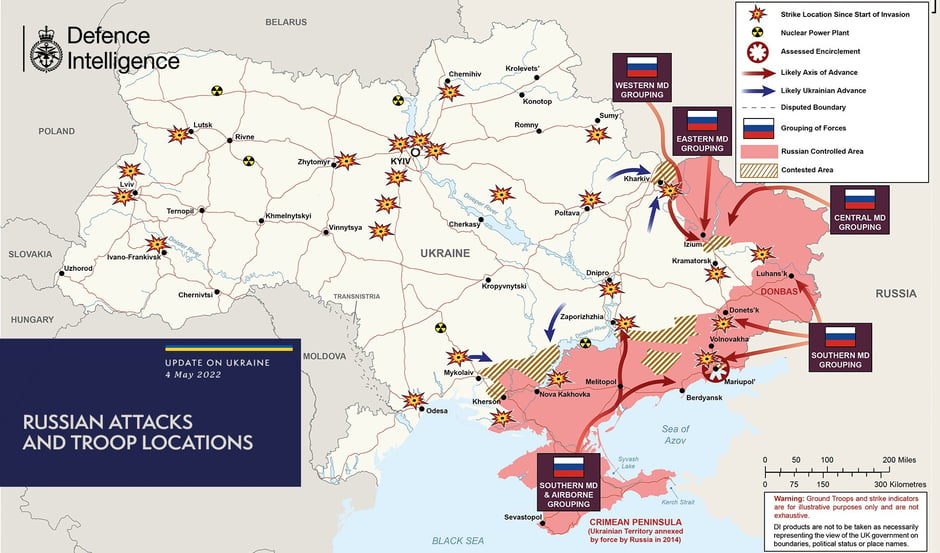 LOOKING AHEAD
Bottom line, Russia's actions are too restricted by a difficult tactical and operational reality in Ukraine to shift back to its initial broad war aims. Meanwhile, squeezing the illusion of victory out of the invasion appears to be feasible enough for Putin to pursue methods that are less risky to his political rule.
Support
Our team can respond immediately with the following capabilities:
Bespoke intelligence reports and briefings
Armed or unarmed security personnel
Satellite communications (phone and wireless internet)
Emergency medical and tele-medical support
Logistical support
Evacuation by ground where feasible
Click below to contact Global Guardian's 24/7 Operations Center or call us directly at +1 (703) 566-9463.