Strategic UPDATE
After Russian forces secured Lysychansk—marking the completion of its capture of the Luhansk oblast—Russia paused from 04 July to 16 July to regroup and reconstitute its forces. The slow-moving offensive in Donetsk has resumed, yet the Donbas (Luhansk and Donetsk oblasts) is no longer the center of gravity of the conflict.
On 20 July, Russian Foreign Minister Sergei Lavrov declared that the geographical objectives of Russia have changed from just the Donbas to now include Kherson and Zaporizhia oblasts.
Since the end of June, Ukraine has deployed between 8-12 U.S.-made High Mobility Artillery Rocket Systems (HIMARS) which have been incredibly effective on the battlefield despite their low number. Ukraine now has the ability to target Russian ammunition, supplies, and command and control centers well behind the front lines. This development has forced the Russians to disperse/decentralize their logistics depots further slowing down the Russian offensive in the east and making it more difficult for Russian defenders in the south to obtain supplies.
On 19 and 20 July, Ukraine targeted the Antonovskiy Bridge on the Dnipro River in Kherson oblast. The bridge is one of two key river crossing points, making it a vital supply line for Russian forces in Kherson, Mykolaiv, and Kryvyi Rih regions. Ukrainian forces have been softening Russian positions in Kherson for over a month attacking both frontline defenses as well as command and control centers and logistical nodes. It is possible that the efforts to prevent Russian resupplying of its forces on the west bank of the Dnipro mean that Ukraine will escalate its counter-offensive in the south in the coming days and weeks.
On 13 July, the European Commission revised its guidance on Russian sanctions, carving out an exception for goods transported from Russia to the Russian exclave of Kaliningrad via Lithuania by rail. Almost a month earlier, Lithuania began to implement EU sanctions on Russia effectively cutting off Kaliningrad from Russia. The solving of this impasse greatly reduces tensions between Russia and the Baltic states, which stood to bear the brunt of Russian intimidation tactics.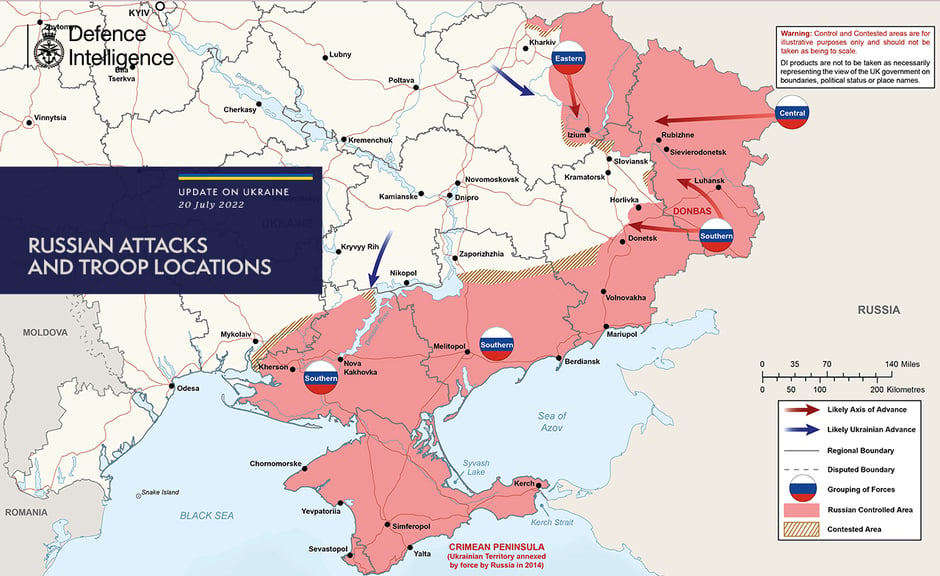 LOOKING AHEAD
The war is entering a new chapter. But unlike previous chapters, this stage will be authored by the Ukrainians. We are anticipating a major counter-offensive operation in the south to liberate the Russian-occupied city of Kherson. Lavrov's announcement of Russia's intention to annex Kherson oblast is likely in anticipation of this next phase of fighting.
U.S. intelligence suggests that Russia is looking to formally annex the territory under its control as early as 11 September. Russia is set to hold local and gubernatorial elections across the country on this day, thus making it the most suitable time practically and symbolically to hold accession referenda in occupied Ukrainian territory.
Current Russian doctrine allows for the use of nuclear weapons to defend its territory. Upon annexation, President Putin may try to leverage the threat of nuclear weapons to deter further NATO arms transfers to Ukraine.
Putin may even threaten to use tactical nuclear weapons to prevent Ukraine from retaking territory on the east bank of the Dnipro River in Kherson Oblast should Ukraine start to mount an effective counter-offensive in the south.


Support
Our team can respond immediately with the following capabilities:
Bespoke intelligence reports and briefings
Armed or unarmed security personnel
Satellite communications (phone and wireless internet)
Emergency medical and tele-medical support
Logistical support
Evacuation by ground where feasible
Click below to contact Global Guardian's 24/7 Operations Center or call us directly at +1 (703) 566-9463.