Strategic UPDATE
On 25 July 2022, Taiwan commenced its semi-annual military drill simulating a Chinese invasion of its shores. Tensions across the Taiwan Strait are high after it was leaked that the United States (U.S.) House Speaker Nancy Pelosi plans on traveling to Taiwan in August. Given Russia's invasion of Ukraine, the threat to Taiwan posed by China no longer seems so distant and low probability. A conflict over Taiwan now represents the highest impact downside risk to businesses operating in Asia and to the global economy writ large.
Beijing considers self-ruled Taiwan to be a renegade province and has always maintained its right to use force to reunify. China has historical, economic, and geostrategic imperatives for controlling Taiwan. After witnessing China's crushing of democracy in Hong Kong, reneging on its "one country, two systems" policy, the Taiwanese people's desire to unify with the mainland has reached all-time lows – a mere two percent in 2022 polling. The prospects of peaceful unification are all but dead.
China has made generating the military capability to invade Taiwan a decade-long focus, producing some 200 advanced J-16 fighter jets and J-20 stealth jets and building a naval fleet larger than the American Navy in the greatest military build-up since WWII. In lockstep, Beijing has also produced robust anti-access/area denial capabilities designed to prevent Washington from being able to come to Taipei's defense.

Counter to popular belief, China's window for action is closing for demographic, economic, and military reasons. In addition, its neighbors have increased their military spending, and some have begun to band together in forums such as the Quadrilateral Security Dialogue (U.S., India, Japan, Australia) and AUKUS (Australia, United Kingdom, U.S.). Estimates from both Taiwan and the U.S. indicate that China may make its move before 2027 when it celebrates the 100th anniversary of the founding of China's People's Liberation Army (PLA). Though circumstances may accelerate or decelerate Beijing's plans.

Possible Flashpoint
The proposed trip by Speaker Pelosi would be the first trip by a U.S. official of her rank in 25 years against a very different geopolitical backdrop than that of 1997. The potential Pelosi trip puts the U.S. in a dangerous catch-22 situation vis a vis the Chinese Communist Party. The trip comes as President Xi is preparing to break conventions and seek a third term at the ruling Communist Party's 20th congress this fall, and the American mid-term election season heats up.
Abandoning the trip would be seen as cowing to China which would help inculcate the dominant sentiment in Beijing that America is in decline and losing its willingness to use its hard power, further endangering Taiwan. Domestically, it would also offer ammunition to President Biden's opponents who would like to portray him (and his party by extension) as weak on China ahead of the mid-term elections.


Going ahead with the trip, conversely, would dramatically increase cross-strait tensions. The Chinese Ministry of Defense and several other party officials have subsequently issued threats. The U.S. military is taking these seriously with the navy dispatching an aircraft carrier strike group from Singapore to strengthen its force posture and deter any Chinese action ahead of the visit.
Should the trip go ahead there will be pressure on all sides to demonstrate resolve without taking unnecessary escalatory risks. Yet there is always the potential for miscalculation and human error.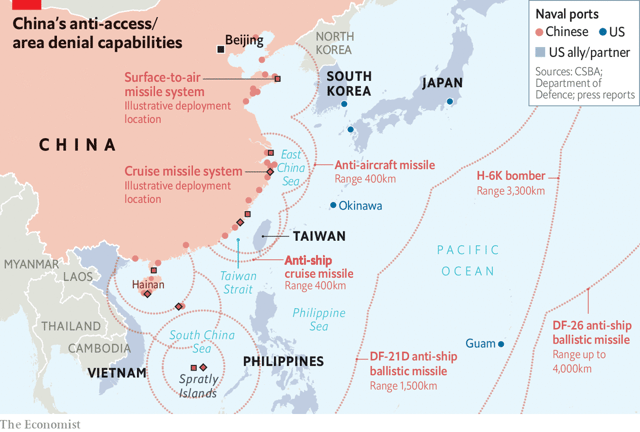 LOOKING AHEAD
Potential Chinese Responses
Pause or end trade talks

Scramble fighter jets to buzz Pelosi's transport

Declare Taiwan within its air defense identification zone (ADIZ)
A conflict over Taiwan is the number one downside risk to businesses operating in Asia and to the global economy writ large. While a full-blown Taiwan Straits crisis may not be imminent in the short run, the impacts and costs on the global business community would be grave and innumerable. While China's COVID-zero policy created massive bottlenecks which severely disrupted supply chains, a conflict in the Taiwan Strait could irrevocably break supply chains.
From vital precursor materials for medicines to the near annihilation of semiconductor manufacturing, a war would alter the shape of the global economy overnight. It would be impossible to predict the devastating impact on the price of energy and container shipping, and the overall demand destruction that would ensue. Dire risks to foreign businesses operating within China, including but not limited to hostage taking, expropriation, revocation of licenses, and other sanctions would also be within the realm of possibility.
Support
Our team can respond immediately with the following capabilities:
Bespoke intelligence reports and briefings

Deployment of security personnel

Satellite communications (phone and wireless internet)

Emergency medical and tele-medical support

Logistical support

Evacuation planning
Click below to contact Global Guardian's 24/7 Operations Center or call us directly at +1 (703) 566-9463.