SITUATION UPDATE
Lviv
A Russian cruise missile strike destroyed an aircraft repair plant in Lviv. The strike raises concerns over Lviv's relative safety and underscores Russia's commitment to degrading Ukraine's military and civilian industrial base.
In an interview with Russian news organization RT on 18 March, Foreign Minister Sergei Lavrov reiterated that NATO weapons transfers will be treated as targets. This could increase threats against Lviv, which has served as a main transfer point for foreign military assistance.
Kyiv
Around Kyiv, Russian advancements from the west and northwest remain stalled. Russian artillery continues to target population centers in and around Kyiv.
Kharkiv
Russian forces continue to shell Kharkiv, but have not launched any major assaults on the city. To the south of Kharkiv, Russian forces launched several unsuccessful attacks to bypass Izyum on 16-17 March after failing to take the town through frontal assaults.
Mariupol, Kherson & Odesa
Mariupol remains under brutal siege as Russian forces target civilian infrastructure.
Near Kherson, Russian forces continue to reinforce existing positions as part of a larger operation to defend the city—the only large city under Russian control—and its airbase.
In Odesa, Russian forces appear unlikely to launch an unsupported amphibious assault as elements of Russia's 810th Naval Infantry Brigade were deployed to Mariupol on 16 March after being held in reserve.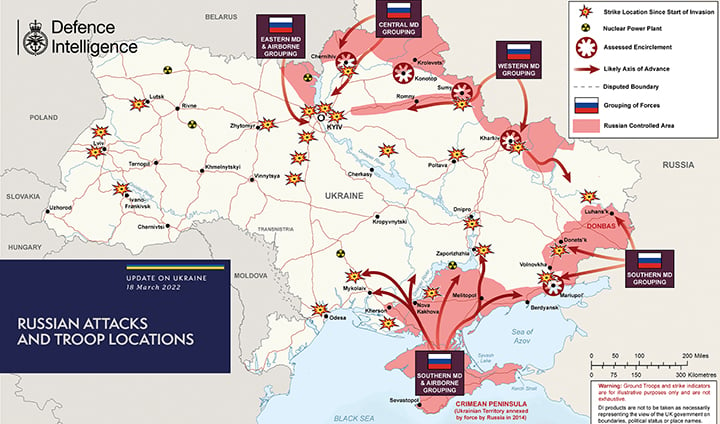 RU-UA Negotiations
Ukraine has reportedly called for Turkey and Germany to act as guarantors of any Russian ceasefire deal. Ukrainian President Zelensky may be seeking to stall negotiations for a better deal as Ukrainian forces successfully extend the Russian assault far beyond its allotted resources and Western sanctions take effect.
Russia: Putin Sets Sights Within
In a meeting held on 16 March, Putin warned that the real threat to Russia is a "fifth column" of "traitors" who believe Western information on Russia's war in Ukraine. Putin's statements of a "purification of society" may precede legislative action further tightening restrictions on civil society. Exit bans have anecdotally been reported, along with intensive questioning of Russian citizens attempting to leave the country.
On 17 March, Russian Foreign Minister Sergei Lavrov was reportedly halfway to China before his plane reversed course and returned to Moscow. Both Russia and China have denied the event which may signal a diminishing of support for Russia's war in Ukraine from China.
On the World Stage
Slovakia has pledged to send Ukraine S-300 long-range surface-to-air missiles if NATO provides a "proper replacement". The air defense systems would replace the few possessed by Ukraine at the start of the war and allow Ukrainian forces to target Russian warplanes at an increased distance.
In turn, the Russian Foreign Ministry warned that the transfer of S-300s by NATO to Ukraine would "create problems" for the donor countries.
Uzbekistan, traditionally a Russian ally, has broken with Russian recognition of the conflict and called for an end to the war in Ukraine, suggesting that Russia's inability to wrest an immediate victory in the war has even its long-time allies concerned.
Support
Our team can respond immediately with the following capabilities:
Bespoke intelligence reports and briefings
Armed or unarmed security personnel
Satellite communications (phone and wireless internet)
Emergency medical and tele-medical support
Logistical support
Evacuation by ground where feasible
Click below to contact Global Guardian's 24/7 Operations Center or call us directly at +1 (703) 566-9463.