In Global Guardian's monthly Risk Barometer, our Intelligence Team highlights current global hotspots with the potential to impact your business operations and travels. Read below for analysis on the threats we are closely monitoring this month and click here to subscribe for regular intelligence updates, including this monthly report.

War Enters New Phase Replete with Escalation Risks
The start of June ushered in a new phase of the Russo-Ukrainian conflict creating geopolitical uncertainty and elevating the prospects of escalation risks. In Russia, Ukrainian and Ukrainian-affiliated groups have stepped up attacks. In Ukraine, the Armed Forces of Ukraine (AFU) ostensibly began its much-anticipated summer offensive in Zaporizhihia and Donetsk Oblasts leveraging some of its new Western hardware. Meanwhile, the Kremlin is readying the deployment of tactical nuclear warheads to Belarus set for July delivery and the Russian Ministry of Defense (MoD) is taking its first steps to subordinate the Wagner Group.
In what appears to be an intentional demolition, on 06 June, the Nova Kakhovka dam was destroyed in a move to ostensibly consolidate Russian lines and prevent Ukraine from mounting cross-river landings in Kherson Oblast ahead of the Ukrainian counteroffensive. On 07 June, the AFU launched a major push in its counteroffensive against Russian forces across an approximately 150km long front on three axes: the Vuhledar axis, the Velyka Novosilka axis, and the Orikhiv axis. The presumed intent of the counteroffensive is to break Russia's land bridge which spans from Rostov-on-Don to Crimea along the Sea of Azov. This surge marks the most combat activity since the summer of 2022.
In the first four days of the operation, the Ukrainians liberated more than 60 square kilometers of territory.
Global Guardian continues to advise against non-essential travel to Ukraine.
Travelers to Russia may face the risk of arbitrary detention.
More nuclear brinkmanship can be expected though the risk of first use is still low.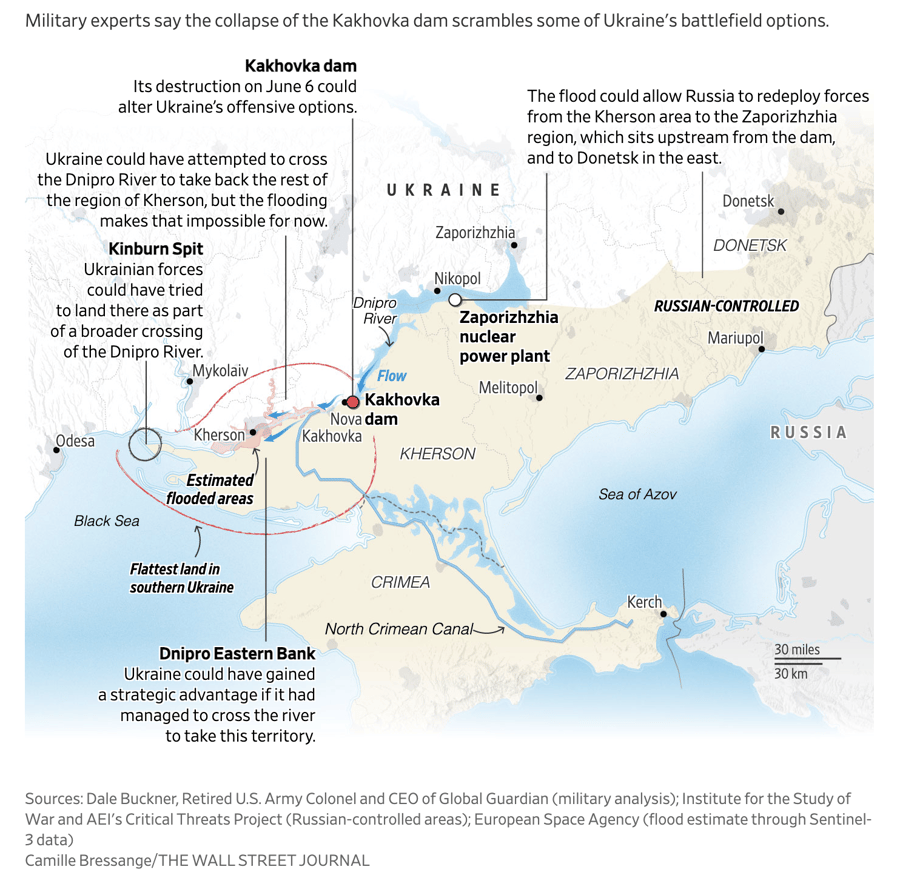 From The Wall Street Journal
Recent Events
11 June

– Yevgeny Prigozhin, the financier of the Wagner Group, announced that he had received an order from the Russian Ministry of Defense (MoD) to place his forces under the command of the Russian military.

06 June

– The Nova Kakhovka dam was destroyed. The resulting flooding of the Dnipro inundated dozens of villages and altered the strategic landscape of the counteroffensive.

04 June

– The Russian Volunteer Corps (RDK) and Freedom of Russia Legion (LSR) – two Russian partisan groups – launched another raid into Belgorod Oblast centering on Novaya Tavolzhanka.

01 June

– The RDK and LSR launched a raid into Belgorod Oblast centering on Novaya Tavolzhanka and Shebekino.

30 May

– Ukraine launched a drone attack on various locations in Moscow. The attack was allegedly directed at high value targets in the upper class Rublyovka neighborhood.
Analysis
The war is now entering its fifth phase and most important phase. The first four phases comprised Russia's ill-fated attempt at regime change at the start of the war, an attritional artillery campaign in the Donbas, Ukraine's two-pronged counteroffensive in Kharkiv and Kherson oblasts, and the reconstitution of both forces: Russia conscripted, trained, and dug-in while maintaining pressure focusing on Bakhmut; and Ukraine received tanks, artillery, and air defenses and were trained how to use them.
The stakes are high for both sides as Ukraine needs to prove to its Western benefactors that all the military aid is moving the needle and can facilitate Ukraine achieving its strategic goal of breaking Russia's land bridge. Failure in the counteroffensive will have dire consequences for the Zelensky regime in terms of the scope of future aid and the political future of the current cast of disparate actors leading Ukraine. Meanwhile, the regime in Moscow is highly brittle. Should failures continue to compound, and fissures widen between the Ministry of Defense and Wagner, the cast of oligarchs whom President Putin presides over may turn their sights on each other.
Looking Forward
We can expect the following in the near-term:
Nuclear threats – Through the formal annexation of Ukrainian territory, the legal justification for the "defensive" use of nuclear weapons is in place. Russia is set to station tactical nuclear warheads in Belarus, presumably to be loaded onto missiles or bombers to threaten Kyiv. The devices will also place much of eastern Europe in range. We can also expect the Zaporizhzhia Nuclear Power Plant to come under threat in false flag attacks or to draw fighting into the area to create an international incident.
More subterfuge within Russia – More sabotage acts, drone attacks, and more Russian Volunteer Corps (RDK) cross-border raids in western Russia.
Slow progress – This is an attritional war occurring in a large country where most of the war has been characterized by logistical difficulties and artillery/trench warfare almost reminiscent of WWI. Rapid breakthroughs will not happen overnight – especially since the skies are contested – and most of Ukraine's offensive potential is still waiting on the sidelines, ready to exploit any weaknesses exposed in this initial thrust.
Salt the Earth Behind You – Russia has pivoted from its winter strategy of denying Ukraine heat by attacking Ukraine's power grid to attacking food production. The destruction of the Nova Kakhovka dam may be the start of a campaign to deny Ukraine the ability to produce essential foodstuffs, let alone export grain – one of Ukraine's main economic lifelines.
Key Takeaways
The summer counteroffensive has begun and there is no indication how long it will last or how successful it will be. What we do know is that, both sides are manufacturing chaos – attacks within Russia and the destruction of the Kakhovka dam – bringing more short and long-term uncertainty into the mix. Without air superiority, Ukraine's mechanized attempts to break Russian lines will be challenging. The outcome of this summer offensive will have an impact on political stability in both nations, and more serious nuclear threats can be expected.

Fatal Demonstrations Shake Senegal as Main Opposition Leader is Convicted
Deadly unrest has broken out across Senegal following the conviction of leading opposition figure Ousmane Sonko. Several protesters and members of the security forces have been killed or wounded by live ammunition. While the situation has stabilized somewhat since the height of clashes late last week, the potential for an escalation of violence or severe travel and communication disruptions remains very high. The situation is likely to deteriorate rapidly should Sonko be taken into custody.
So far, at least 15 people have been killed, 350 injured - 78 of whom are in serious condition – and more than 500 people have been arrested. Multiple people have been killed or wounded by live ammunition, and security forces have made heavy use of teargas. Internet and mobile communications are being regularly suspended by the government to disrupt the organization of protests via social media. Under the Macky government there has been an increase in police killings and lack of accountability.
Demonstrations erupted across the country after news broke of Ousemane Sonko's conviction on charges of "corrupting the youth," which carries a two-year prison sentence and precludes him from standing in the upcoming elections slated for February of 2024. The government of President Macky Sall has responded to the unrest by mobilizing riot police and the army to quell the demonstrations. The government has also been imposing an internet "curfew" from 13:00 to 02:00 (local time) since 06 June.
Global Guardian recommends avoiding all unnecessary travel to Senegal until the security situation stabilizes.
For essential travel to Senegal in the near future, we recommend having an evacuation plan in place should the security environment deteriorate.
For travelers and personnel currently in Senegal, we recommend using real-time intelligence monitoring.
We strongly recommend the use of low-profile secure transportation for essential travel within Senegal.
Sonko supporters have burned, looted, or otherwise destroyed dozens of buildings, including banks, supermarkets, and – notably – the law faculty of Dakar University, which demonstrators pointed to as a symbol of a judiciary that has lost their confidence. Protesters blocked several major thoroughfares, including the Axis VDN highway leading north from Dakar, although security forces had begun the process of reopening most of these routes by Monday morning. Sonko has repeatedly called on his supporters to engage in anti-government protests since his original detention in 2021.
RECENT EVENTS
01 June – Ousmane Sonko was sentenced to two years in prison in absentia by a Dakar court.
01 June – Multiple injuries and fires were reported as students and security forces clashed at several educational facilities in Dakar.
01 June – Multiple buildings were set alight throughout Senegal, markets were shut down, and the first fatality was reported by Senegalese media.
02 June – Senegalese army was deployed to Dakar to assist police in addressing protests.
03 June – Senegalese media reported the death of a Gendarme from a gunshot wound.
04 June – Regular telecommunication blackouts in Senegal amidst ongoing protests reported.
Background
Tension in Senegal had been steadily rising throughout the trial of Ousmane Sonko, who stood accused of "corrupting the youth," and the rape of a 20-year-old woman employed at a massage parlor. Sonko was convicted on the charge of "corrupting the youth" which entails using one's position to have sex with someone under 21 years of age. However, he was acquitted of the rape charge, as well as of charges of intimidation and death threats. Sonko maintains that all the charges against him are politically motivated and part of Macky Sall's attempt to remain in office unconstitutionally.
While Senegal's presidency is constitutionally limited to two terms, President Sall has indicated that he may be planning to run for a third term. Sall argues he is eligible on the grounds that constitutional changes made in 2016 that shortened the presidential term unfairly truncated his electoral mandate. Sall's refusal to dismiss the possibility of his running for a third term and the timing of Sonko's legal troubles indicate a possible slide towards authoritarianism. Senegal has traditionally been a bastion of democracy and stability in the region. However, the benefits of recent economic growth have failed to materialize for large portions of Senegal's population, particularly the youth.
LOOKING FORWARD
Religious leaders have offered to mediate talks between the Sonko and Macky camps. It is possible that these talks, combined with international pressure, may put Senegal on a path towards peaceful resolution of the crisis. Senegal's democratic institutions are relatively robust and a descent into outright authoritarianism is not probable. The Senegalese judiciary has stated that Sonko could appeal his conviction from prison.
Key Takeaways
The security situation in Senegal is likely to rapidly deteriorate if Sonko is taken into custody. If Sonko is not allowed to stand in the upcoming election there is a high likelihood that another wave of unrest will materialize and intensify in the run up to the election.

Rising Ethnic Tension in Kosovo Threatens to Upset Regional Stability
Violence erupted between ethnic Serb protesters and Kosovar security forces on 29 May in northern Kosovo. Diplomatic pressure from the U.S. and EU has stabilized the situation for now. But maximalist demands on the parts of both Kosovar Prime Minister Albin Kurti and Serbian President Aleksandr Vucic, compounded by intense political pressure in Serbia, threaten to upend a fragile regional stability.
Clashes took place in the overwhelmingly ethnically Serb municipalities of Zvecan, Leposavic, Zubin Potok and Mitrovica where at least 50 Serb protesters, and 30 NATO troops assigned to the Kosovo Force (KFOR) peacekeeping mission were injured in the confrontation. Demonstrators armed with rocks, tear gas, Molotov cocktails, and police batons attacked Kosovar security forces and NATO peacekeepers, ten of whom were left in serious but stable condition with several suffering gunshot wounds. NATO has since augmented its presence in the area with a contingent of several thousand Turkish commandos. Serbia's armed forces are on combat alert with elements stationed near the Kosovo border. Travel within northern Kosovo and crossing between Kosovo and Serbia will be hampered by increased security presence and the probability of future clashes.
Global Guardian recommends avoiding all non-essential travel to northern Kosovo, and increased caution for all travel to both Kosovo and Serbia.
Avoid all protests and concentrations of security forces. Anticipate heightened security and associated disruptions at all future protest sites.
Context
The unrest was precipitated by Kosovo's decision to proceed with municipal elections following the mass resignation of Serb representatives in November of 2022 in response to a controversial mandate requiring Kosovar license plates throughout the country. Serbian Kosovars boycotted the election with support from officials in Serbia who demanded the recognition of the Association of Serb Municipalities (ASM), before elections take place. As a result of the boycott, a cohort of largely ethnically Albanian representatives was elected to the Serb majority municipalities by less than five percent of the electorate. The clashes occurred when Serb demonstrators attempted to gain access to municipal buildings where the new mayors had taken up their posts.
Kosovo, which is predominantly ethnically Albanian, unilaterally declared independence from Serbia in 2008 with NATO support. Serbia does not recognize Kosovo's independence, and Kosovar Serb's consider themselves citizens of Serbia. A brutal 1999 war between Kosovar Albanians and Serbia characterized by ethnic cleansing and other crimes against humanity culminated in a NATO bombing campaign centering on Serbia's capital, Belgrade. A NATO contingent has been present in Kosovo since the end of the war, and both countries aspire to EU membership, facts which lend significant leverage to the U.S. and EU.
Substantial diplomatic pressure from the U.S. and EU – including the immediate cancellation of a planned NATO military exercise and threats to freeze Kosovo's path to EU and NATO membership – resulted in Prime Minister Kurti stating an openness to redoing the municipal elections. However, President Vucic, a hardline nationalist, has reiterated his demand that Kosovo recognize the ASM before any new elections are held. Recognition of the ASM is a key component of the EU path to normalization proposal tentatively agreed to by Kosovo and Serbia in March. Kurti – whose political position is characterized by uncompromising Kosovar sovereignty – has voiced continued opposition to the recognition of the ASM, citing the Republika Srpska in neighboring Bosnia and Herzegovina which leverages its legal status and threats of secession to exercise an outsized level of influence in Bosnian politics.
Looking Forward
The domestic political situations in both Kosovo and Serbia may exacerbate the current crisis. Vucic's political position is dire. Two high-profile mass shootings in Serbian society have resulted in tens of thousands of Serbians taking to the streets in opposition of Vucic's government. Large scale protests have occurred weekly since 08 May. In response, Vucic, in keeping with past nationalist leaders, is very likely to lean more heavily on energizing his nationalist base through increasingly provocative stances in Kosovo. The amelioration of the situation is further hampered by Kurti's hardline politics, which feed into Vucic's in a self-perpetuating cycle of vilification, rhetorical escalation, and ethnic tension.
KEY TAKEAWAYS
The situation is likely to destabilize as opposition to Vucic mounts and his party comes to rely more heavily on banner waving in defense of Kosovar Serbs. Further instances of violence in northern Kosovo are probable, and large-scale protests in Belgrade may become violent as the crisis develops.
CUSTOM INTELLIGENCE
Our intelligence analysts provide in-depth custom reports—including critical insight from on-the-ground resources—for clients and organizations in need of real-time analysis of world events with the potential to impact business operations. To learn more—and start building your report—complete the form below.