In Global Guardian's monthly Risk Barometer, our Intelligence Team highlights current global hotspots with the potential to impact your business operations and travels. Read below for analysis on the threats we are closely monitoring this month and click here to subscribe for regular intelligence updates, including this monthly report.

Violence Surges Amid Capture of El Chapo's Son and Major Prison Break
The first two weeks of this month saw major cartel violence erupt first in Ciudad Juarez, Chihuahua and then in Culiacan, Sinaloa. The violent clashes, including shootouts, vehicle blockades, fires, and car-jackings, followed the armed commando attack of a prison in Juarez (Cereso No. 3) and the arrest of Ovidio Guzman, son of El Chapo, in Culiacan. These latest events in a series of violent incidents underscore the omnipresent but growing risk of violence in Mexico, and the need for low-profile, secure transportation for travel within the country.
On 05 January 2023, upwards of 3,500 security personnel took part in an operation to arrest Ovidio Guzman, son of Sinaloa Cartel drug lord Joaquin 'El Chapo' Guzman. Most were deployed to contain the aftermath of the arrest, which saw forces loyal to Guzman clash with police and military, engaging in shootouts in Culiacan and other cities across Sinaloa. Cartel gunmen hijacked vehicles and set them ablaze, firebombed buildings, and erected roadblocks across the state. Police closed all roads in and out of the city. At least 19 cartel gunmen were killed, 21 others arrested, and 35 soldiers injured in the chaos, dubbed "Culiacanazo 2.0."
The violence resulted in operational disruptions at multiple airports, including at Culiacán International Airport (MMCL/CUL), Los Mochis International Airport (MMLM/LMM), Mazatlan International Airport (MMMZ/MZT) and Sonora's Ciudad Obregón International Airport (MMCN/CEN).

Ovidio Guzman had previously been arrested in 2019 and released after cartel gunmen laid siege to his detention center in Culiacan and caused chaos across the city, the first so-called "Culiacanazo" or Battle for Culiacan.

Guzman is now in custody at a high-security facility in Mexico City, and there are concerns his presence could lead to violence in the capital.
On 01 January 2023, armed commandos, believed to be associated with the Sinaloa Cartel, attacked Cereso No. 3, leading to a prison riot and death of 17 people, at least ten of which were guards. At least 30 people escaped, including 'El Neto', the leader of the Los Mexicles street gang. He was considered one of the main drivers of violence inside the prison and has influenced violence outside the prison. He was killed after clashing with police following the jailbreak.
Los Mexicles –

previously associated with "La Linea", the armed wing of the Juarez Cartel and now associated with the "New People" of the Sinaloa Cartel.

Sinaloa Cartel –

factions led by the sons of 'El Chapo' and those loyal to Ismael 'El Mayo' Zambada continue to clash across Mexico.
Global Guardian recommends low-profile, secure transportation for all travel within Mexico. At this time, we also advise against non-essential travel to Sinaloa state.
Flashback to August 2022
09-10 August 2022 – Overnight violence erupted in Guadalajara and Guanajuato after the attempted arrest of high-ranking CJNG member "El Doble R" on 09 August. Cartel members clashed with security forces, set fire to convenience stores, and set several vehicles ablaze to prevent the passage of security forces. At least three people were killed, 19 vehicles destroyed, and eleven suspects arrested.
11 August 2022 – At least 10 people were killed in Ciudad Juárez after suspected cartel members attacked multiple fast-food restaurants and convenience stores. The attacks were linked to deadly gang clashes that occurred at a Ciudad Juárez prison (Cereso No. 3) earlier in the day.
12-13 August 2022 – Overnight cartel violence broke out across northern Baja California, including in Tijuana, Mexicali, Ensenada, and Rosarito. Multiple vehicles, including buses and taxis, were car-jacked and set ablaze, forming burning blockades. It is believed that CJNG members carried out the blockades in response to the attempted arrest of "El Doble R" in Guadalajara several days before. At least 17 people were arrested in connection with the burning blockades.
Impact
As a result of the violence in Baja California in August 2022, the Mexican Army sent 350 soldiers and National Guard personnel to Tijuana and across Baja California to help shore up security. It is likely that many of the 3,500 security personnel deployed to Sinaloa following the arrest of Guzman will remain in the state to help stabilize the situation. Likewise, Juarez is likely to receive a substantial deployment of federal security.
Outlook
There are rumors that the 'El Mayo' side of the Sinaloa cartel may have tipped off security forces to Guzman's location in Culiacan. If true, or if believed to be true, this could lead to further fracturing and additional violence between 'El Mayo' and 'Los Chapitos' (sons of El Chapo). A cartel war similar to the bloody conflict over Juarez in 2008 could materialize, with violence likely across western Mexico, including in Sinaloa, Sonora, Baja California, Chihuahua, and Durango.
Should war break out, other organized criminal groups such as CJNG could take advantage of the dysfunction within Sinaloa and make offensive moves into new territories, reshaping the cartel control map and leading to additional violence. Violence in these areas has potential to disrupt operations, including shipping, especially in major border crossing locations such as Tijuana and Juarez, where cross-border trade makes up a large share of road traffic.


KEY TAKEAWAYS
The recent surge in cartel violence in Juarez and Culiacan highlights the difficult decisions faced by Mexico's security forces when it comes to combatting drug cartels. The arrest of one man resulted in the entire city of Culiacan devolving into chaos with dozens of casualties amid the deployment of 3,500 security personnel. The battle in Culiacan and the previous armed-commando-led jailbreak in Tijuana also highlight the ongoing risks to travelers, logistics, and operations, as violence in Mexico can erupt nearly anywhere, at any time.

COVID-19 Surges as Government Ends COVID-Zero
The abrupt ending of China's COVID-zero policy has unleashed an unprecedented surge of infections and various countries have now reintroduced pre-travel COVID-19 test requirements and China-travel bans. With the Chinese Lunar New Year holiday (22 January-01 February) around the corner, the COVID situation in China is poised to deteriorate. With China now open to the rest of the world, it is possible that new variants will emerge and that supply chain issues will again disrupt the production and movement of goods from China to the rest of the world.
On 07 December 2022, China began to end its COVID-zero policy, shuttering its state quarantine facilities, abandoning its mass testing regime, and on 21 December it ended the use of its tracking app. In a leaked internal document, Chinese officials surmised that upwards of 250 million citizens may have contracted the virus in the first three weeks of December. The government opened China to tourism on 08 January 2022, ending quarantine and similarly announced that it will no longer impose large-scale lockdowns and movement restrictions. The Institute for Health Metrics and Evaluation (IHME) estimates that between 300,000 and 700,000 in China will die from COVID by April and up to 1.5 million by the end of 2023. We do not expect China's COVID-19 wave to peak until April 2023.
In response to the epidemiological crisis in China, the following countries have instituted precautionary measures to slow down the potential transmission of new un-sequenced variants—though epidemiologists in the U.S. and Europe do not expect the COVID-19 surge in China to lead to a dramatic uptick in cases at home given the high levels of immunity within the population at this point.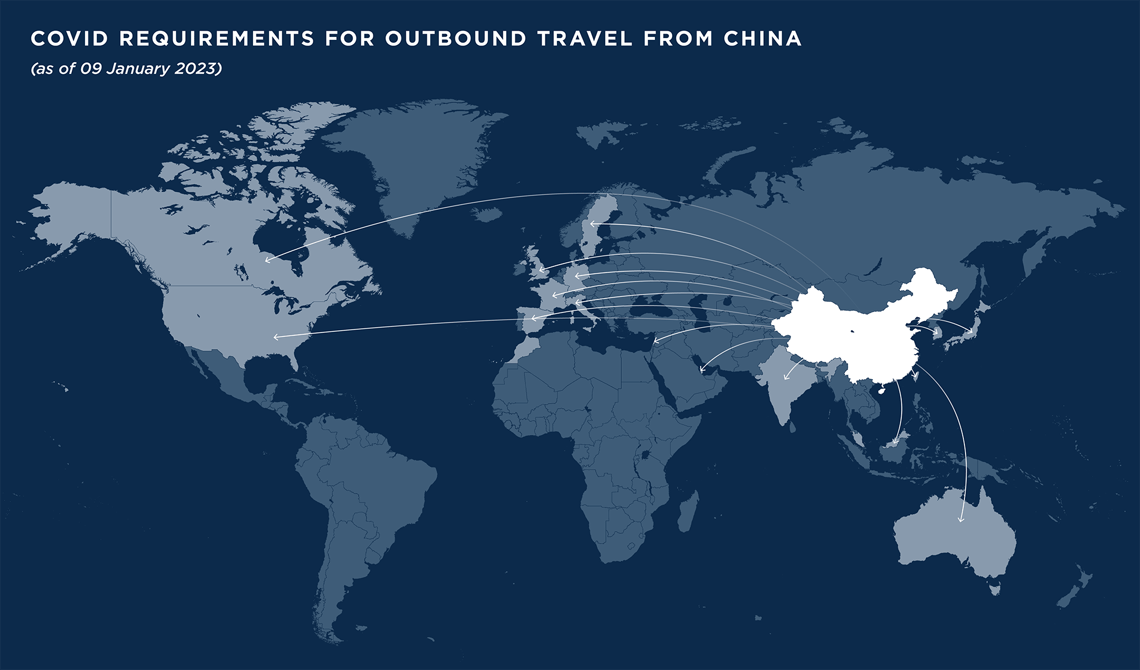 Country

Test Type

Test Timing

Applies To

Australia

NAAT or rapid antigen

Within 48 hours before departure

All passengers from China, Hong Kong and Macao that are older than 12

Canada

PCR or antigen

Within two days of departure

All passengers from China, Hong Kong and Macao that are older than 2

France

PCR or antigen

Within 48 hours before departure

All passengers from China that are older than 12

Germany

PCR or antigen

Within 48 hours before departure

All passengers from China

India
PCR

Within 72 hours before departure

All passengers from China, Japan, South Korea, Hong Kong, Singapore and Thailand

Israel
PCR

Within 72 hours before departure

All passengers from China

Italy

PCR or antigen

Within 72 hours before departure
Within 48 hours before departure



An additional test must be performed upon arrival at the airport, or within 48 hours at the competent local health authority. Travelers found positive will be subject to a mandatory 7-day isolation.

All passengers from China

Japan
PCR, LAMP

Within 72 hours before departure

All passengers from China

Malaysia
Antigen
Test on arrival
Morocco

Travelers arriving from China cannot enter Morocco

Qatar
PCR

Within 48 hours before departure

All passengers from China

South Korea
PCR

On-arrival. Those testing positive may need to undergo quarantine on arrival.

All passengers from China

Spain
PCR, NAAT,
Rapid antigen
Within 72 hours before departure
Within 24 hours before departure

All passengers from China that are older than 12

Sweden

PCR, antigen, NAAT

Within 48 hours before departure

Non citizens/EU residents traveling from China that are older than 12

Taiwan
PCR
On-arrival

All passengers from China

United Kingdom

Lateral flow or PCR

Within 48 hours before departure

All passengers from China that are older than 12

United States

PCR or antigen test

Within two days of departure

All passengers from China, Hong Kong and Macao that are older than 2
For firms with offices in China, Global Guardian recommends procuring ibuprofen, acetaminophen, naproxen, and cold medication to provide to employees who fall ill. Hospital systems outside of Beijing, Shanghai, Guangzhou, and Shenzhen may struggle to contend with the surge of patients.

Firms with travelers going to and from China should contingency plan for the event that staff will not be able to board flights after contracting COVID.

For larger firms, we also recommend purchasing medical supplies now as we expect global shortages in the coming months as China may move to block certain medical exports of goods and precursors.
China's COVID Surge Explained
With a refusal to import effective foreign-made mRNA vaccines, two and a half years of draconian lockdowns, and high rates of vaccine hesitancy among the elderly—the most vulnerable demographic—China's population is what epidemiologists call "COVID naïve." That is, the population was almost entirely unexposed to the virus: domestically made vaccines were less effective at creating antibodies and any vaccine-immunity has waned since China's 2021 vaccination drive. Hence, a low-immunity population—whose youth have experienced lockdown fatigue—was suddenly thrust back into in-person gatherings at scale, prompting what is likely the most rapid growth of cases since the start of the pandemic.
Knock-on Effects
Tens or even hundreds of millions of infections provide an opportunity for the virus to further mutate. Since the introduction of the Delta variant, the subsequent variants and subvariants have become less harmful but more contagious. However, with the world's most populous country essentially acting as a giant incubator it is uncertain how SARS-CoV-2 will evolve. There is a non-zero chance that new variants of concern with novel characteristics could emerge by the spring. The threat of a new variant is compounded by China's lack of transparency and refusal to share data.
As the pandemic rages through Chinese society, we can expect employees to fall ill, disrupting operations at factories, ports, and other places of work. Freight booking cancellations and port congestion are already increasing. Moreover, should Shanghai or Beijing's hospital capacity begin to dwindle, it is possible that the central government may make an about face turn and reinstitute lockdowns. The bottom line is that supply-chain issues emanating from China are lurking ahead in the coming months.

Key Takeaways
With the Chinese Lunar New Year just weeks away, China is ostensibly experiencing millions or even tens of millions of new cases of COVID per day and supply chain issues are already beginning to mount. China is now open for travel, but those traveling to China should have a plan in case they contract COVID-19.

Bolsonaristas Storm Brazil's Congress
On 08 January, supporters of former President Jair Bolsonaro stormed Brazil's government plaza in Brasilia, demanding that the election victory of Luiz Inácio Lula da Silva be overturned by the military and that the leftwing leader be imprisoned. While Brazil's democratic institutions are holding strong, the aftershocks of this acute political event will be felt for months. We anticipate the subsequent investigations to further exacerbate political tensions and lead to unrest.
At approximately 2:40 pm local time, protesters breached police lines at Praça dos Três Poderes (Three Powers Plaza) in Brasília. In a highly organized manner, over 3,000 bolsonaristas broke in and vandalized the National Congress, Federal Supreme Court (STF), and Presidential Palace buildings. The rioters built barricades with furniture inside occupied buildings and 46 rioters and two police were injured in the ensuing clashes. Police and federal law enforcement officers cleared the area around 6:00 pm local time.
In the aftermath, the Federal Supreme Court ordered the removal of Brasília Governor Ibaneis Rocha for 90 days alleging security flaws and the removal of all protest encampments outside military facilities nationwide. At least 1,200 people have been detained and President da Silva has vowed to launch a full-scale investigation and go after those involved in the insurrection's planning, funding, and execution.
Massive pro-democracy demonstrations broke out across Brazil in response to the insurrection, showcasing a very public and powerful rebuke of the bolsonaristas.
Analysis
From the initial video and anecdotal reports, it appears that this putsch was well organized, and that law enforcement was conspicuously slow in responding. With organization comes funding, begging the question: who paid, and did they have any connection to former President Bolsonaro? Indeed, Bolsonaro's own involvement is unknown, as he was in Florida at the time and quickly distanced himself on social media from his supporters who stormed Congress.
The other important question to be addressed is whether the security response was indicative of negligence or tacit complicity. Allegedly, the head of the Senate police's calls for reinforcements to the governor were ignored for hours before the order was given to clear the site of rioters.
Lula's forthcoming investigation brings its own risks. If members of the security establishment are found to have been involved, arrests of high-ranking police and military officials will further erode trust in government and may even prompt violent resistance.
Looking Forward
Unrest is likely to continue in the near term as President Lula, who was inaugurated last week, will be under pressure to crack down on the bolsonaristas and as the pro-Bolsanaro supporters continue to disrupt transportation arteries in Brazil's center and periphery.
The results of the federal investigation will be a political flashpoint no matter the conclusions.
The federal investigation could be used as a political weapon to go after those suspected of being loyal to the former president. This in turn, could further threaten political stability.
Monitor the situation for upcoming protest activity. Global Guardian's Intelligence Team can help identify planned protests ahead of trips to Brazil.
Avoid all protests and concentrations of security forces. Anticipate heightened security and associated disruptions at all future protest sites. Plot route bypasses.


KEY TAKEAWAYS
Brazil has just endured its own J6 incident. While the acute crisis has subsided, the arrests and upcoming investigation will likely promote further unrest and political instability in the near and medium term. Travelers to major cities in Brazil should be mindful to avoid demonstrations as they can turn violent.

Rising Instability as Castillo Supporters and Government Resume Clashes
Following a brief respite over the holidays, the situation in Peru continues to deteriorate. Clashes between supporters of the recently ousted President Pedro Castillo and Peruvian security forces have resulted in the deaths of more than 43 people since 07 December. The violence has also injured hundreds of protesters and dozens of police and led to the indefinite suspension of rail service to large parts of the country. Acting President Dina Boluarte has declared a state of emergency bolstering the presence of security forces in Lima and other cities. We expect a continued decline in Peru's stability until elections are held in December of 2023 or the government comes to an accommodation with Castillo's supporters.
The demonstrations have caused severe disruptions to travel throughout the country. Protesters have established a series of roadblocks on 13 main highways in the departments of Puno, Cusco, Arequipa, Madre de Dios, Apurimac, Ucayali, and Tacna. Pro-Castillo supporters have also stormed or attempted to storm airports across several regions, and thousands of tourists have been evacuated from sites like Machu Picchu after being stranded by transportation disruptions.
Global Guardian advises against any non-essential travel to Peru, especially to rural regions in the south and the areas surrounding Puno, where Castillo supporters have established a series of blockades.
Global Guardian strongly recommends the use of low-profile secure transportation for essential travel within Peru.
Analysis
Pedro Castillo came to power as a political outsider in July 2021 with a razor thin margin. On 07 December 2022, faced with the third attempted impeachment since his inauguration, Castillo attempted to dissolve congress and set up a provisional system of rule by decree. However, Congress successfully removed Castillo from office, charged him with rebellion and conspiracy, and installed his former vice president Dina Boluarte as President. Castillo's supporters took to the streets in Lima and across the country demanding his release, an accelerated election schedule, the dissolution of Congress, the resignation of Boluarte, and constitutional reform.
Representatives of left-wing civil groups and labor unions have indicated that they will continue to organize demonstrations until, at a minimum, Boluarte's resignation is obtained. In the eyes of Castillo supporters, Boluarte is a usurper and Congress has subverted the democratic will of the nation. From the pro-government perspective, Castillo's move was unlawful and constituted the first step toward a dictatorship. The difficulty in reconciling these viewpoints could lead to prolonged instability.
Notable Events
07 December 2022 – Castillo unsuccessfully attempts to dissolve Congress, is removed from office, and is arrested. Protests begin in Lima.
09 December 2022 – Protests expand throughout the country and clashes with security forces intensify. Several hundred protesters attempting to reach the Congress building are pushed back by police.
14 December 2022 – Acting President Boluarte declares a state of emergency and announces the possibility of holding early elections in December 2023.
15 December 2022 – At least seven people are killed in clashes between protesters and military personnel in the city of Ayocucho. Security forces use live ammunition.
03 January 2023 – Civil groups and labor unions based in the historically left-wing southern regions of Peru announce the resumption of demonstrations.
10 January 2023 – A curfew is declared for Puno amid demonstrations.
Looking Forward
So far, the government has ceded relatively little in relation to the protesters' demands. If Castillo is found guilty of rebellion, elections are postponed, or the government begins to crack down on protests more violently, the situation could rapidly descend into more open violence. However, if the government and protesters are able to reach a compromise position and concrete steps toward constitutional reform are made, the situation will likely stabilize. Mexico, Argentina, Colombia, and Bolivia have issued a joint statement in support of Castillo and could increase international pressure on Peru in the event that Boluarte's government moves to imprison him indefinitely.
KEY TAKEAWAYS
Peru is trapped in a cycle of political instability that can only be escaped through meaningful constitutional reform. Reform that will be difficult to achieve without buy-in from Peru's largely leftist rural population. While it is possible that Peru comes out of this episode on track for long-term stability, in the short term, Peru's political and security risks are rising.
CUSTOM INTELLIGENCE
Our intelligence analysts provide in-depth custom reports—including critical insight from on-the-ground resources—for clients and organizations in need of real-time analysis of world events with the potential to impact business operations. To learn more—and start building your report—complete the form below.