SPECIAL REPORT
In the morning hours of 27 September, Hurricane Ian strengthened into a Category 3 storm before making landfall near the Cuban town of La Coloma in Pinar Del Rio province, located approximately 150 km (100 mi) southwest of Havana. According to current estimates, Ian is expected to reach the central Florida west coast late Wednesday night or Thursday morning as a Category 3 storm or higher. The Tampa Bay area can expect a storm surge of 6-10 feet and Jacksonville and other areas along the St. Johns River may also be at risk for a severe storm surge.
The hurricane is expected to produce the following amounts of rainfall:
100-150 mm in the U.S. Florida Keys and South Florida
300-405 mm in central-western Florida (with isolated totals of 610 mm)
75-200 mm in northeastern Florida
130-250 mm in the rest of the central Florida Peninsula
Prolonged rainfall will lead to flooding in some areas, and an ongoing risk of severe thunderstorms and tornadoes will be a concern from Florida to Georgia and the Carolinas through the weekend.
The two factors to watch going forward will be the southward dip in the jet stream across the United States, which could pull the storm northward and into the coast, and to what extent the storm slows upon landfall when reaching Florida. The slower the storm is traveling, the higher the risk of intense rainfall and storm surge.
On 27 September, Tampa International Airport (KTPA/TRP) will suspend operations starting at 17:00 (local time). St. Pete-Clearwater International Airport (KPIE/PIE) will completely shut down as of 13:00 (local time).
Mandatory evacuation orders have been issued for communities near Tampa Bay, including Charlotte, Hillsborough, Lee, Levy, Manatee, Pasco, Pinellas, and Sarasota counties.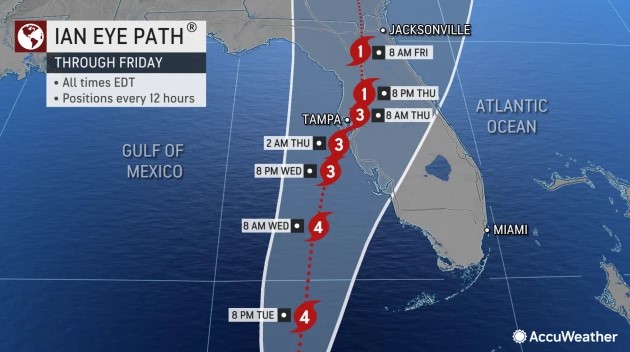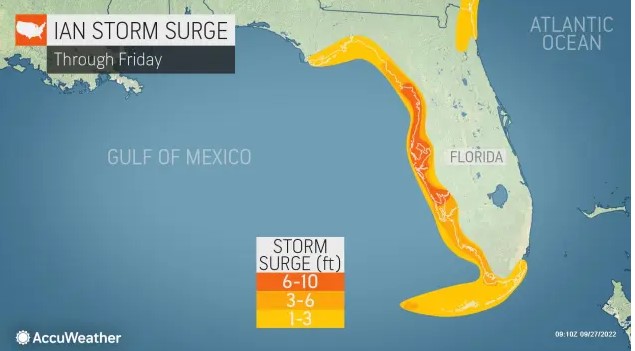 ADDITIONAL RESOURCES
To view Global Guardian's 2022 Hurricane Preparedness Guide, click here.
For those currently in Florida, we also advise consulting the Florida Division of Emergency Management here.
Support
Our team can respond immediately with the following capabilities:
Satellite communications (phone and wireless internet)
Emergency aviation
Security response and theft prevention
Emergency medical and tele-medical support
Relief and supplies
Power generators
Drone site assessments
Bespoke intelligence reports and briefings
Evacuation by ground where feasible
Click below to contact Global Guardian's 24/7 Operations Center or call us directly at +1 (703) 566-9463.