The global economy is entering what—for many—could be a substantial recessionary period.
Already suffering from the stagnating effects of the Covid-19 pandemic, nations are now also contending with persistent and broad-based inflationary pressure, the economic fallout of the Russian invasion of Ukraine, and a slowdown in China stemming from severe pandemic policies and a troubled property sector. These factors combined are pushing some economies into debt distress and the probability of sovereign default.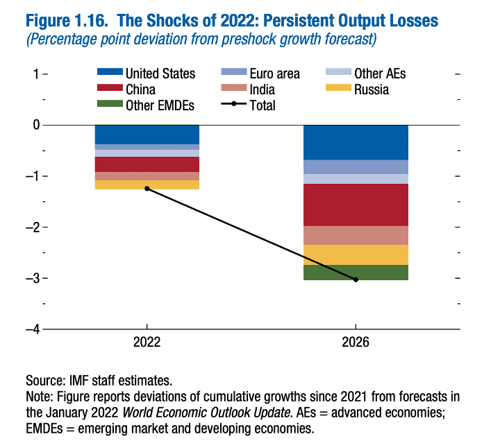 The recent International Monetary­ Fund's (IMF) World Economic Outlook report identifies the importance of streamlining the G20 common debt resolution framework considering the likelihood of an incoming wave of sovereign defaults. In its current arrangement, states managing distressed debt through the G20 framework undergo extended periods of economic pain conducive to political turmoil before getting out of default. This bodes poorly for global stability as economic uncertainty and political instability feed into one another in a dynamic exemplified by Sri Lanka's recent political unrest and debt default.
An increasing number of countries have approached the IMF for financing which often indicates the beginning of debt restructuring processes. These include Pakistan, Nigeria, and Egypt. Credit default swaps in Pakistan and Egypt are trading above 1000 basis points which suggests they are at high risk of defaulting.
Pakistan
Pakistan was already facing simultaneous economic and political crises when it was ravaged by unprecedented flooding late this summer. The flooding killed over 1,100 people, displaced more than 30 million, and destroyed almost one million homes. Pakistani Planning Minister Ahsan Iqbal estimated the costs of redevelopment following the floods at $10 billion. Prime Minister Shehbaz Sharif, who controversially came to power in April, has activated the military to assist in the flood response and has enacted a package of fiscal measures aimed at closing a roughly $4 billion financing gap. These measures include tax hikes on fuel and electricity, the procurance of financial support from Saudi Arabia and Qatar, and the resumption of a $1.17 billion bailout program from the IMF.
Both former Prime Minister Imran Khan and Tehrik-i-Taliban Pakistan have criticized the current government and Sharif for their handling of the disaster. Tehrik-i-Taliban Pakistan has engaged in talks with the Pakistani government mediated by the Afghan Taliban, but attacks in Balochistan and elsewhere continue on government forces. Imran Khan, who was ousted in a vote of no confidence supported by the military in April, has accused the current government of having been corrupted by foreign agents. Khan is increasingly popular with a broad base of the Pakistani population and has engaged in inflammatory anti-government rhetoric. As Khan's political comeback materializes in the face of military support for Sharif, the possibility of violent civil unrest escalates.
Nigeria
Nigeria is beset by a series of economic and political issues that taken together have the potential to upend state control. Politically, Nigeria's main challenge is wresting control of large swaths of its territory back from the various militant groups active in the country. In the Northeast, Boko Haram and the Islamic State in West Africa have been conducting an insurgency for over a decade which is characterized by routine kidnappings and attacks on government forces.
On 05 July, Islamist extremist forces conducted a successful attack on a prison just 40 kilometers from the capital Abuja, demonstrating the extent of their reach and freeing 900 inmates in the process.
In the Southeast, Igbo Biafran separatists operate on the border of Cameroon where they have recently made an operational alliance for cross-border mutual facilitation with "Ambazonian" Anglophone separatists in Cameroon. Yoruban separatists continue to operate in the Southwest around the economic capital Lagos.
Oil revenues account for more than 90% of the Nigerian governments budget, making Nigerian financial solvency extremely prone to shocks from oil volatility. If geopolitical factors cause a sudden drop in oil prices, any of the country's active militant groups seize some portion of Nigerian oil production, or events in Abuja endanger international financing, Nigeria will likely default and see a significant increase in civil unrest and violence.
Egypt
Egypt has been hit harder than most by the food scarcity borne of the Russian invasion of Ukraine. More than 60% of the wheat consumed in the country is imported, and of that, 80% was imported from Russia and Ukraine. The pressure on grain imports is especially pronounced due to the Egyptian reliance on bread as a dietary staple and element of social welfare. Bread is sold for almost nothing to 72 of Egypt's 103 million citizens through a longstanding subsidization system. But, due to a substantial gap in financing, Egypt is considering ending the subsidy for 20 million people. This would have serious knock-on effects in a country that eats roughly three times as much bread as the global average and where 30% of the population is surviving on less than $2 a day.
In addition to $5 billion in loans from Saudi Arabia, the Egyptian government has sought assistance from the IMF. However, as a condition of IMF support, the government has had to roll back subsidization for non-bread food staples and energy. Previous rollbacks of subsidization have been met with substantial unrest. In the late 1970s, Egyptian leader Anwar Sadat briefly ended the bread subsidy but reversed the policy after protests in major cities left dozens dead. In 2011, large price increases for bread were one of the proximate causes for the wave of protests that ousted Hosni Mubarak. Austerity policies combined with other extant grievances could push the Egyptian population towards significant unrest in the coming months.
Key Takeaways
A looming global financial slowdown due to a number of factors is increasing the risks of sovereign debt default.

States managing distressed debt typically undergo extended periods of economic pain conducive to political turmoil and civil unrest before getting out of default.

Global stability is at risk as economic uncertainty and political instability feed into one another in a dynamic exemplified by Sri Lanka's recent political unrest and debt default.
Recommendations
Companies and organizations operating in Pakistan, Nigeria, Egypt, or any other country at risk of sovereign debt default should plan for worst-case scenarios around mass protests, violent unrest, and financial hardship.

Travelers to these countries should keep a close eye on developments that could impact future visits. Pre-travel briefings should be considered essential.

Global Guardian can assist with emergency response, evacuation, custom intelligence, and medical needs in the face of escalating instability, unrest, and violence.
Click below to contact Global Guardian's 24/7 Operations Center or call us directly at +1 (703) 566-9463.