Several states continue to set records for daily new cases, including California, Texas, and Florida, which are averaging more than 8,000 new cases per day over the last seven days. Multiple states have paused or rolled-back reopening efforts:


In Miami-Dade County, Mayor Carlos Gimenez issued an emergency order to close restaurants, gyms, fitness centres, short-term rentals, party venues, ballrooms and banquet facilities effective 8 July.

Oregon Governor Kate Brown extended the COVID-19 state of emergency until 4 September.

Texas Governor Greg Abbott announced that effective immediately, residents over the age of 10 in counties with 20 or more active COVID-19 cases must wear face masks in public.

The U.S. is now recording more than 50,000 new cases on average over the last several days, a significant increase from case counts just a week ago, when the average was 40,000 new cases per day. A week before that it was 30,000 new cases per day on average.The U.S. has now recorded more than 3,000,000 confirmed cases and 134,000 deaths.
The northeast, the first hotspot zone in the U.S., is now the only region of the country not reporting an increase in cases.

The U.S. government is paying $1.6 billion to Novavax to speed development and manufacture 100 million doses of its COVID-19 vaccine for early 2021. This is part of Operation Warp Speed, the government program to develop a vaccine as quickly as possible.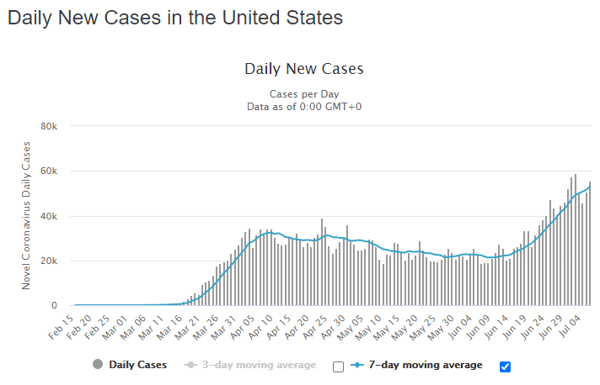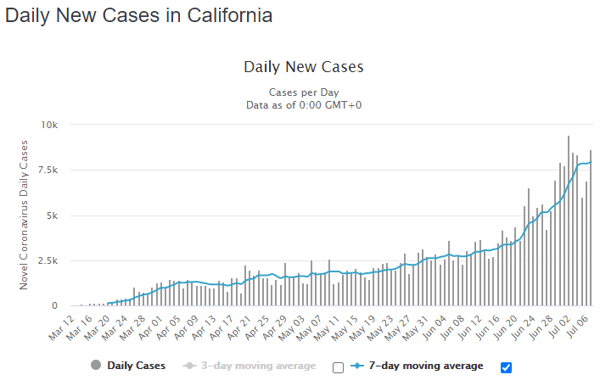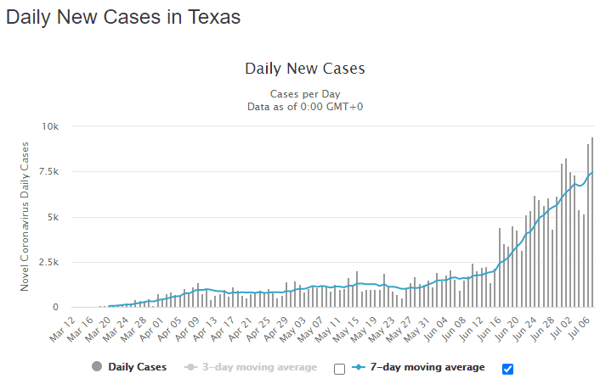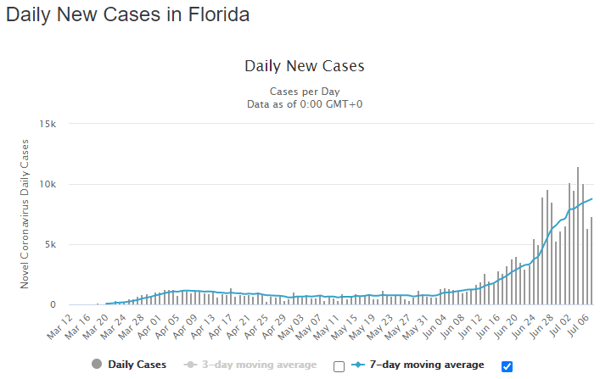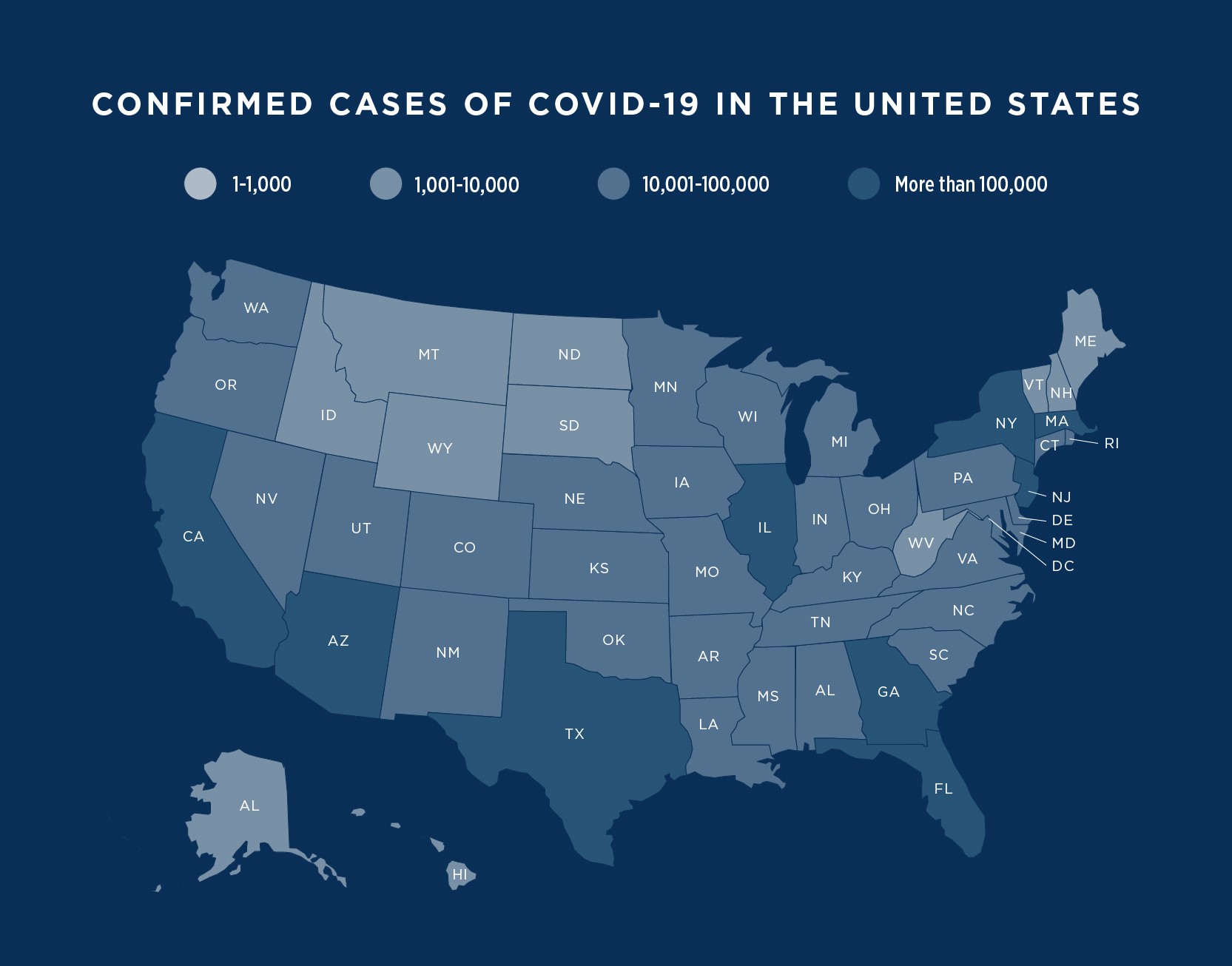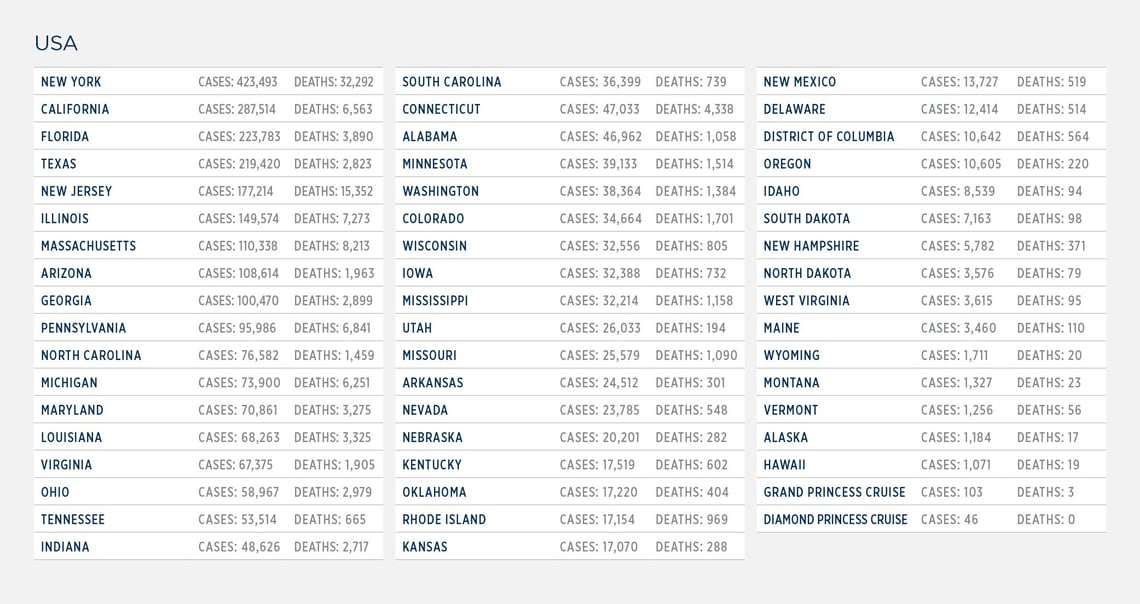 Latest global updates:

Brazil's president Jair Bolsonaro tested positive for COVID-19.


Australia placed the city of Melbourne under greater lockdown on 8 July for six weeks due to a spike in new cases.


India overtook Russia as the third-most affected country with over 750,000 confirmed cases and over 20,000 deaths.


In the United Kingdom, r

estaurants, pubs, barbers and salons were allowed to reopen as part of the country's reopening scheme. It remains to be seen if the UK suffers a second wave due to reopening.




From 10 July, the United Kingdom will relax its quarantine requirements, where travelers arriving from certain lower COVID-19 risk destinations, including Germany, France, Spain and Italy, will not be required to self-isolate for 14 days.


The World Health Organization (WHO) admitted there is emerging evidence suggesting COVID-19 is airborne, meaning it lingers in the air and does not simply fall to the ground after being expelled by a cough or sneeze


What we know:
Over 12,000,000 confirmed cases worldwide

550,000 deaths

Nearly 7,000,000 recovered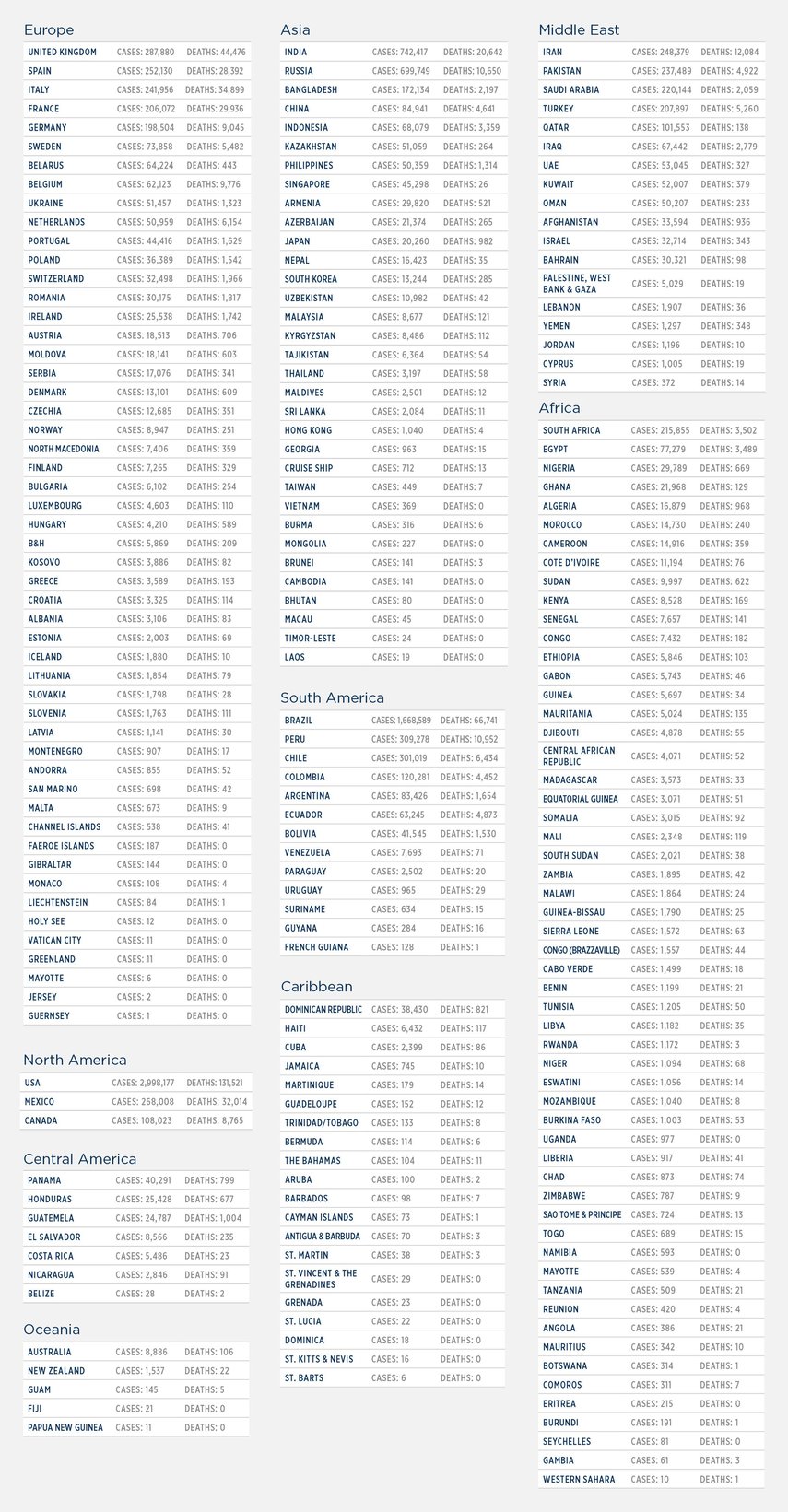 OUTLOOK
Brazil, Mexico, Russia, India and the U.S. continue to be global hotspots. In particular, Mexico, Brazil, and India continue to have low testing rates, indicating a much larger outbreak in their respective countries. For example, Mexico has half the deaths of Brazil but just 270,000 confirmed cases to Brazil's 1,600,000. Concerns remain that despite controlling the outbreak in parts of Europe and Asia, international travel will not resume due to out-of-control outbreaks in other parts of the world.