UNITED STATES LATEST DEVELOPMENTS
The U.S. CDC announced on 13 May that vaccinated individuals could resume activities that they had stopped doing during the pandemic. Masks are no longer recommended except when flying or taking public transit, when visiting health care facilities, and in congregate settings like prisons and homeless shelters.

Multiple states in the U.S. changed, or announced they were considering changes to mask mandates. Some private businesses will continue to require masks in their stores, likely until state-by-state vaccination rates meet an internal threshold.

The potential lifting of mask mandates following the new CDC guidance raises questions about vaccination verification. It is likely each state will have a different system in place to deal with proof of vaccination. Some states have banned entities from requiring proof of vaccination.

There is optimism that being able to stop using a mask will incentivize those vaccine holdouts. Other states have implemented free food schemes, while Ohio took the extraordinary step of holding $1 million lottery once a week for vaccinated individuals in the state, in an effort to get more people vaccinated.


So far, around 154 million people have received at least one vaccine dose. This will increase as teenagers and adolescents get vaccinated. The CDC recently approved Pfizer's vaccine for use in 12-15 year-old children.
For the latest United States case counts, click here.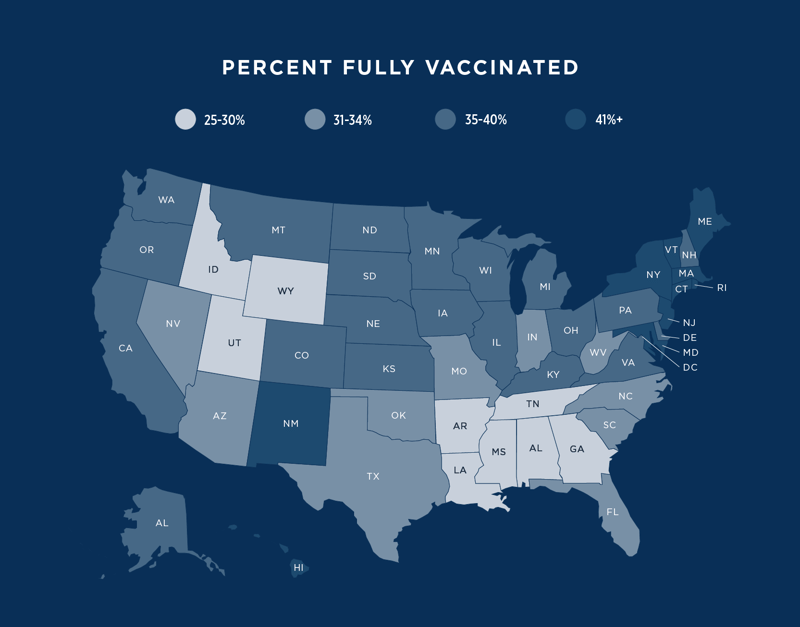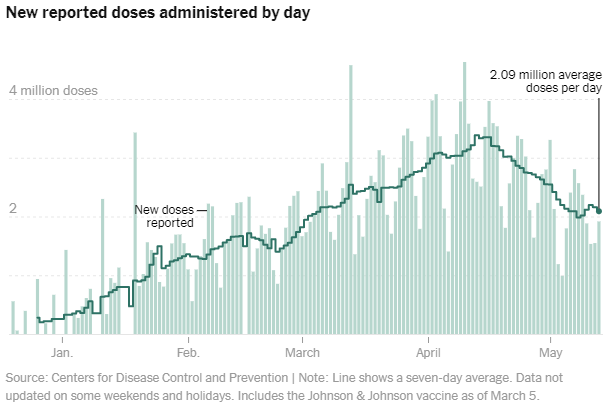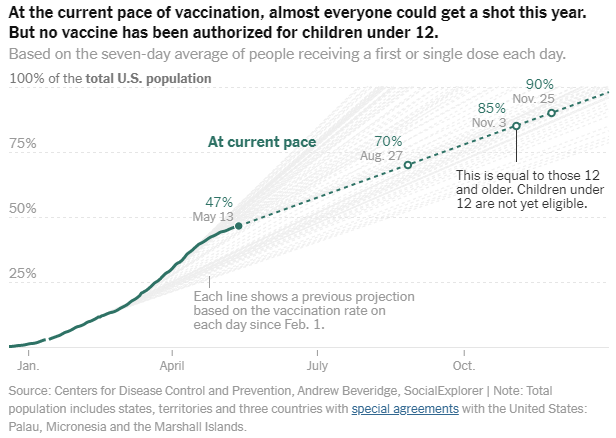 Latest global updates
Singapore has implemented a one-month lockdown after multiple untraceable cases were discovered. Many cases were the B1617 variant that is spreading in India. This makes it unlikely the planned Hong Kong quarantine-free travel bubble will be implemented.
India's COVID-19 crisis continues, with at least 4,000 deaths per day being recorded. Daily new cases have dropped from highs of over 400,000 per day, but remain elevated, averaging 365,000 new cases per day over the last seven days. Oxygen shortages continue, though oxygen supplies in New Delhi have reportedly stabilized.

British authorities announced that they are considering changing vaccination protocols and reintroducing local lockdowns to stem the spread of the B1617 variant that is responsible for much of the crisis in India.
For the latest Global case counts, click here.
RESOURCES
Working Safely During COVID-19
In this course you will learn...
How to reduce the exposure and spread of COVID-19 at work, at home, and in public.

What changes you might encounter in the workplace due to COVID-19, and how it might affect your day-to-day activities.

Proactive steps to equip yourself with the resources and knowledge to be better prepared for changes to your work.

About the COVID-19 vaccine and how it is an effective way to stop the spread of COVID-19.
---
Personal Preparedness and resilience during covid-19
In this course you will learn...
How to build resilience, and the ways resilience helps us bounce back from challenging and traumatic events.

The ways we can manage stress, proven ways to build healthy habits and how to support both your well-being and the well-being of those you care about.

How planning and preparedness can lessen the impact of stress, anxiety and uncertainty.

Actions to take, so you, your family, and your household can be better prepared to manage a crisis.
---