After weeks of high tensions and violent clashes in Jerusalem, Gaza-based militants have opened another round of conflict with Israel. Casualties are mounting on both sides with no ceasefire on the horizon. Meanwhile, violent clashes and sectarian violence have broken out in multi-ethnic areas of Israel outside of Jerusalem, in Nazareth, Acre, Ramle, Haifa, and Lod with several casualties reported. With escalating conflict on the domestic and military fronts, it is highly unlikely that the situation will calm down before next week with Nakba Day falling on Saturday (15 May).
TACTICAL UPDATES
Ben Gurion International Airport (TLV) has suspended flights & several roads and train lines in southern Israel are closed due to security concerns

State of Emergency declared in Lod, following intense sectarian violence

Gaza militants have launched over 1,100 rockets within 38 hours

500+ Israeli airstrikes reported

50+ Palestinians killed (including militants), 300+ wounded; 6 Israelis killed (including one soldier), 200+ wounded

Palestinian Islamic Jihad (PIJ), Iran's foremost proxy in Gaza, has introduced its new Sajil missile; Hamas unveiled its new

SH85 missile

In the last 24 hours, Israel has assassinated several senior-level militant commanders, including:

Head of PIJ's Rocket Forces

Hamas' Gaza City Brigadier General

Head of Hamas' Anti-Tank Unit

Head of Hamas' Cyber Network and Missile Improvement Project

Head of Hamas' Rocket Development

Head of Hamas' Security Branch of Military Intelligence

Head of Hamas' Technical Department for Military Intelligence

Brother of the leader of Hamas' Political Wing (in Gaza)

Hamas and PIJ are having some success

overwhelming Iron Dome with large barrages (100+ rockets in several minutes) and using low trajectories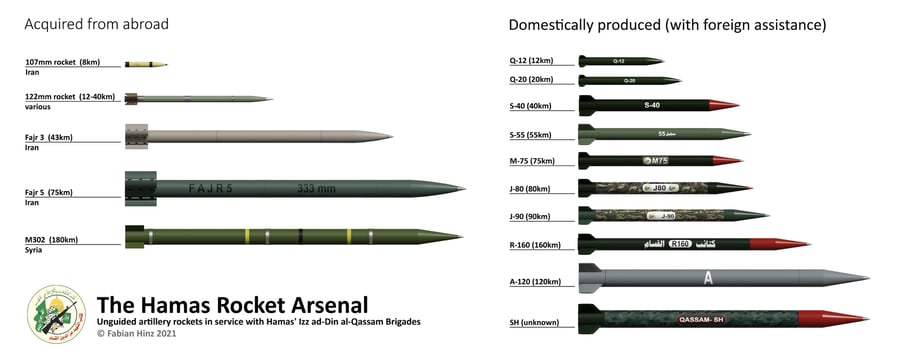 Source: Twitter @fab_hinz
STRATEGIC UPDATES
The Gaza Factions are aiming to overwhelm Israel's air defense system through saturation – firing large salvos in a short time span. They are emphasizing targeting critical infrastructure and landing hits on main population centers.
Israel is striving to achieve escalation dominance. It is focusing on reducing missile capabilities, eliminating underground command and control infrastructure, and decapitating high-value militant leaders.
At this time, neither side is seeking a ceasefire.
CONTEXT
Tensions in Jerusalem have been elevated since the onset of the holy month of Ramadan. In mid-April, Palestinian youths uploaded what would become a viral Tik Tok clip of an assault on an Orthodox Jew in an attempt to inspire further copycat attacks. On April 22, Lehava – an Israeli far-right group – organized anti-Arab street riots in Jerusalem that spread to other cities.

On 29 April, Palestinian Authority President Abbas delayed the Palestinian elections scheduled for 22 May, fearing a loss at the polls.

Over the last week, intense clashes between protesters and police officers have occurred near al-Aqsa Mosque near Suq El-Qatanin St and Aqbat e-Saraya St, Bab al-Amud area, Damascus Gate, Silwan, Qalandia checkpoint, Bab al-Sahira, al-Tur, Sheikh Jarrah, Temple Mount, Wadi al-Joz, and, al-Issawiya.

On Monday (10 May), Israeli police in riot gear threw stun grenades inside the Al-Aqsa Mosque to disperse Palestinians who were throwing stones at a holy site in Jerusalem. Tensions at the site, known to Muslims as Haram al-Sharif (the Noble Sanctuary) and to Jews as the Temple Mount, have triggered repeated bouts of violence in the past.

The Israeli Supreme Court was set to rule in a controversial civil property dispute (with political implications) in the Sheikh Jarrah neighborhood of East Jerusalem on Monday which was expected to have led to the eviction of 300 Palestinian residents. The Sheikh Jarrah court decision has since been postponed.
ANALYSIS
Bad Timing – Home to the Holy Basin and as the center point to both the Israeli and Palestinian national identities, the City of Jerusalem is a perennial flashpoint, especially during the month of Ramadan. Owing to an overlap in the lunar Hebrew and Islamic calendars, several key annual events this year have been clustered. Quds Day, an annual anti-Zionist event (initiated by Iran in 1979) falling on the last Friday of Ramadan was held last Friday (07 May). Laylat al-Qadr (Night of Power), the holiest night in the Islamic faith, fell on Saturday (08 May) night. Jerusalem Day, an Israeli national holiday commemorating the unification of Jerusalem during the 1967 Arab-Israeli war, was celebrated Sunday night to Monday night (08 May-09 May). Today, is Eid al Fitr, marking the end of Ramadan. Finally, Nakba Day will be held on Saturday (15 May). In the best of times, these events usually involve violent protests. In addition, these events are occurring within the context of reopening from the COVID-19 pandemic. The past year has seen a measurable decline in violence, largely attributable to the pandemic. The reopening has opened a pressure valve, with underlying grievances and tensions boiling over.
Cynical Opportunism – The recent violence has more to do with inter-Palestinian politics than anything else. Both Mahmoud Abbas' Fatah party and Hamas and PIJ in Gaza are vying for the hearts of their constituents by presenting themselves as the "defender of al-Aqsa," Islam's third holiest site. In January, President Abbas, who is deeply unpopular and serving the 16th year of his four-year term, promised to hold elections in what was likely a bid to help reset relations with Washington. Realizing that his faction could lose power, the Palestinian elections were indefinitely postponed on 28 April. Needing to deflect the ire of disenfranchised Palestinians, Abbas and the Palestinian Authority have been voicing support for the Jerusalem riots and fanning the flames with rhetoric. Meanwhile for Hamas and other Gaza-based militant groups, launching rockets into Israel in "defense" of al-Aqsa is a form of one-upmanship to boost popularity at the expense of Abbas' Fatah party. In addition, the media attention, especially during Ramadan, will also help bring in donations from abroad amid budget shortfalls.
OUTLOOK
Best Case – Having already achieved their public relations goals as well as demonstrating their new military capabilities, it is unclear what further aims the Gaza's militant factions have. In the past, their demands have included payment, aid, and a loosening of the blockade. But this round, there are no tangible demands. In a best-case scenario, back-channel negotiations through Egypt will result in a ceasefire. But it is unlikely that this can be achieved before Nakba Day on Saturday (15 May), due to the optics for the Gazan factions and Israel's desire to reestablish deterrence by continuing to degrading the militant's capabilities and assassinate their top leaders.
Worst Case – With mounting casualties in Gaza and Central Israel becoming increasingly paralyzed from rocket attacks, there is already a significant inertia effect in play. If Hamas and PIJ are able to maintain this cadence of rocket salvos, we could reach the threshold where the Israeli defense establishment deems a ground incursion necessary to halt the rocket fire. This could significantly compound the conflict. Israel was set to conduct its largest ever military drill this week, simulating a three-front conflict. A ground assault on Gaza could, in fact, trigger Lebanese Hezbollah to join the conflict from the North. Moreover, as sectarian mob violence within Israel continues, there are fears that further strife may lead to another intifada.
Standing by to Support
Global Guardian is closely monitoring the situation for developments. We are standing by to support across Israel, from executive protection to custom intelligence threat assessments, to medical evacuation and support. Click below to request security assistance.