As global cases passed two million, the U.S. reported a plunge in retail sales in the month of March.
Total sales, which include retail purchases in stores and online as well as auto and gasoline sales and money spent at bars and restaurants, fell 8.7 percent from the previous month. It is the biggest one month drop in nearly three decades. April could be even worse, as most states did not shut down non-businesses until late March or early April.
The drop in U.S. retail sales comes after the International Monetary Fund (IMF) issued a dire global warning, saying that the world is facing its worst downturn since the Great Depression as shuttered factories, quarantines and national lockdowns cause economic output to collapse. The IMF projected that the global economy would contract by 3% in 2020, a reversal from early this year, when the fund forecast that the world economy would grow by 3.3%. This year's decline in output would be far more severe than the last recession, when the world economy contracted by less than 1% between 2008 and 2009.
However, some countries are starting to slowly open back up. Denmark, which was among the first to lock down in Europe, has reopened some nurseries, kindergartens, and primary schools starting 15 April. All schools are reportedly expected to reopen by 20 April.
U.S. daily deaths saw a large spike in the last 24hrs as more than 2,400 people died from COVID-19, the largest single day total since the crisis began. Additionally, New York City reported 3,778 additional deaths that have occurred since 11 March and have been classified as "probable". These are deaths attributed to COVID-19 but not laboratory-positive.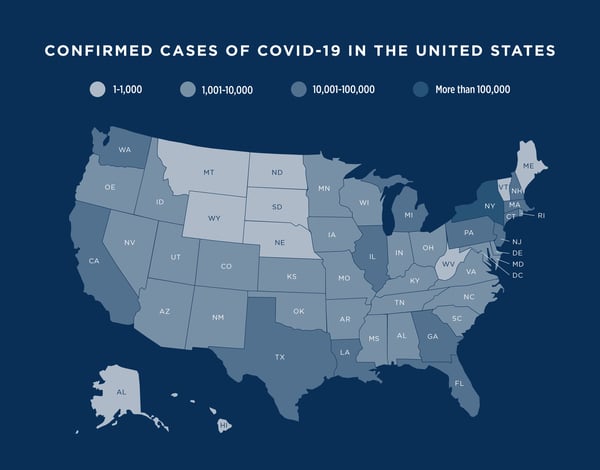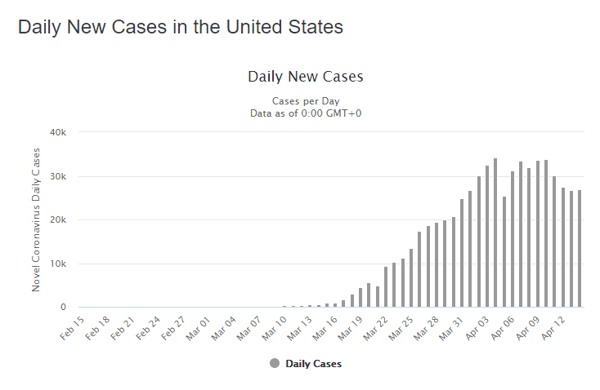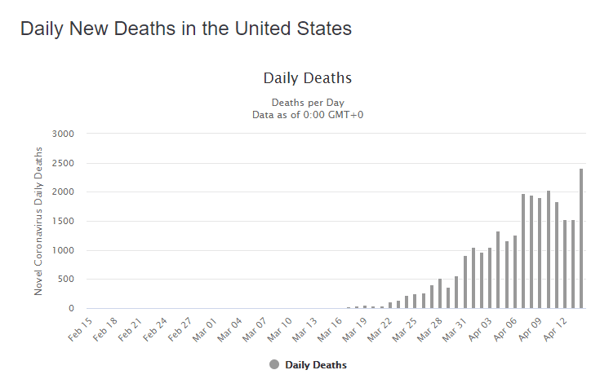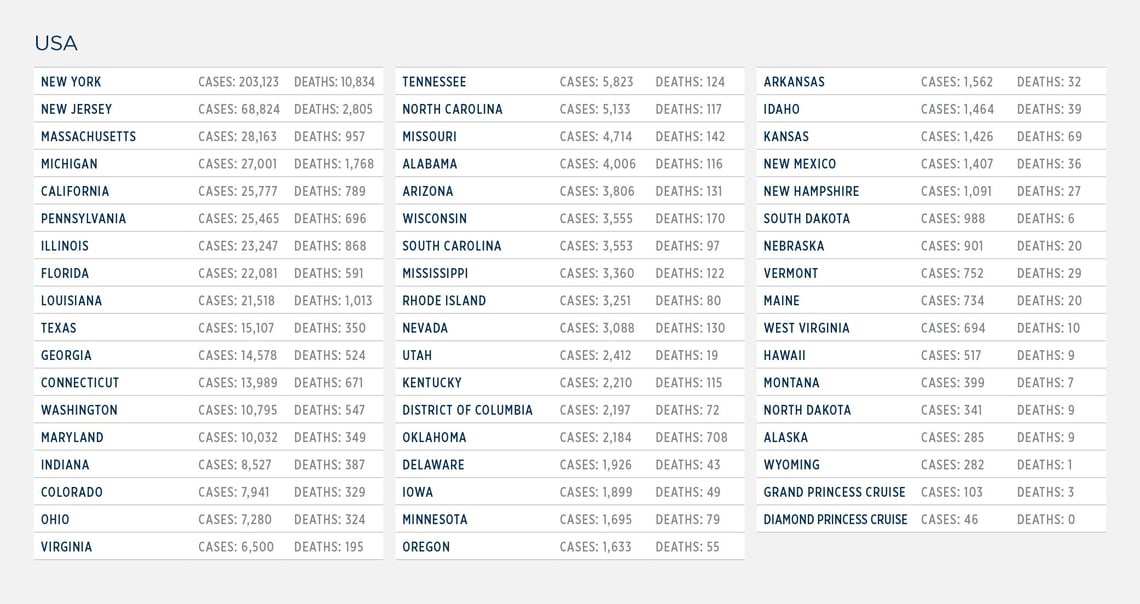 Latest Global Updates:
Multiple countries have extended travel restrictions, entry bans, nationwide lockdowns and quarantines, and airport and border closures through at least the month of April.


India extended its nationwide lockdown until at least 3 May, the largest such lockdown of any population in history at more than 1.3 billion people.

Denmark has re-opened some schools in the country, which was among the first to enact strict lockdown measures.
What we know:
Over two million confirmed cases worldwide

129,000 deaths

500,000 recovered
CURRENT STATUS
The focus in the U.S. remains on shelter-in-place measures to limit the spread of COVID-19. As new cases drop, the economy may be slowly re-opened on a state-by-state or city-by-city basis but with new guidelines such as always wearing a mask while out in public and using hand sanitizer after interactions with people or objects.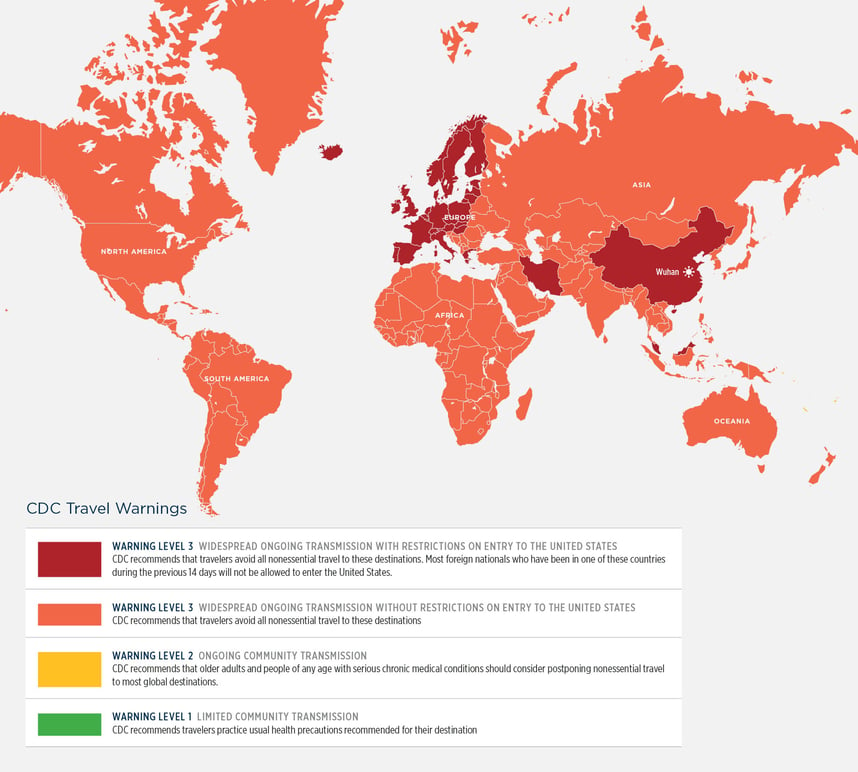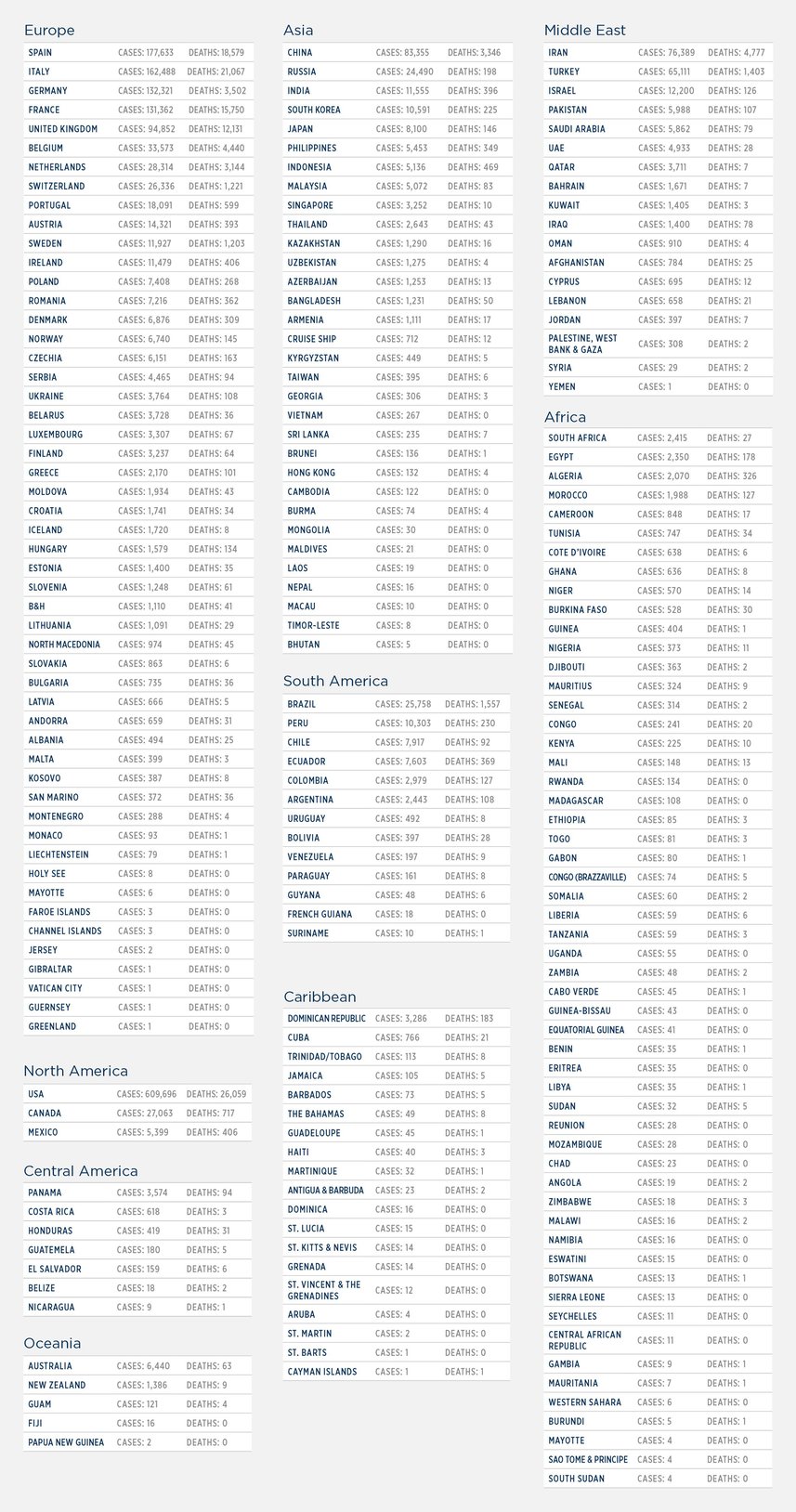 TRAVEL ADVICE
The U.S. State Dept. has issued Level 4: DO NOT TRAVEL guidance for the entire world amid the COVID-19 pandemic. The U.S. CDC has issued a Domestic Travel Advisory for New York, New Jersey, and Connecticut. It urges residents of these states to refrain from non-essential domestic travel for 14 days.
In addition, Global Guardian recommends the following:
Return to the U.S. if currently abroad while commercial means are still available. Otherwise, prepare to remain abroad for an indefinite period.
Avoid all international travel.

Practice advanced careful hygiene measures, including frequent hand washing and sanitizing.

Practice "social distancing" while in public spaces.
OUTLOOK
The outlook is optimistic as several European countries start to see a flattening of the curve in new cases 14-20 days after instituting aggressive lockdown measures. Spain, Italy, and Germany are now starting to see sustained positive effects on case growth after more than 20 days of nationwide lockdown and quarantine. New cases are declining significantly and daily deaths are flattening out.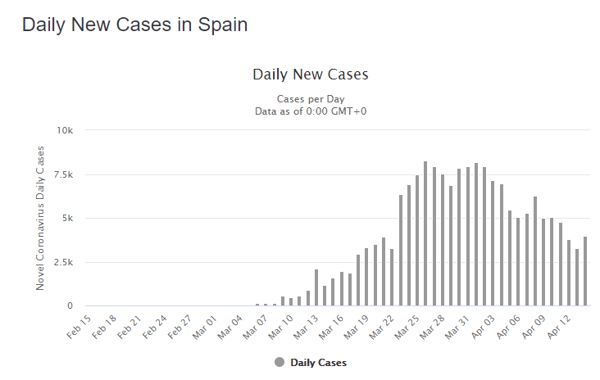 Support
It is our goal at Global Guardian to continue to support the health, safety, and security of our clients throughout the COVID-19 pandemic. From Medical Support, including Mobile Medical Units and supplies to Emergency Evacuations and Custom Intelligence Reports, please reach out to us at intelligence@globalguardian.com to learn more about how we can provide assistance during this time.