The U.S. overtook China for the most confirmed COVID-19 cases after a 17,000-case spike on 26 March. The U.S. now has over 85,000 confirmed cases, outpacing Italy and Spain as well. New York has the most cases, primarily due to high rates of testing - the state accounts for almost half of the total cases in the U.S.
Reports indicate that all 1,800+ ICU units in New York City are expected to be full by this weekend. At least two city hospitals have filled up their morgues; NYC expects the rest at capacity this weekend. The city has requested 85 refrigerated trailers from FEMA for mortuary services There are 466 deaths in New York, out of more than 1300 total deaths in the U.S.
Confirmed cases will continue to rise as testing becomes more widespread. At least 500,000 tests have been performed in the U.S. It should be noted that the delay between actual testing and returning a result is typically 4-7 days, meaning the 17,000 cases reported yesterday were mostly from tests performed earlier in the week or the week before. As such, the impact of social distancing, working remotely, and staying home will not be reflected in the data until at least mid-April, given most individuals, companies, and states adopted these policies at some point during the week of 16 March and into this week.
In an effort to "flatten the curve" and avoid overwhelming hospitals, at least 212 million people in 22 states, 64 counties, 16 cities and one territory are being urged to stay home, either by governors, mayors, or local county executives. In multiple states, non-essential businesses have been ordered to close.
The economic impact of sudden demand shock in the U.S. has been severe. A record three million people filed claims for unemployment last week as the impact of COVID-19 pandemic began to be felt. This breaks the previous record from 2 October 1982, when nearly 700,000 people filed unemployment claims. Total unemployment claims for the last two weeks are at nearly 3.3 million, and this number is expected to rise in coming weeks, with some estimates putting total job losses at 15-20M in Q2.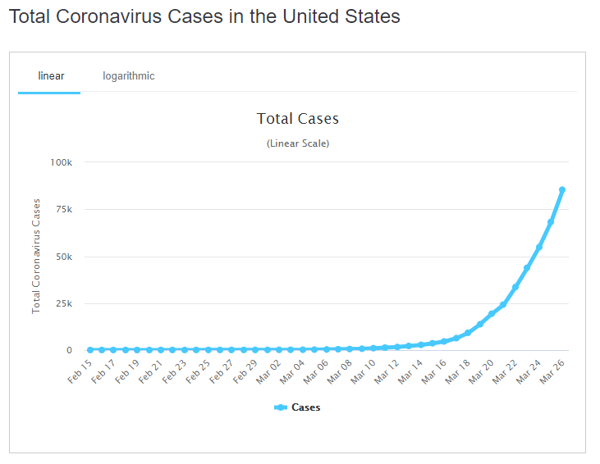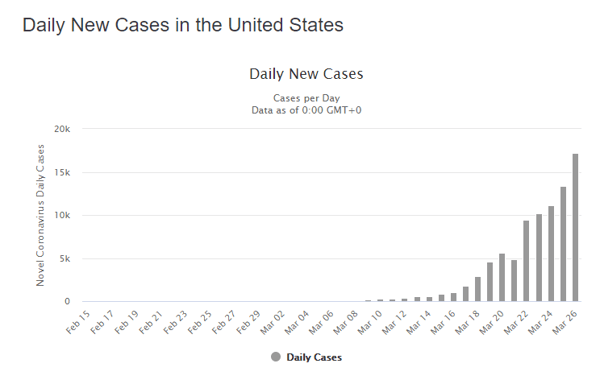 Latest global updates:
UK Prime Minister Boris Johnson tested positive for COVID-19 and is under self-quarantine while reportedly experiencing mild symptoms.

All Australian nationals and permanent residents arriving from overseas into Australia will be quarantined at government approved hotels and facilities for at least 14 days, effective 29 March.

China announced that all foreign nationals, including visa and residency permit holders, will be denied entry to China effective 28 March. Diplomats, travelers on official business and "C" visa holders in international transportation services are exempt.

New Zealand announced the suspension of all non-essential domestic flights on 28 March.

India suspended the operation of international commercial flights from 27 March to at least 15 April amid an ongoing nationwide lockdown.

South Africa announced the suspension of all commercial air, rail and maritime traffic including all international and domestic flights, effective immediately until 16 April.

Russia announced the suspension of all international flights from 27 March. Domestic flights will still be operational.

Spanish authorities extended the nationwide ban on non-essential movement until at least 11 April.
What we know:
556,147 confirmed cases worldwide

25,237 deaths

128,717 recovered

Major ongoing spread areas are now in the U.S., Europe, and Iran.




CURRENT STATUS
The focus in the U.S. is shifting to shelter-in-place measures to limit the spread of COVID-19, with possible full quarantine for certain cities or states with major outbreaks. Working from home, closing of schools, and social distancing in public are all part of an effort to "flatten the curve" of cases to prevent the sudden overwhelming of the country's healthcare system.
As COVID-19 spreads, more and more countries will institute domestic and international travel restrictions. These policies are changing constantly as the pandemic evolves. The International Air Transport Association maintains a list of airline travel restrictions.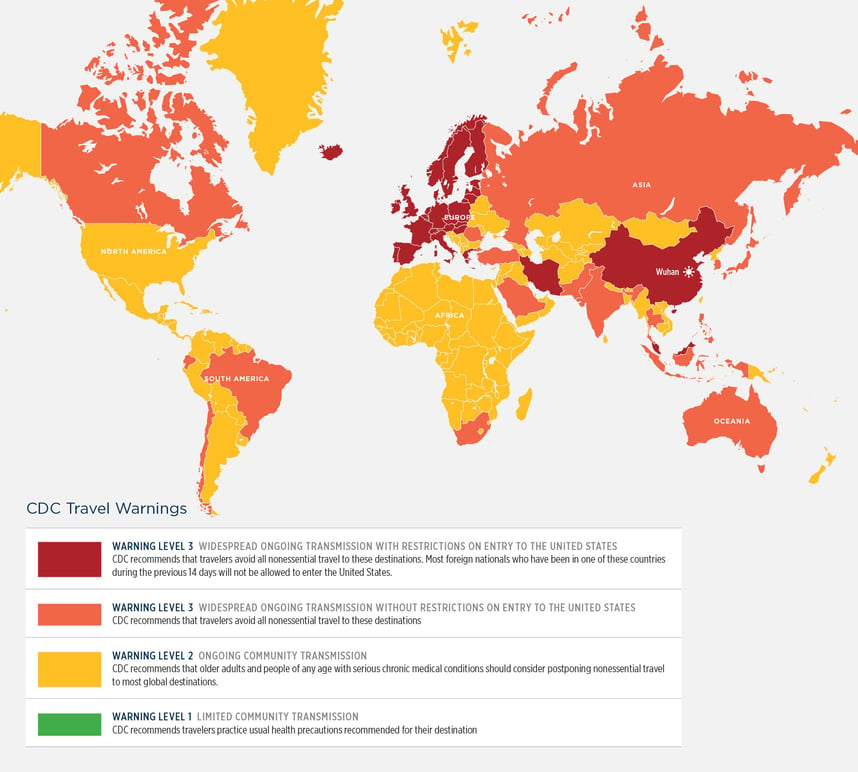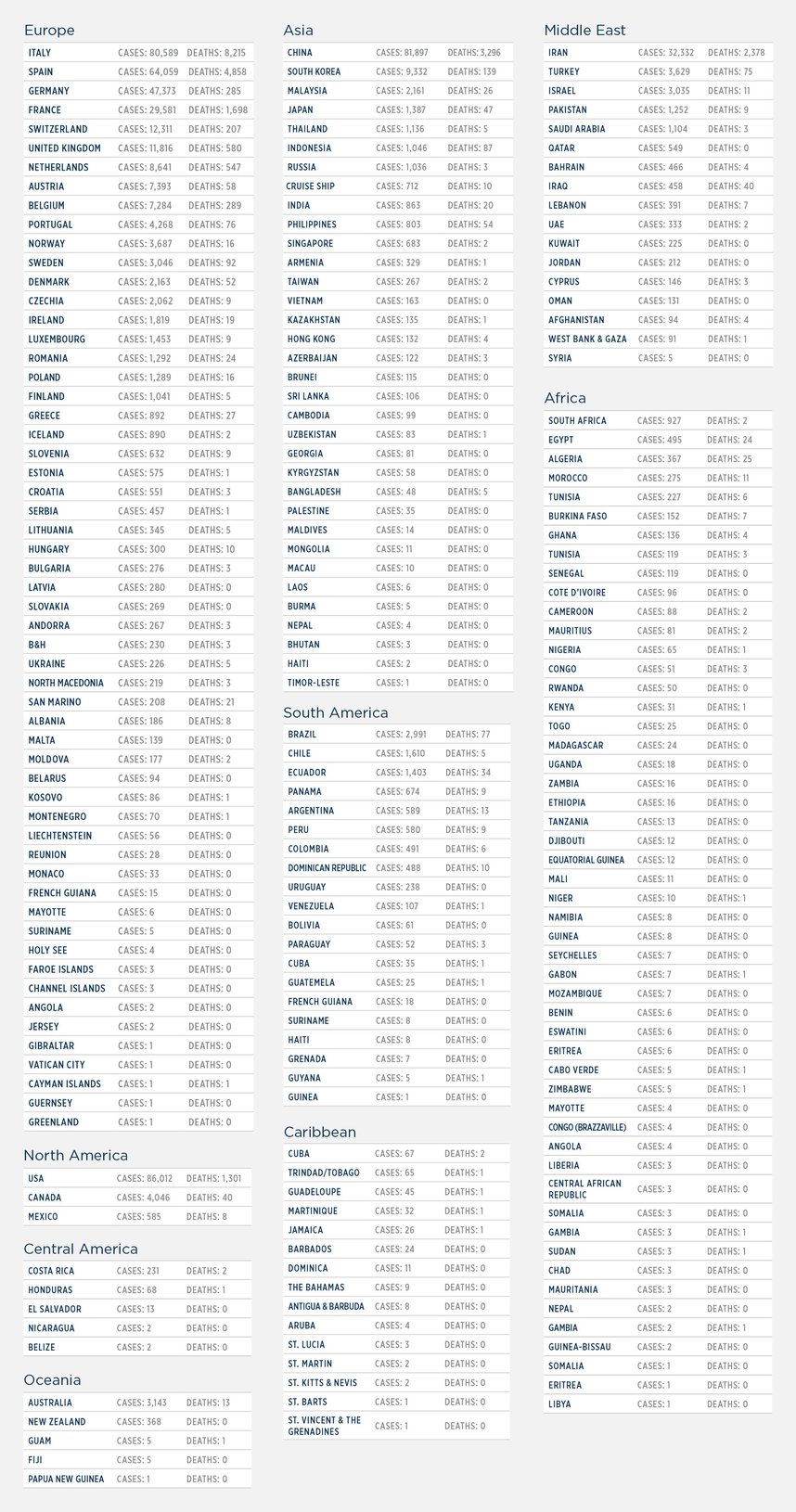 TRAVEL ADVICE
The U.S. State Dept. has issued Level 4: DO NOT TRAVEL guidance for the entire world amid the COVID-19 pandemic. In addition, Global Guardian recommends the following:
Return to the U.S. if currently abroad while commercial means are still available. Otherwise, prepare to remain abroad for an indefinite period.
Avoid all travel to

mainland

China, Iran, Italy, South Korea, Kuwait, Lebanon, Israel, and any other countries with global travel restrictions.

Avoid

all travel to continental Europe.

Reconsider all travel to the rest of the world due to ever changing travel restrictions and border closures.
Do not go on a cruise. Several cruise lines have already canceled all planned cruises.

Practice advanced careful hygiene measures, including frequent hand washing and sanitizing.

Practice "social distancing" while in public spaces.
OUTLOOK
Italy is starting to see positive effects on case growth after 14 days of nationwide lockdown and quarantine. The experience in Europe may serve as a glimpse of what is to come in North America as the virus continues to spread. The U.S. and Europe need to be prepared for significant strain on economic and healthcare resources in the coming weeks and months.
Support
Global Guardian is closely monitoring the situation. To request additional support or learn more about pricing on customized daily intelligence reports tailored to your organization's interests, please reach out to our security analysts by clicking below.