Fires in California incur significant financial and human costs that are expected to rise as a changing climate renders the state hotter and drier for longer.
Major fire incidents have steadily increased across the entirety of California over the past few decades. The risk of fire has extended to the whole state, and fire season is now year-long. The destruction of housing, displacement of residents, disruption to businesses, frequent power blackouts, degradation of air quality, and drain on public resources caused by fires, heatwaves, and droughts have a host of associated environmental and economic consequences that will continue to threaten lives and livelihoods in California for years to come. The risks from wildfires, heatwaves, and droughts underscore the need to properly prepare for these hazards.
Thus far in 2022 wildfires in California have killed nine people, displaced more than 6000 others, consumed more than 360,000 acres of land, and destroyed more than 700 structures. September and October are historically the most dangerous months for wildfires, and there are currently around a dozen major fires burning across the state.
The number of acres burned in wildfires varies year to year but is generally trending upwards.
The growing intensity and extent of wildfires is driven by climate change. Average summer temperatures in California have risen by approximately 3 degrees F (1.8℃) since 1896, with more than half of that increase occurring since the early 1970s. As temperatures rise, California's environment becomes drier and hotter. This leads to more wildfires but also to heatwaves and droughts. Wildfires are made both more likely and more difficult to fight by the increased temperatures caused by heatwaves and reduced availability of water caused by droughts. These weather phenomena feed into each other in a number of ways with serious environmental, health, and economic impacts.
Heatwaves have grown increasingly deadly in their own right. In 2021, extreme heat killed more Americans than any other weather-related disaster. In Europe, heatwaves are being given designated names, similar to hurricanes, in an effort to raise awareness among the public of their lethal potential. The below graphs from NASA highlight the rising number, duration, and intensity of heatwaves in California.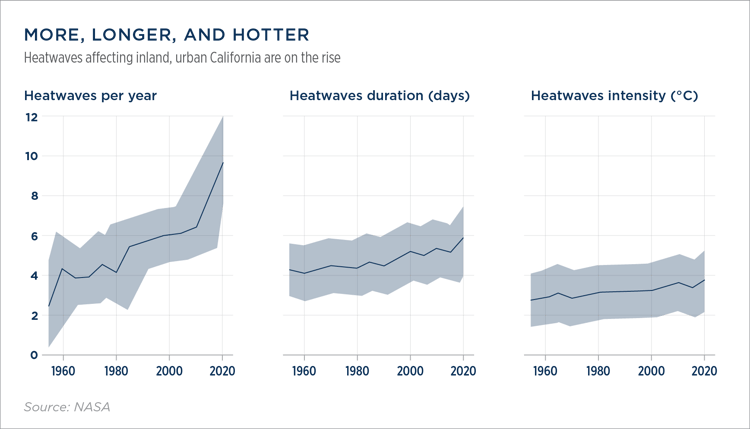 Preparation
Have a Plan
If you anticipate needing assistance during a disaster, talk to family, friends and others who will be part of your personal support network.
Write down and share each aspect of your emergency plan with everyone in your support network.
Make sure everyone knows how you plan to evacuate your home or workplace and where you will go in case of a disaster.
Make sure that someone in your local network has an extra key to your home and knows where you keep your emergency supplies.
Teach those who will help you how to use any lifesaving equipment and administer medicine in case of an emergency.
Practice your plan, and update it as needed.
Build a Go Bag
Non-perishable foods
Medicines and first aid supplies
Potable water
Flashlights and batteries
Mask and/or respirator
Satellite phone
SUPPORT
Global Guardian can support families, organizations, and businesses in both preparation for, and in response to, wildfires and other natural disasters. Our team can respond immediately with the following capabilities:
Emergency response planning

Bespoke intelligence reports and briefings

Satellite communications (phone and wireless internet)

Emergency medical and tele-medical support

Logistical support and supply delivery

Evacuation support
Click below to contact Global Guardian's 24/7 Operations Center or call us directly at +1 (703) 566-9463.