In Afghanistan, the value of Global Guardian's in-country security network quickly became evident as Duty of Care clients were evacuated to safety.
SITUATIONAL UPDATE
Over the weekend, the Afghan government collapsed, and the capital Kabul fell to the Taliban. The Taliban is now in full control of Kabul, 32 out of 34 of Afghanistan's provincial capitals, and all border crossings. This comes after a week in which the Taliban made rapid advances across the nation, seizing Afghanistan's second and third-largest cities with little resistance. Afghan President Ashraf Ghani has now fled to the UAE and most Western embassies have shuttered their embassies and evacuated foreign staff. The Taliban has erected security checkpoints across Kabul and are limiting access to the airport. According to U.S. estimates, there are still over 11,000 third-country nationals present in Afghanistan awaiting evacuation. So far, there have been no hostilities between the Taliban and the U.S. forces who are securing the Kabul airport.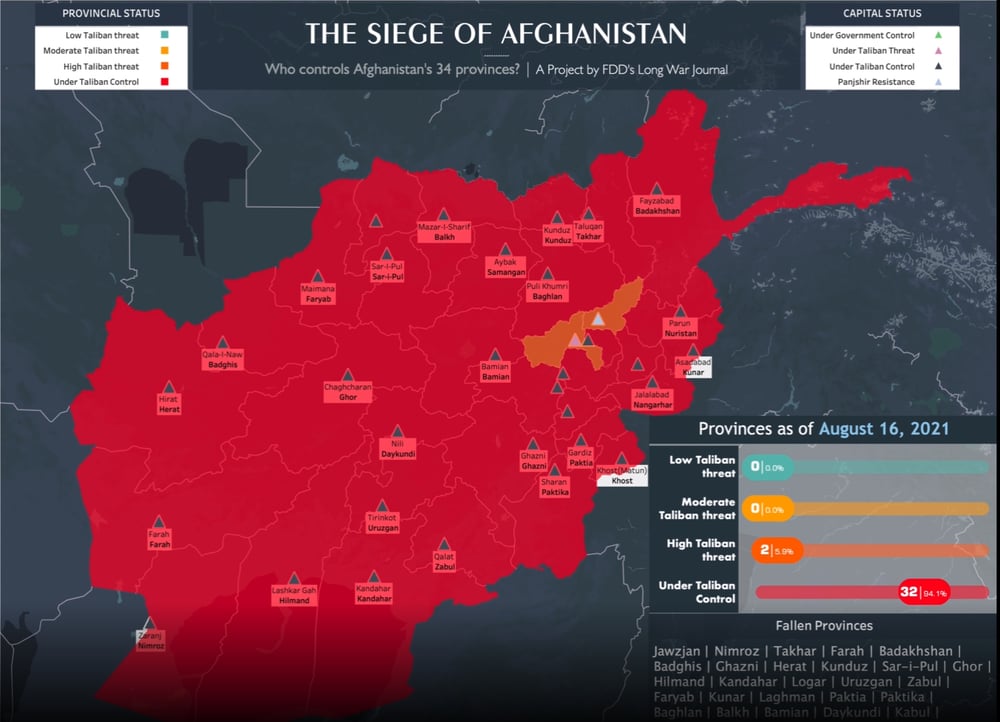 Source: https://www.longwarjournal.org/mapping-taliban-control-in-afghanistan
Global Guardian Response
Global Guardian reached out to its Duty of Care member clients early in the crisis. On August 5—10 days before the Ghani government collapsed—clients had begun to be evacuated from three cities in Afghanistan. As of August 18, Global Guardian had successfully evacuated all but one individual—who is anticipated to be evacuated in the next 48 hours—from Afghanistan to countries in the Middle East and Europe via charter and commercial flights. In addition, Global Guardian's teams secured visas for several of these clients ensuring a seamless entry for all involved.
The crisis in Afghanistan has underscored the importance of Global Guardian's service model: providing 24/7 emergency assistance through a network of security partners who are located in or near the country where clients are present. By having eyes and ears on the ground in Afghanistan, Global Guardian was able to proactively reach out to its Duty of Care clients before the Taliban takeover of Kabul and evacuate them to safety.
"The situation in Afghanistan has highlighted the advantage of our model and the limitations of technology and relying solely on intelligence alerts, insurance coverage, and even the U.S. State Department when faced with a crisis. Whether responding to the 2015 Paris attacks, 2016 Turkey coup, the back to back hurricanes in the western hemisphere in 2017, COVID-19 pandemic border closures of 2020, the collapse of India's healthcare system in May of 2021, or the fall of Kabul, Afghanistan, Global Guardian's ability to move and respond in minutes and hours delivers positive outcomes and real results to our client base during their greatest time of need."

–Global Guardian CEO and President, Dale Buckner
The "Guide to U.S. Government-Assisted Evacuations" produced by the Overseas Security Advisory Council (OSAC) in the State Department's Bureau of Diplomatic Security says "organizations should not rely on U.S. government assistance in emergency evacuations and, when possible, should make independent and proactive evacuation plans." It puts the onus on the individual or group to remove themselves from a dangerous situation in a foreign country, and does not guarantee either a safe evacuation or U.S. government assistance in times of trouble. This is why it is critical to work with a security partner that has a network of professionals—as Global Guardian has in 133 countries—who are on the ground and knowledgeable about the country in which they, and the client, are based.
TAKEAWAYs
Global Guardian has successfully evacuated all of its Duty of Care clients but one individual from Afghanistan as of August 18.
Technology and travel alerts alone are not a panacea in a crisis.
The U.S. State Department is also limited in the kind of assistance it can provide. In fact, OSAC's guidance strongly encourages travelers to "create plans for emergencies that do not rely on U.S. government assistance."

The presence of a trusted network in a foreign country—one that is able to respond with speed at a time when

even the slightest delay can be the difference between life and death

—is vital for providing assistance to, and even safely evacuating, clients during an emergency.

Crises, such as the one unfolding in Afghanistan, are challenging to navigate. It is at such times that the value of having the right security partner—one that has deep knowledge of the political, security, and even the physical landscape of a foreign country—becomes evident.
To learn about our Duty of Care Membership, complete the form below.