Typically, the start of the holiday season means families across the United States are busy planning trips—domestic and/or international. This year is very different. The COVID-19 pandemic—and the travel restrictions and quarantines imposed by state and national governments in response to the global health crisis—has meant that fewer people are traveling. In fact, the International Air Transport Association (IATA) predicts full-year passenger traffic is set to decline 66% compared to 2019.
Although travel rates may have declined amid COVID-19, some of us may still find ourselves traveling this holiday season. For those who are planning to travel, Global Guardian recommends the following safety and security considerations: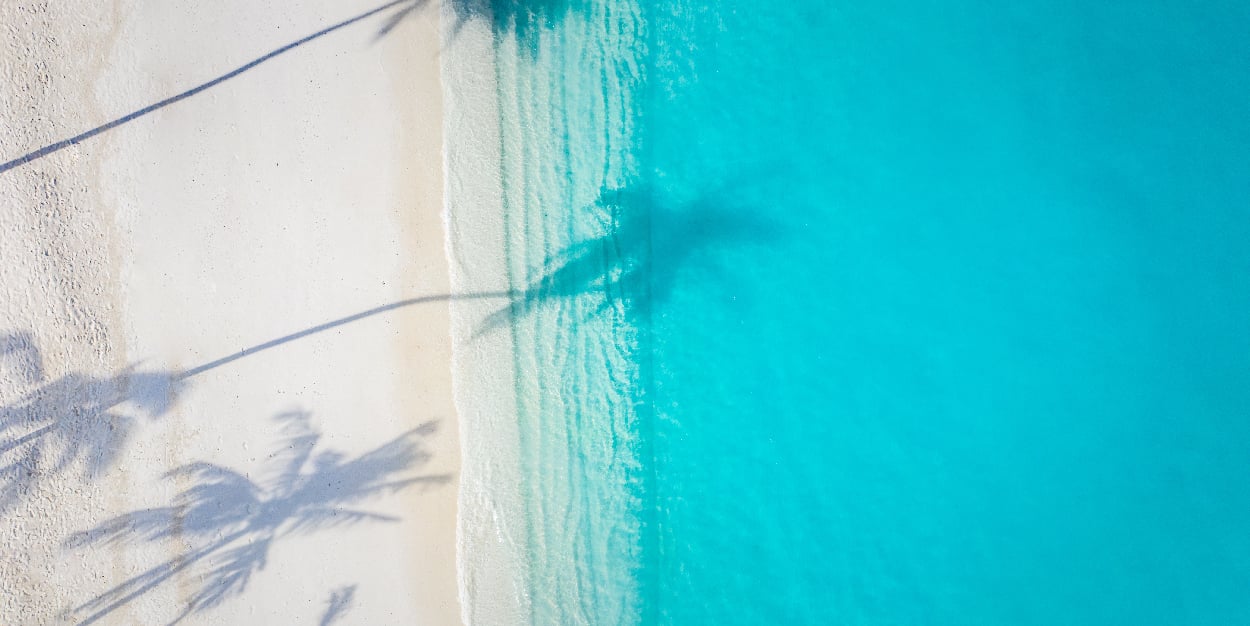 Before setting off on an international trip, travelers should be aware if their destination has restrictions on foreign travel, such as banning tourists from "high risk" countries, mandatory quarantine for visitors or the need to produce a negative COVID-19 test result on arrival. We recommend that any prospective traveler get tested for COVID-19 prior to travel as one thing we have learned from this pandemic is that countries' rules and regulations are constantly changing in the face of this challenge.
To support clients with their travel plans, Global Guardian has produced a color-coded map—"Travel Restrictions for Americans"—that can serve as a useful resource when planning your trip. The countries marked in green are places where a US citizen can currently travel for the purpose of tourism. To date, the Caribbean remains the region with the fewest travel restrictions on American tourists. Our experts recommend avoiding high-risk areas—not just places that have a high prevalence of the coronavirus, but also those that have high instances of crime, social unrest or inclement weather.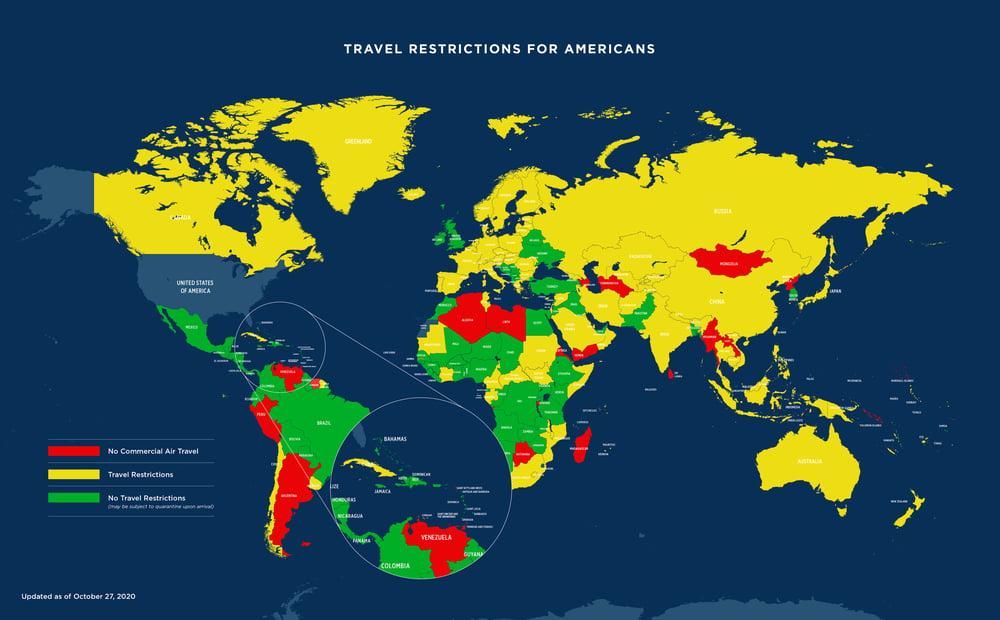 We also advise checking with the US State Department and/or US Embassy in the country of your destination to ensure you are fully informed of any country-specific entry requirements, quarantine policy or restrictions on the ground.
---


Global Guardian has also produced a color-coded "COVID-19 14-Day Transmission Rate" map so prospective travelers can learn of the rate of COVID-19 infections in their destination country. This map depicts the 14-day notification rate of newly reported COVID-19 cases per 100, 000 population.

It can be broadly used as a proxy indicator to measure and compare the varying levels of infection risk between different prospective vacation destinations. This level is calculated based on the number of new infections in the past 14 days per 100,000 people. It serves as a way to account for the population size in order to make better comparisons between different areas with differing populations. Since the map utilizes aggregated country data, it does not account for the variance of COVID-19 transmission within a country. The decision to travel should be weighed against your personal health concerns; even locations marked in green can pose a health risk.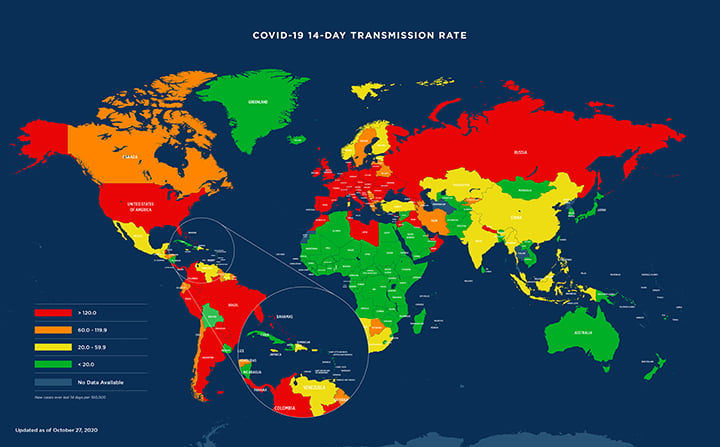 ---


Now that you have decided to venture out it pays to be well informed about what to expect once you get to the airport (if you decide to fly, that is). Transportation Security Administration's (TSA) federal security directors have some useful tips for travelers, including the suggestion that travelers enroll in TSA PreCheck to be eligible for expedited screening procedures.
Has your driver's license or state-issued ID expired? Were you unable to have it renewed? Do not worry. According to TSA, expired driver's licenses and state-issued IDs are acceptable identification at airport checkpoints.
---

Being in a public space like an airport or highway rest stop exposes you to germs and surfaces—elevator buttons, handrails, kiosk counters, and luggage carts, etc.—that have more than likely been touched by multiple people. The good news is that regular and thorough handwashing can keep those germs at bay and help you stay healthy. The Centers for Disease Control and Prevention (CDC) has this handy guide on handwashing—which is available in multiple languages.
The CDC also has some helpful travel guidance. If you plan to travel by car make as few stops as possible, but be sure not to drive if you are feeling drowsy; limit your time in public restrooms; and use disinfectant wipes on buttons and handles when you stop to get gas.
Global Guardian additionally recommends carrying hand sanitizer that contains at least 60 percent alcohol when you leave home. And, of course, regardless of how spotless your hands may be after all that handwashing, avoid touching your nose, mouth, and eyes.
---


Public health experts recommend keeping a minimum distance of six feet from people, especially from those who are not in your "pod." (Don't have a pod? Here's an important article to read before you set about forming one.)
It is important to remember that people who do not have symptoms of COVID-19—those who are asymptomatic—can still spread the disease. Global Guardian recommends travelers regularly check their temperature and monitor their health. Our experts especially recommend avoiding travel if you are feeling unwell.
TSA is also looking to reduce touch points between the time travelers arrive at the airport to when they board their plane. Passengers are encouraged to scan their own boarding pass and then hold it up for a TSA agent to inspect.
---

COVID-19 is an airborne disease. Wearing a mask that covers your mouth and your nose not only keeps you safe, it also ensures others are not exposed to any germs you may unknowingly be carrying (see #5 on asymptomatic carriers). If you are unsure how to properly wear your mask, the CDC has this useful guide. Face shields, which cover the entire face from the forehead on down, are also recommended for protection when in public.
While most airlines now practice social distancing on board the aircraft by keeping the middle seat empty, there are still multiple opportunities for travelers to get exposed to the virus—during check-in, security screenings, in airport restrooms, while boarding, and from passengers seated in front, next to, or behind them. So, be sure to not let your guard down; keep your mask on at all times.
---

Despite taking all of these precautions sometimes you may find yourself in a difficult situation. Countries may abruptly shut borders, flights could get cancelled, or you could fall ill. Global Guardian advises having a plan to prepare for such eventualities before setting off on your journey.
Global Guardian has 24/7 emergency response capabilities in more than 100 countries. Our travel security and medical evacuation services are enhanced by a well-placed network of international ground assets, service partners, specialized aircraft, and a 24/7 Operations Center.
Our team has experience extracting clients out of difficult situations like terrorist attacks, and medical emergencies. We have also successfully carried out pandemic-related evacuations.
---

While in normal times travelers often got the protection of travel insurance before setting out on a big trip, during uncertain times such as these Global Guardian recommends additional coverage like those offered by our membership programs.
Global Guardian's Traveler Services Family Membership covers your family no matter where in the world they may be. This membership includes medical evacuation to a hospital of your choice, 24/7 emergency support, global tracking for the entire family, and exclusive access to the latest intelligence, travel alerts, and destination reports.
Global Guardian's Air Ambulance helps travelers stuck in life-threatening situations. While travel insurance typically only covers transportation to the nearest hospital, our program will transport injured travelers to a hospital of their choice.
---
Standing by to support
Global Guardian's 24/7 Operations Center can support any of your travel security and safety needs. To learn more about membership options and customized security services, click below or call us at + 1 (703) 566-9463.