Global Guardian sees a worsening geopolitical landscape in Q3 marred by persisting threats – Iran and the Persian Gulf, Venezuela, Sudan and Mexico – as well as evolving threats from Brexit and the Hong Kong protests that are rife with uncertainty.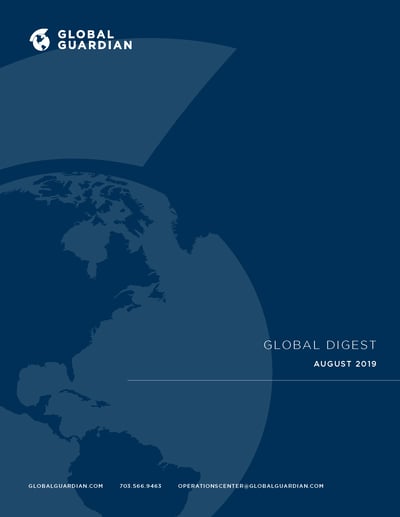 What is certain is the pillars of post WWII Europe, the North Atlantic Treaty Organization (NATO), and the European integration project are beginning to crack – the global economy is slowing with low interest rates across the horizon and international shipping is under siege (Black Sea and Strait of Hormuz). Read through the major issues we are tracking in Europe and the MENA region by downloading the full report here.
ABOUT GLOBAL GUARDIAN
Global Guardian is a McLean, VA based global security firm that provides its clients with access to a comprehensive suite of security services. Its capabilities include personnel tracking supported by a dedicated 24-hour Operation Center, a full range of personnel-based security and executive protection services, medical support and transportation, travel intelligence and emergency response and evacuation services in over 100 countries. Global Guardian's suite of risk mitigation services provides organizations with innovative and cost-effective solutions to help them protect their staff and business operations around the world.
Find out how our team can support your security needs. For assistance, call our 24/7 Operations Center at 703.566.9463 or click below.