Corporate leaders need to offer similar protections to their work-from-home employees as they do to their traveling employees, says Global Guardian CEO Dale Buckner.

Almost two years into the pandemic, large numbers of employees are working from home—often on insecure networks, juggling the competing demands of home and work, and carrying the financial and mental burden brought on by the global health crisis. Many may never return to their offices. It is time for corporate leaders to acknowledge this "new normal" and offer their dispersed workforce the same duty of care as they would to an employee who is traveling to a high-risk destination on business.
In December, a court in Germany ruled that a man should be covered by his employer's health insurance after he broke his back in a fall while walking from his bedroom to his home office. The case may sound ludicrous to some, but it is a sign of things to come. To my mind, it raises the question: When is a person who is working from home considered to be at "work"? The answer to that question will guide the conversation inside companies on their responsibilities to their at-home employees.
---
A new normal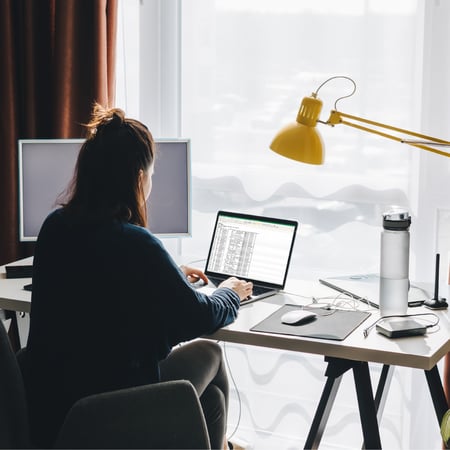 In the years before the pandemic, companies relied on a well-worn template for providing duty of care. An employee setting off on business travel would be provided intelligence briefings and travel alerts, coverage of an insurance plan, and perhaps even tracked while in a foreign location. Then came the great disruption when the COVID-19 pandemic hit in early 2020. The pandemic exposed the limitations of the traditional duty of care model; lockdowns ground travel to a halt and employees were forced to work from their homes.
Last year, Gartner predicted that in 2022, 31% of all workers worldwide will be remote, and that in the United States, remote workers will represent 52% of the workforce.
This reality has created a new set of challenges that companies must prepare for and carefully navigate.
The simplest advice that I give clients today is this: Treat all your employees almost in the same way as you would treat them if they were traveling in a foreign country. I believe that an employee working from home is just as vulnerable as one who is traveling for work. Human resources directors and chief security officers had built an apparatus to keep their traveling employees safe. They must now pivot that apparatus to meet the needs of their remote workforce.
---
A vulnerable workforce
An employee working from home might do so on their own computer, using their personal internet service. The fact that millions of at-home workers are working on inadequately protected devices and networks is a big factor in the sharp increase in ransomware and other cyber crime globally. These employees no longer have the enterprise bubble of cybersecurity that their office networks provided. Nor can most of them afford the costs of setting up such systems at home. As every law enforcement professional knows, whenever you add a connection, you create a vulnerability. This is true for every company that has a remote workforce—whether that is one worker or 1,000. It is not just the workers who are vulnerable, that vulnerability extends to the company as a whole.
As every law enforcement professional knows, whenever you add a connection, you create a vulnerability.
These vulnerabilities are not limited to the digital world. Another risk that will inevitably become more common is when employees working from home—who don't have access to a secure meeting space—feel their only option is to invite clients to their homes for work meetings. The presence of a relative stranger in one's personal space will open a whole new set of risks.
---
Providing duty of care to the at home worker
Corporate leaders need to rethink their approach to duty of care if they are to safeguard their assets and people. Specifically, they should be looking at the following areas.
Cybersecurity: Companies need to evaluate the security of their at-home employees' routers, Wi-Fi networks, laptops, desktops, and phones. They should provide a VPN tunnel—an encrypted link between an employee's computer and the office network. They should also provide company computers and phones. Doing so will go a long way toward strengthening the weakest links, extending the cybersecurity bubble and, by doing so, safeguarding a company's assets. Some of the biggest failures have been the result of businesses' inability to protect their systems down to the end user and a lack of investment in the security and training of employees to deal with growing cyber threats.
Mental health: Survey after survey has found the big toll pandemic-related pressures are taking on mental health, not just in the United States, but around the world. Mental health issues could disrupt business; they could lead to incidents such as workplace violence or an active shooter incident that would threaten a company's reputation, its assets, and its people.
In an effort to avoid such disruptions, corporate leaders should be looking at ways to alleviate the mental stress on their employees, especially those working from home. Corporate medical platforms should be offensively offering regular mental wellness checks to all employees. Such evaluations can help determine how employees are managing the additional strains brought on by the pandemic and could even avert a crisis.
Crisis coverage: In the past, duty of care models were crafted with the goal of protecting employees when they face a crisis while traveling on business. A future model should extend that same protection to employees working from home.
Last year, when Tropical Storm Nicholas struck Houston it caused widespread flooding. Global Guardian deployed a team to rescue clients who had become stranded on the rooftops of their homes when the floodwaters submerged the lower floors. That incident is just one of many that showed why it is important that companies extend similar duty of care to an employee who is working from home as it does to an employee who is facing a crisis in a foreign country. In the event of a crisis, like a hurricane, flood, or even a terrorist attack, a company will have to check on its employees who may be affected and provide them with the necessary assistance, whether that is food, water, shelter, or even an emergency evacuation.
It is unrealistic to expect services like EMS, fire, and the police, which are stretched to breaking point, to respond to every emergency. The kind of duty of care that a 24/7 security provider like Global Guardian provides—from our Air Ambulance service to Executive Protection, backed by our 24x7 Operations Center—needs to be considered at scale so that remote employees can be kept safe in an emergency.
---
a new mentality
A shift is urgently required in the mentality in company C-suites. In the face of the disruption caused by the pandemic to the traditional model of work, corporate leaders should be thinking seriously about providing duty of care to their employees who are working from home. They should be treating these employees just as they would an employee who is setting out on business travel by providing them with the security, medical, and mental health coverage that are crucial to keeping them safe.
In the face of the disruption caused by the pandemic to the traditional model of work, corporate leaders should be thinking seriously about providing duty of care to their employees who are working from home.
If companies haven't thought through their policies for the at-home worker and how that is going to change their business and their benefits package, they need to get moving quickly. This is an issue that matters, especially for corporate America. A company's reputation (and future) may very well hinge on how it rises to the occasion.
---
STANDING BY TO SUPPORT
Find out how our team can support your security needs. For assistance, call our 24/7 Operations Center at 703.566.9463 or complete the form below.