Update
Total cases in mainland China continue to rise, with more than 31,200 reported across the country, a significant increase in the last 24-hours. Deaths from coronavirus are over 630, with the vast majority in Hubei province.
There are fears that the security situation could deteriorate in areas under lockdown, especially as medical facilities and personnel become strained. There are growing concerns over possible food shortages, and reports of frustrated patients attacking medical workers in Wuhan. The PLA could be deployed to Wuhan and other areas of Hubei province to maintain order.
There are reports of forcible quarantine of thousands of people in Wuhan in converted schools and sports stadiums. Unconfirmed videos on social media show families being dragged from their homes and sent to quarantine facilities with limited access to medical care.
Amid a global shortage of masks, respirators and other personal protective equipment (PPE), the WHO is sending 500,000 masks, 350,000 gloves, 40,000 respirators and 18,000 isolation gowns from its warehouses in Dubai and Accra to impacted countries.
According to the WHO, countries are "facing severe disruption in the market for PPE. Demand is up to 100x higher than normal and prices are up to 20x higher. This situation has been exacerbated by widespread, inappropriate use of PPE outside patient care. As a result, there are now depleted stockpiles and backlogs of 4-6 months. Global stocks of masks & respirators are now insufficient to meet the needs of WHO and our partners."
What we know:
31,527 confirmed cases

638 recorded deaths

A cruise ship quarantined in the port of Yokohama, Japan has 61 confirmed cases among 3700 passengers


CURRENT STATUS
At least 62 airlines from 45 countries have suspended or cancelled flights to mainland China and/or Hong Kong due to the outbreak. Most recently the United Arab Emirates announced it was suspending all flights to and from China except for those from Beijing.
Egypt Air
British Airways
Lufthansa
United Airlines
American Airlines
Delta Airlines
Air Canada
Air France
Air Asia
Finnair
Ethiopian Airlines
KLM
SWISS
SCAT Airlines
Ural Airlines
Vietjet Air
Turkish Airlines
Kenya Airways
Oman Air

Austrian Airlines
Lion Air
Air Seoul
Korean Air
Jeju Air
Eastar Jet
IndiGo
Air India
Aeroflot
Iberia
Cathay Pacific
Air Astana
Azerbaijan Airlines
JC
Singapore Airlines
Vietnam Airlines
Jetstar Airlines
Qatar Airways
El Al Israel Airlines

Air Macau
Azur Air
iFly
Nordwind
China Eastern Airlines
China Southern Airlines
Myanmar National Airlines
Myanmar Airways International
Air KBZ
SkyUp Airlines
Ukraine International
9 Air
Air New Zealand
Virgin Atlantic
All Nippon Airways
Cathay Pacific
Japan Airlines
TRAVEL ADVICE
The U.S. State Dept. has issued guidance not to travel to China due to the outbreak. In addition, Global Guardian recommends the following:
Avoid all travel to Hubei province.

Leave China by commercial means.

If remaining in China, stay home as much as possible and limit contact with others.

Practice advanced careful hygiene measures, including frequent hand washing and sanitizing.

Wear a face mask or respirator in public if traveling in Chinese cities with reported infections.
OUtLook
The last two days have seen a decline in case spread growth (15% and 11% respectively) after three straight days of 19% growth in additional cases, indicating quarantine measures may be having the desired affect.
See below coronavirus case graph from Johns Hopkins CSSE: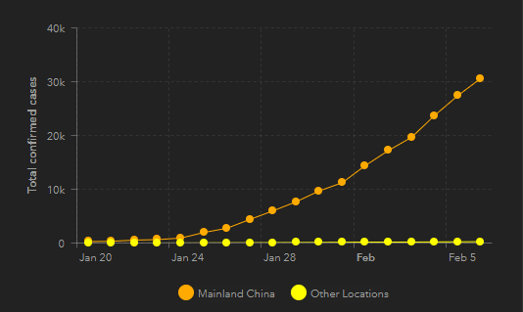 Support
Global Guardian is closely monitoring the situation. To request additional support or learn more about pricing on customized daily, weekly, or monthly intelligence reports tailored to your organization's interests, please reach out to our security analysts by clicking below.