Update
As the total worldwide case count broke 75,000 on 19 February, Russia announced it was temporarily banning entry of all Chinese citizens into the country due to the COVID-19 outbreak.
Meanwhile, Singapore Airlines and its regional wing Silk Air announced it would reduce flights across their network for a three-month period due to weakened demand resulting from the outbreak. Key affected destinations include Frankfurt, Jakarta, London, Los Angeles, Mumbai, Paris, Seoul, Sydney and Tokyo. Multiple international airlines have stopped or reduced flights to/from the Asia-Pacific region due to weakened demand.
The country also introduced stricter home quarantine measures for long-term residents who returned from mainland China over the last 14 days. Affected residents are now not allowed to leave their homes during the 14-day period.
There are now two confirmed deaths in Hong Kong after a 70-year-old man died at Princess Margaret Hospital earlier in the day. This brings the total deaths outside mainland China to six.
What we know:
75,282 confirmed cases worldwide

2,012 deaths

15,084 recovered
Rate of spread is slowing
CURRENT STATUS
At least 65 airlines from over 45 countries have suspended or cancelled flights to mainland China and/or Hong Kong due to the outbreak. The latest restrictions come from Singapore. Check with individual airlines for current status, as suspensions and limited restrictions can change at any moment.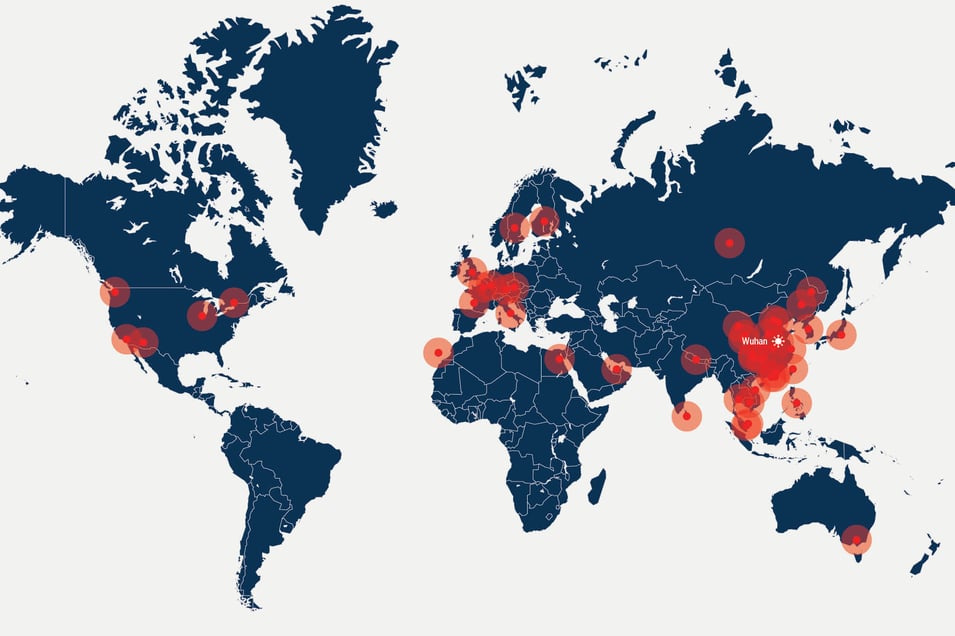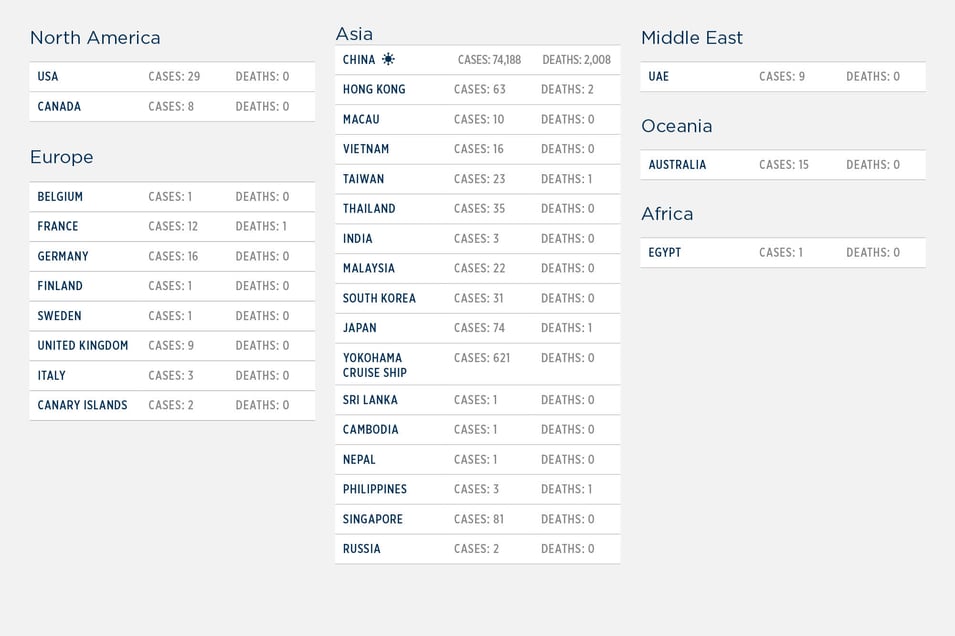 TRAVEL ADVICE
The U.S. State Dept. has issued guidance not to travel to China due to the outbreak. In addition, Global Guardian recommends the following:
Avoid all travel to mainland China.

Avoid non-essential travel to Hong Kong and reconsider travel to Singapore due to risk of travel limitations.

If remaining in a city with known COVID-19 cases, practice advanced careful hygiene measures, including frequent hand washing and sanitizing.

Wear a face mask or respirator in public if traveling in cities with reported infections.
OUtLook
The statistics show that the virus is spreading more slowly in mainland China, with a steady 3% case growth rate, and the trend indicates quarantine and lockdown measures are working. It is unknown when the virus will burn itself out, but the outlook remains cautiously optimistic.
See below coronavirus case graph from Johns Hopkins CSSE, the flattening curve indicates slowing spread of the virus: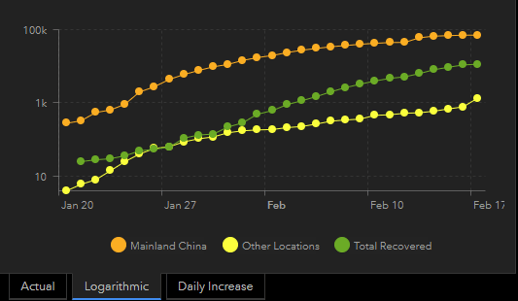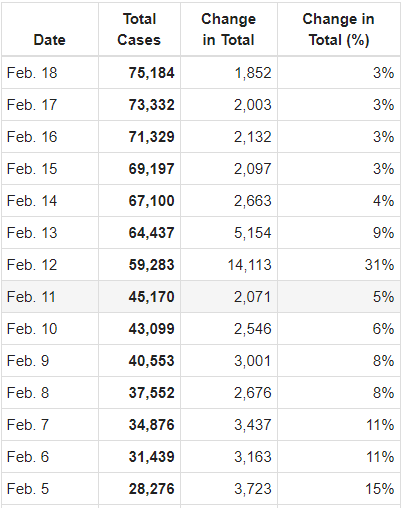 Support
Global Guardian is closely monitoring the situation. To request additional support or learn more about pricing on customized daily, weekly, or monthly intelligence reports tailored to your organization's interests, please reach out to our security analysts by clicking below.