Update
Total cases in mainland China continue to rise, but at a steadily declining rate. There are now 44,685 confirmed cases in mainland China, but the number of new cases reported each day has steadily declined over the last week. This is a positive development and indicates that quarantine measures are working. The next two-three weeks will be critical to assessing if the situation is truly trending positive.
Outside mainland China, new cases have also slowed, with the exception of the quarantined Diamond Princess cruise ship, where over 175 of the 3700 passengers have tested positive for the virus. It remains docked in Yokohama, Japan and is under control of Japanese health authorities.
While deaths continue to rise in Hubei province, there are still only two confirmed deaths outside mainland China (HK and Philippines).
There are reports of panic among residents in Hong Kong and Singapore, leading to hoarding of household goods, medical supplies, bottled water, and other items. Similar incidents can be anticipated in other Asian cities if case counts climb.
What we know:
45,204 confirmed cases worldwide

1,117 deaths

5,121 recovered
Rate of spread is slowing
CURRENT STATUS
At least 62 airlines from 45 countries have suspended or cancelled flights to mainland China and/or Hong Kong due to the outbreak.
Egypt Air
British Airways
Lufthansa
United Airlines
American Airlines
Delta Airlines
Air Canada
Air France
Air Asia
Finnair
Ethiopian Airlines
KLM
SWISS
SCAT Airlines
Ural Airlines
Vietjet Air

Turkish Airlines
Kenya Airlines
Oman Air
Austrian Airlines
Lion Air
Air Seoul
Korean Air
Jeju Air
Eastar Jet
IndiGo
Air India
Aeroflot
Iberia
Cathay Pacific
Air Astana
Azerbaijan Airlines
JC

Singapore Airlines
Vietnam Airlines
Jetsar Airlines
Qatar Airways
El Al Israel Airlines
Air Macau
Azur Air
iFly
Nordwind
China Eastern Airlines
China Southern Airlines
Myanmar National Airlines
Myanmar Airways International
Air KBZ
SkyUp Airlines
Ukraine International
9 Air
Air New Zealand
Virgin Atlantics
All Nippon Airways
Cathay Pacific
Japan Airlines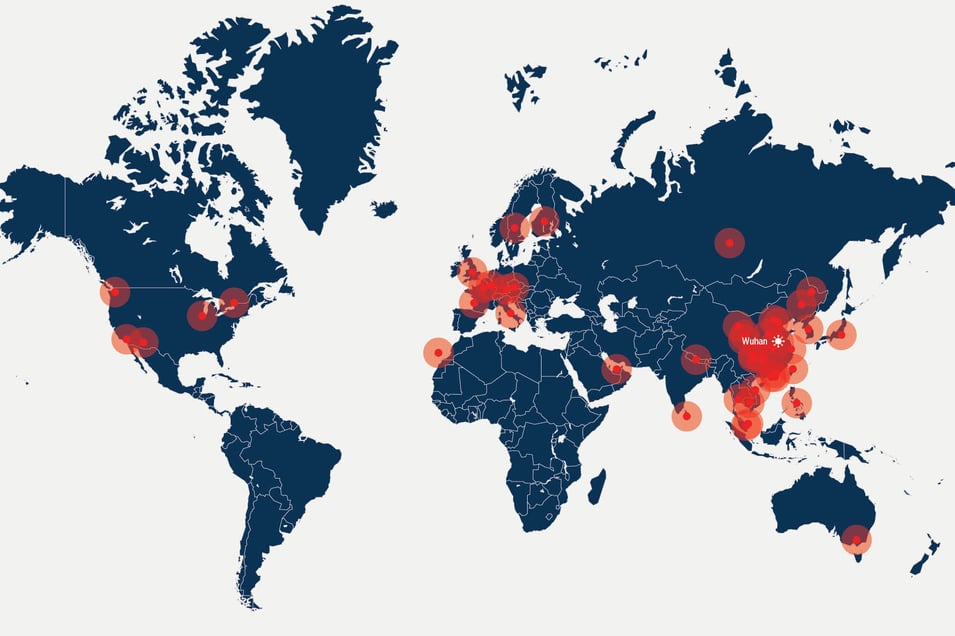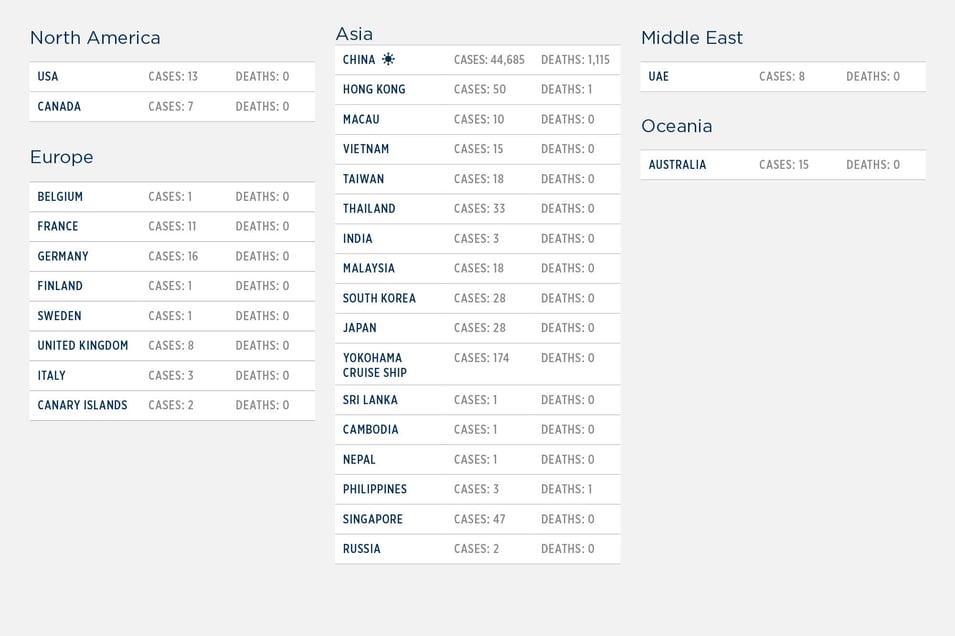 TRAVEL ADVICE
The U.S. State Dept. has issued guidance not to travel to China due to the outbreak. In addition, Global Guardian recommends the following:
Avoid all travel to mainland China.

Reconsider non-essential travel to Hong Kong, Singapore, and Bangkok due to risk of travel limitations.

If remaining in a city with known COVID-19 cases, practice advanced careful hygiene measures, including frequent hand washing and sanitizing.

Wear a face mask or respirator in public if traveling in cities with reported infections.
OUtLook
The last several days continued to see a decline in case spread growth, indicating quarantine measures are having the desired affect. China may be approaching peak infection numbers, at which point confirmed cases will flatten and then drop as people recover at a faster rate than new infections are reported.
See below coronavirus case graph from Johns Hopkins CSSE, the flattening curve indicates slowing spread of the virus: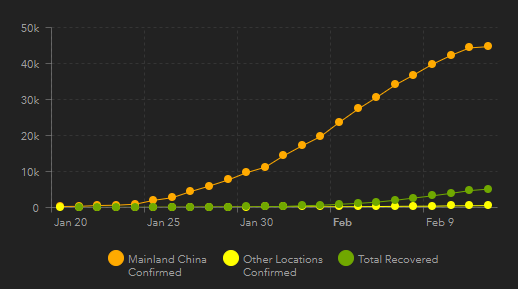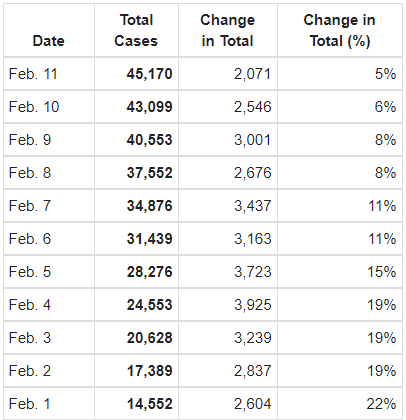 Support
Global Guardian is closely monitoring the situation. To request additional support or learn more about pricing on customized daily, weekly, or monthly intelligence reports tailored to your organization's interests, please reach out to our security analysts by clicking below.