SITUATION REPORT
While violent crime in the U.S. has been on the rise since 2014, the precipitous spike in 2020 is completely unprecedented. The year 2020 was by no means a normal year. But is the elevated level of violent crime here to stay? To address whether or not last year was an anomaly or an inflection point, it is important to reflect on the causes of the surge in violent crime.
---
BREAKING DOWN THE 2020 CRIME SURGE
The Federal Bureau of Investigation (FBI) and the Bureau of Justice Statistics both report that violent crime increased in 2020. Indeed, if the FBI's preliminary data for 2020 holds (the conclusive report will be issued in September), then the U.S. recorded more than 20,000 murders in 2020 (6.22 homicides per 100,000 people), the highest total since 1995 (8.22 homicides per 100,000 people). Alarmingly, this represents the largest yearly increase of homicides on record with estimates ranging from a 25 to 30 percent increase over 2019 levels. According to these data, aggravated assaults also increased by 10.5 percent. Meanwhile, with the exception of motor vehicle theft – which rose by 13 percent – non-violent crime fell significantly in 2020. Similarly, public mass shootings were effectively paused by the pandemic. This pause was broken in March 2021, as the country began loosening restrictions, with a mass shooting in Atlanta and continued through April with mass shootings in Boulder and Indianapolis.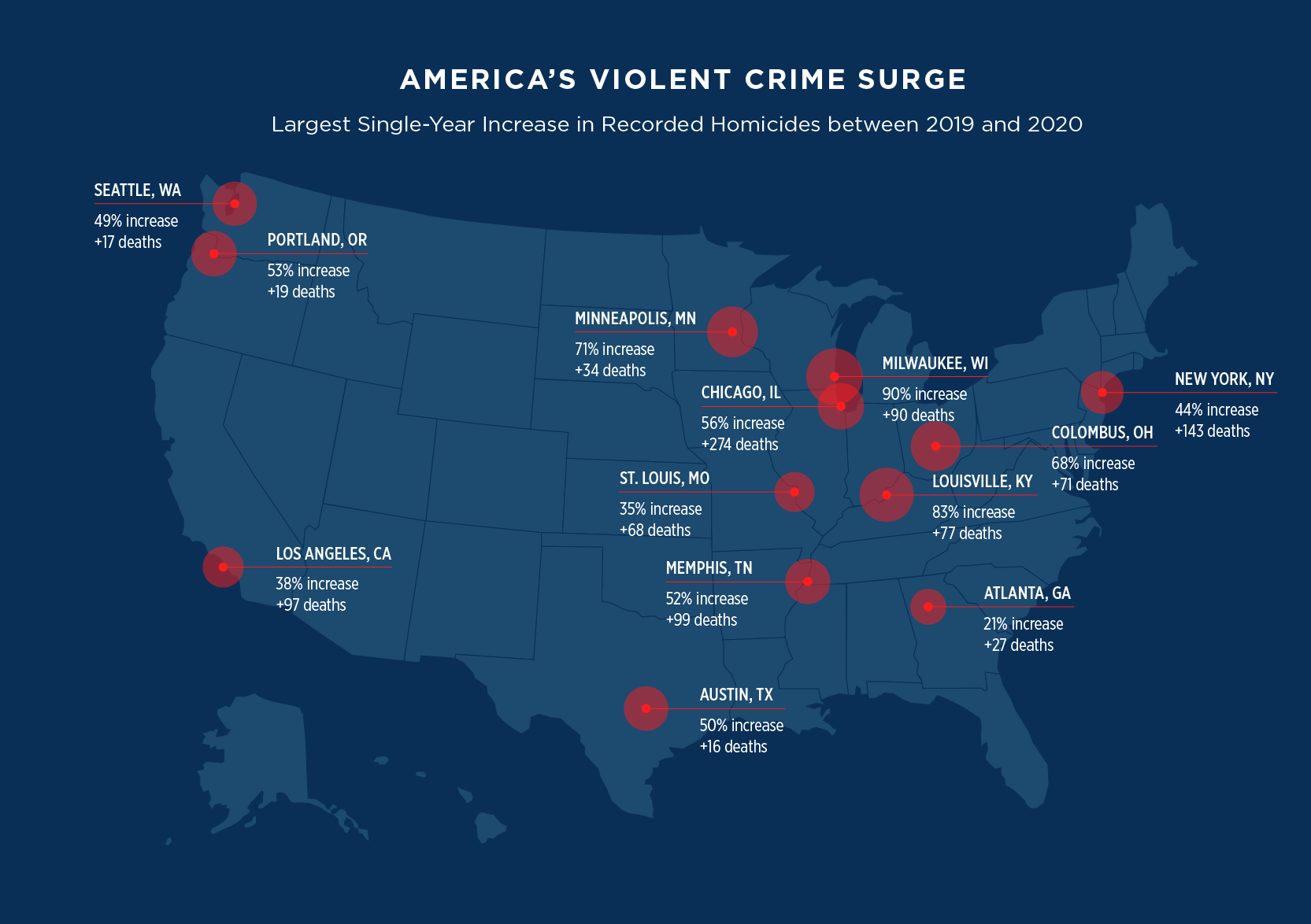 Source: Global Guardian, local police data
In parallel to the violent crime surge in 2020, the American public is increasingly feeling unsafe. A November 2020 Gallup poll notes that 78 percent of Americans perceive that crime had increased over the past year, the highest percentage since 1993. Gun purchases – another social indicator of a country's overall anxiety levels – also hit new highs, reaching 23 million new purchases per Small Arms Analytics. This year's gun sales continue at a record pace.
---
A DEADLY CONFLUENCE OF FACTORS
The massive spike in violent crime was driven by a mix of concurrent destabilizing factors. These include the COVID-19 pandemic, the social upheaval following the death of George Floyd, and their second order effects.
COVID-19
The pandemic was a massively disruptive force on society at large, upending everyone's day-to-day life. Schools and workplaces were shuttered, leaving many youths without places to go, people to see or things to do. More importantly, the lockdowns broke many of the social bonds upheld through community institutions, including religious gatherings, social programs, libraries, public venues, sports, and others, creating social conditions that are conducive to violence.
The uncertainty surrounding COVID-19 – amplified by near-constant news coverage – also drove societal anxiety and fear. This comes in a particularly politically polarized time of record low trust in government and media, and where political hyperbole and multiple truths have become a mainstay in public discourse. The blunt economic shock and the related layoffs and uncertainty also heavily contributed to this dynamic. With contemporaneous physical, mental, political, and financial stressors – disproportionately affecting low income and at-risk individuals – and often unable to receive institutional help, violence surged.
Not only did COVID-19 disrupt the social fabric, but the pandemic also had a direct effect on the criminal justice system. Some police forces were hard pressed to remain fully staffed due to illness and quarantine, leading to a reduction in policing. The rapid spread of the virus within prisons led authorities to reduce inmate populations through releases and a rolling back on the intake of new offenders. Meanwhile, the already overwhelmed and under-resourced court systems postponed and cancelled proceedings. Ultimately, the pandemic resulted in more violent offenders out on the streets.
But the pandemic alone does not tell the whole story. Crime in general, and violent crime specifically, were at first kept at bay by the severe restrictions on movement and gatherings. The surge in violent crime only began as certain restrictions eased in some parts of the country, before spiking in the aftermath of George Floyd's killing on 25 May 2020. In a normal year, homicide incidence is typically cyclical, mostly occurring in the summertime. Even after adjusting for seasonality and long-term trends, the swift uptick in murders over the summer cannot merely be explained by the effects of COVID-19.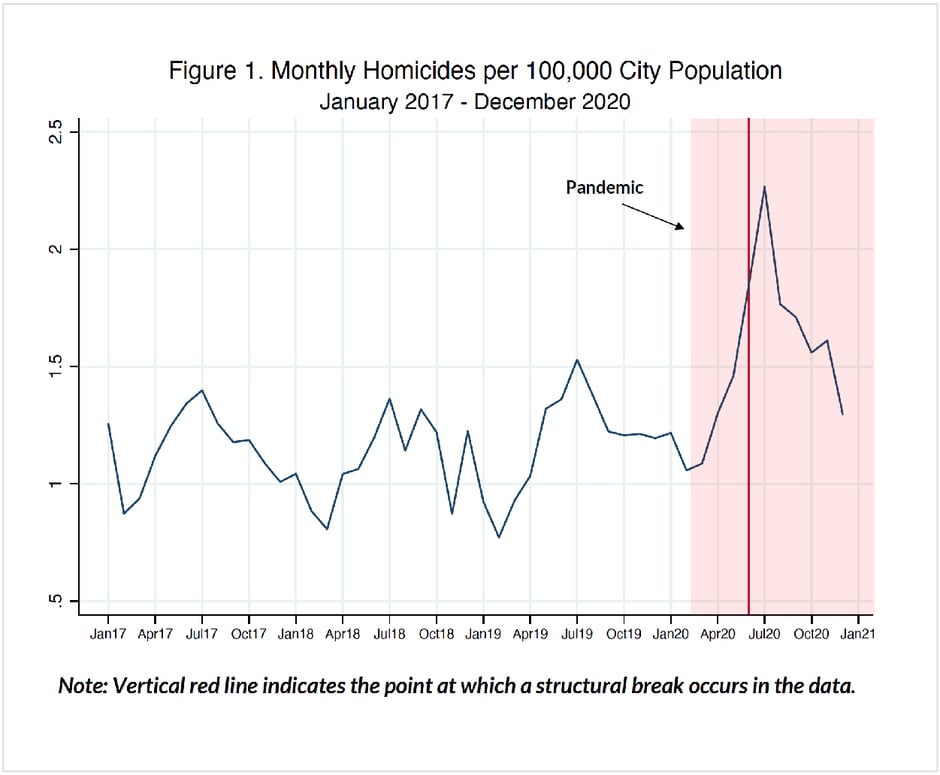 Source: COVID-19 and Crime, National Commission on COVID-19 and Criminal Justice
THE SUMMER OF NATIONWIDE UNREST
The killings of George Floyd, Breonna Taylor, and Ahmaud Arbery sparked a nationwide public outcry and mass political upheaval. Over the summer of 2020, ACLED's US Crisis Monitor team recorded 10,600 demonstration events, 80 percent of which were related to the Black Lives Matter movement or the pandemic. Around 500, or five percent of the protest events were classified as violent. The protests themselves and the surrounding political climate had a chilling effect on the efficacy of law enforcement.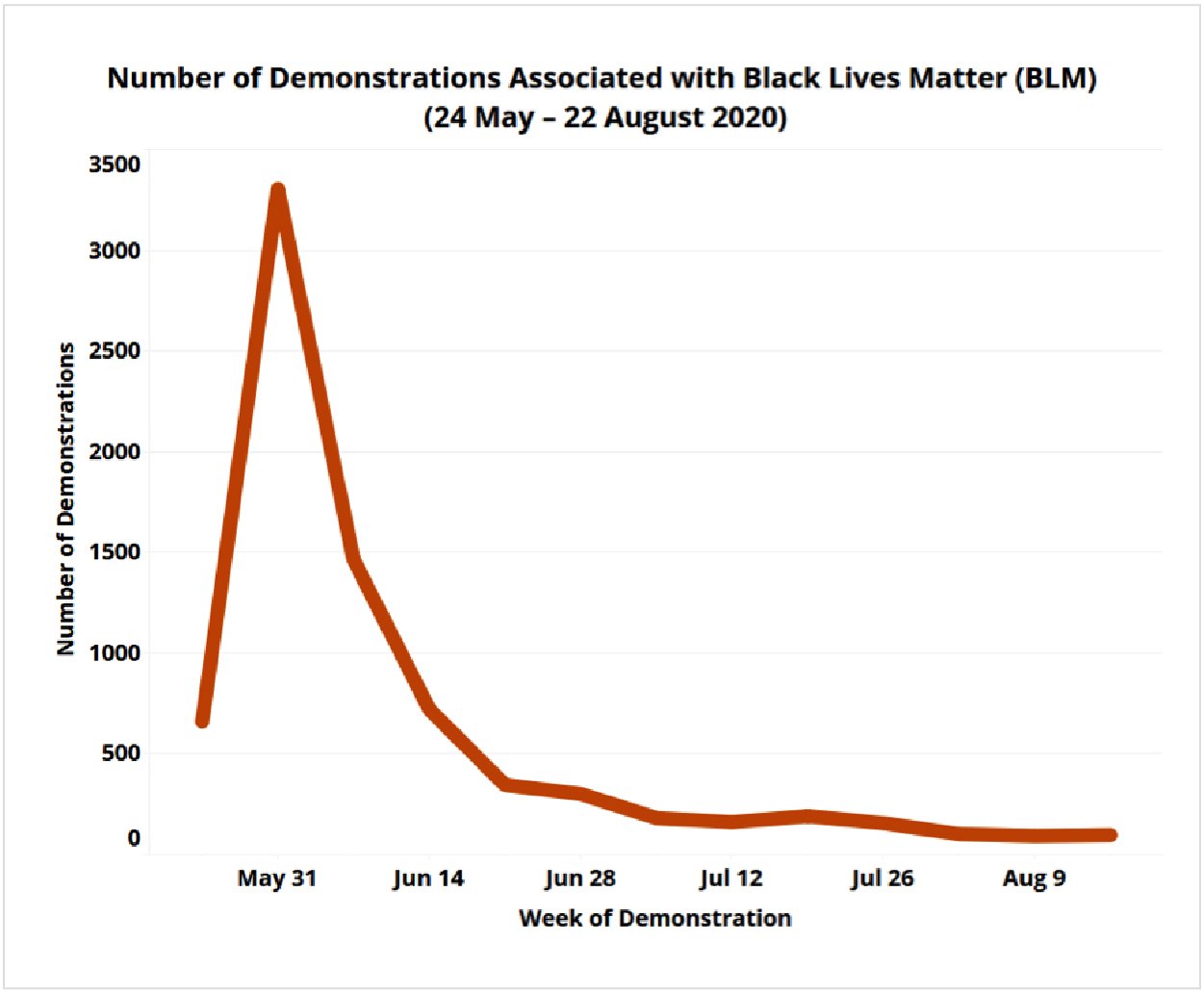 Source: ACLED, US Crisis Monitor
Overstretched – The size, scale, and volume of protests necessitated local police departments shift resources away from routine policing towards the protests. By moving the police out of high-crime areas, a security vacuum emerged. Gang activity ramped up and the absence of police to resolve disputes gave a green light for individuals to settle scores with little recrimination.
Broken Trust – In the aftermath of high-profile police deadly use of force incidents, there is a tendency for vulnerable communities to lose trust in police. When this happens, police are called less during emergencies and the diminished civilian-police cooperation can complicate investigations, leading to more violent offenders remaining at large.
De-Policing – By far the most significant repercussion of deadly use-of-force incidents is their impact on the quantity of police work. A recent study by the National Bureau of Economic Research (NBER) shows that high visibility police use-of-force investigations cause "statistically significant increases in both homicides and total crime." In other words, police-civilian interactions and violent crime are inversely correlated. The less proactive the police activity is, the more violent crimes tend to increase. After all, crime prevention is reliant on a street presence confronting gangs and drugs, which are the main drivers of violence. During previous high-profile deadly use-of-force investigations in Baltimore, Chicago, Cincinnati, Ferguson, and Riverside, the police retrenched. This is the same dynamic that played out over the summer of 2020. The "defund the police" narrative has also changed the risk calculation of police departments who now face greater risks of litigation, and officers who face being fired or prosecuted, prompting them to dial back routine policing in high crime areas.
---
LOOKING AHEAD
Mass Shootings
One positive by-product of the COVID-19 lockdowns has been the "moratorium" on public mass shootings. However, as we have seen with three deadly mass shootings already in 2021, in Atlanta, Boulder, and Indianapolis, the pause is over. The U.S. vaccine rollout is speeding ahead and there are signs that society will return to a pre-COVID normal by fall. Schools, workplaces, and other public spaces will by then be conducting in-person activity. Just as partial loosening of restrictions in May 2020 opened the floodgates to inter-personal crimes. Social alienation and other ills exacerbated by the pandemic will likely contribute to a reintroduction of public mass shootings. The political tensions and online radicalization of disenfranchised individuals that have been growing during the COVID-19 lockdown will likely manifest and lead to threat actors mobilizing to violence when the lockdowns are lifted.
Bigger Picture
It is too early to predict if the 2020 crime wave is here to stay. So far in 2021, violent crime in urban centers has shown no signs of abating. There may be another spring or summer of nationwide unrest in 2021 as numerous deadly police use-of-force incidents come to light, including the killing of 20-year-old Daunte Wright in Minnesota and 13-year-old Adam Toledo in Chicago. Protests and unrest related to their cases will continue to pull police resources away from high-crime areas, leading to increases in homicides and other violent crimes.
In 2020, more than 20 cities reduced their police budgets amounting to a $870m divestment. Cities that have cut police budgets have fewer routine patrols and fewer investigative resources, leading to more unsolved violent crimes. Moreover, the blowback on police departments and the growing animosity towards police have led to record police retirements and leaves, as well as a sharp decline in recruitment. In New York City, for example, the NYPD saw a 72 percent increase in officer retirements from 2019-2020. While anti-police sentiment tells part of the retirement story, many police officers were paid large amounts of overtime during the unrest in 2020 and those with higher base salaries made the decision to retire based on pension economics.
If these trends continue, there could be long term deficiencies in police capacity, which in turn could increase 911 response times and overall crime levels. Less applicants due to lower pay and anti-police sentiment will mean recruits are less educated and less qualified for police positions. Ultimately, the de-policing narrative has had a negative impact on crime levels and has sent a message to would-be criminals in some jurisdictions that lawlessness will not be punished.
Standing by to Support
In these unstable times it is important to be prepared for anything. Comprehensive security and threat mitigation and management require intelligence: "you can't mitigate what you don't know". Global Guardian can provide incident alerts, security assessments, active shooter training, and more enhanced security services, including security agents, remote camera and access control monitoring, and rapid emergency response across the U.S. and around the world.