United States Latest Developments
The CDC and FDA recommended the U.S. pause distribution of the Johnson & Johnson vaccine after reports that at least six people (all women aged 18-48) developed dangerous blood clots after receiving the vaccine. The pause is expected to last days or weeks while the situation is reviewed. At least 6.8 million doses of the J&J vaccine have been administered in the U.S.

Nearly 3.4 million shots were administered on average in the last seven days. This compares with just over 2.8 million doses administered per day on average two weeks ago. So far, around 122 million people have received at least one vaccine dose.

At current pace, 70% of the population will have been at least partially vaccinated by early June, with herd immunity, estimated between 70-90% reached in mid-July. These projections continue to improve as more vaccine supply reaches states.

On 2 April, the CDC issued updated guidance on travel for those who are fully vaccinated. For international travel, you do not need to self-quarantine after arriving back in the U.S. but still need to get tested before boarding a flight back to the U.S. from abroad.
For the latest United States case counts, click here.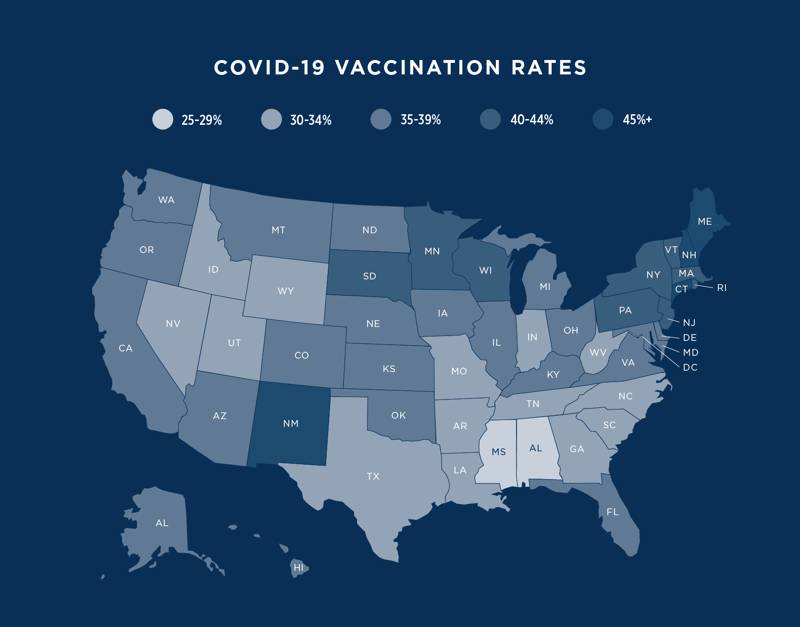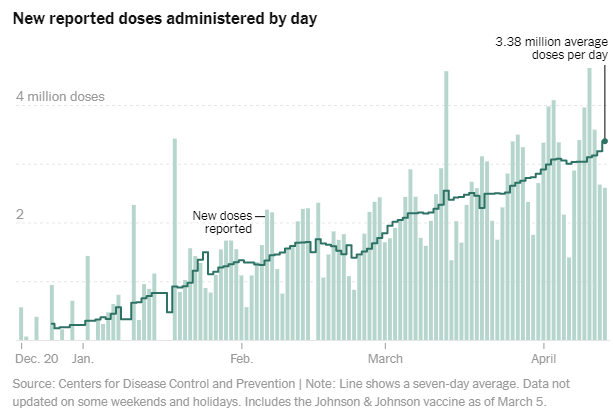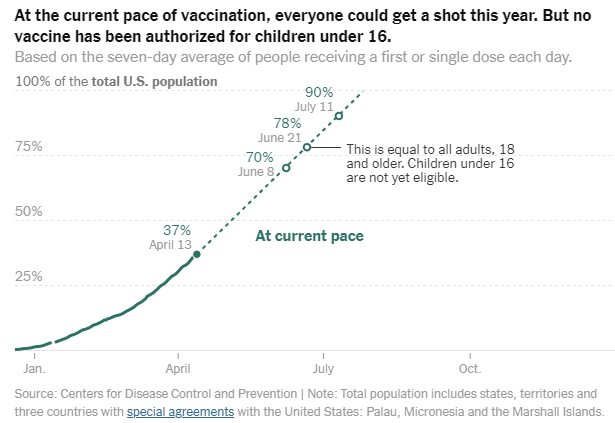 Latest global updates:
Hong Kong

and

Singapore

are considering a quarantine-free travel corridor "bubble" that would be available for fully vaccinated residents.

There are concerns over the efficacy rates of Chinese vaccines, which are shown to be just above 50 percent. Chinese authorities are considering increasing doses or adding additional doses in an effort to raise the rate of protection.

India has authorized use of Russia's Sputnik V vaccine, along with any other vaccines approved by health authorities in the U.S., UK, Japan, EU or WHO. India has recorded the second most COVID-19 cases globally behind the U.S.
The United Kingdom came out of a three-month lockdown on 12 April, with many shops and other venues reopening.
Denmark has stopped administering the AstraZeneca vaccine over concerns of blood clots.
For the latest Global case counts, click here

.



RESOURCES
Working Safely During COVID-19
In this course you will learn...
How to reduce the exposure and spread of COVID-19 at work, at home, and in public.

What changes you might encounter in the workplace due to COVID-19, and how it might affect your day-to-day activities.

Proactive steps to equip yourself with the resources and knowledge to be better prepared for changes to your work.

About the COVID-19 vaccine and how it is an effective way to stop the spread of COVID-19.
---
Personal Preparedness and resilience during covid-19
In this course you will learn...
How to build resilience, and the ways resilience helps us bounce back from challenging and traumatic events.

The ways we can manage stress, proven ways to build healthy habits and how to support both your well-being and the well-being of those you care about.

How planning and preparedness can lessen the impact of stress, anxiety and uncertainty.

Actions to take, so you, your family, and your household can be better prepared to manage a crisis.
---