Situation update
The U.S., Canada, UK, and Israel are the latest to advise their citizens to leave Russia due to deteriorating conditions and dwindling commercial flight options to leave.
Those in Russia should leave the country now before transit options disappear or border controls are implemented. Commercial flight options are disappearing due to route closures, lack of insurance coverage, and suspension of Western parts and maintenance contracts. Russia's aviation sector may not survive sanctions, and private charter flight options are extremely limited.
Russia's security services have arrested thousands of anti-war or anti-government protesters amid a growing crackdown in the country.
Russia's flagship airline Aeroflot has announced the suspension of all international flights starting on 08 March.
Visa, Mastercard, KPMG, and PwC have all suspended operations in Russia.

The Kremlin released its demands of Ukraine in order to end hostilities. These include:

Recognition of Luhansk and Donetsk as independent
Ceasing all military action
A change to Ukraine's constitution to enshrine neutrality (no EU, no NATO membership)
Acknowledgment of Crimea as Russian territory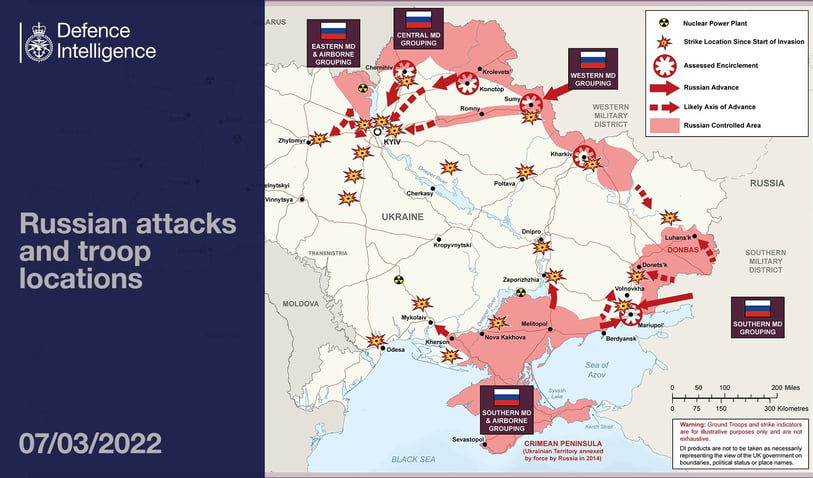 Russia and Ukraine have agreed to further talks, possibly in Turkey on 10 March. Ceasefires to allow civilian evacuation from multiple Ukrainian cities have been routinely violated by Russian forces. Further negotiations on this front are likely.
Russia has reportedly asked Syrian fighters to join the effort after being rebuffed by Kazakhstan and amid rumors Belarussian troops are refusing to enter the conflict.
Over 1,700,000 Ukrainian refugees have fled to neighboring countries (predominantly Poland). Over 1,000,000 people in Ukraine are internally displaced. The United Nations estimates up to four million people could flee Ukraine in the coming weeks and months. This will strain resources across Europe.
Support
Our team can respond immediately with the following capabilities:
Bespoke intelligence reports and briefings
Armed or unarmed security personnel
Satellite communications (phone and wireless internet)
Emergency medical and tele-medical support
Logistical support (food, water, generators, fuel)
Evacuation by ground, air, or sea
Click below to contact Global Guardian's 24/7 Operations Center or call us directly at +1 (703) 566-9463.