Strategic UPDATE
On 18 June, Lithuania began to impose a ground transit ban on EU-sanctioned Russian goods (steel, wood, coal, oil products, heavy machinery, luxury goods, amongst others) coming from Belarus to Kaliningrad, effectively cutting off the exclave from the rest of Russia. On 21 June, Moscow warned that Lithuania will face consequences "in the near future" unless it allows the trains to pass. The only remaining transit route now is by way of the sea through international waters since Russian planes are banned from EU airspace. Russia has few meaningful response options that both fall short of triggering an escalation with NATO and alleviating the strain on its Baltic Oblast.
Kaliningrad–which is located between Lithuania and Poland along the Baltic sea–is the home of Russia's Baltic fleet and around one million people.
As a preliminary show of force, Russia is conducting provocative maneuvers on Estonia's border, violating the NATO member's airspace with helicopters and simulating missile attacks.
The most likely responses from Russia will include any or all of the following:

Continued aggressive rhetoric
Military drills along the borders of the Baltic states
Cyber attacks on the public and private sectors in the Baltics and even EU at large
Harassment of commercial vessels in the international waters of the Baltic sea

Ultimately, Russia will likely opt to supply Kaliningrad by sea as it pushes for a settlement with the EU to resume ground transport of sanctioned goods and oil.
Meanwhile, the slow tempo battle for the Donbas continues in Ukraine with both sides' capabilities and manpower continuing to be depleted. Though Russia's capture of Luhansk Oblast looks increasingly likely.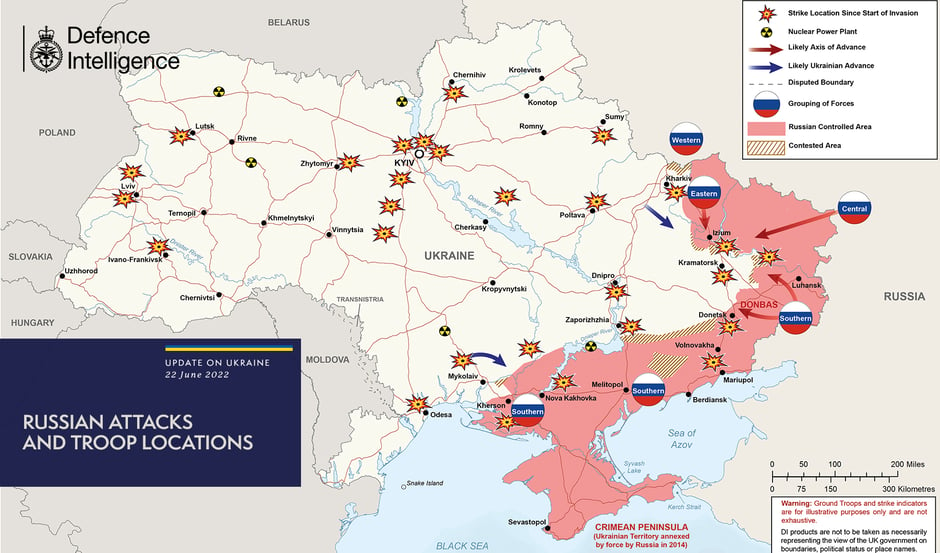 TACTICAL UPDATE
Russian forces conducted several successful advances near Severodonetsk on June 21 and will soon be able to threaten Lysychansk in the coming days while avoiding a difficult opposed crossing of the Siverskyi Donets River.
Russia is nearing the encirclement of Ukrainian forces between Vrubivka and Pidlisne in Luhansk.
In the south, Russian troops are building defensive positions north of Kherson to stall the Ukrainian counter-offensive.


Support
Our team can respond immediately with the following capabilities:
Bespoke intelligence reports and briefings
Armed or unarmed security personnel
Satellite communications (phone and wireless internet)
Emergency medical and tele-medical support
Logistical support
Evacuation by ground where feasible
Click below to contact Global Guardian's 24/7 Operations Center or call us directly at +1 (703) 566-9463.