GLOBAL GUARDIAN RESPONSE UPDATE
Since the onset of Russian's invasion of Ukraine, Global Guardian has evacuated clients and their families from over 15 locations across the region, including Kyiv, Kharkiv, and Zaporizhzhia. As the situation deteriorates and Russian forces continue their advances, the risks associated with targeted cities has evolved to where evacuation is no longer tenable.
Below is an update on our current response capabilities as of Monday, March 14, 2022. Should you have any questions on how our team can support or would like to request custom intel reports, please contact our team at +1 (703) 566-9463 or email us here.
Russian Direct Threat - Russian forces continue to advance in and around the following cities and Global Guardian will NOT execute missions there moving forward, unless the threat decreases or approved with exception by Global Guardian's CEO:

Kyiv
Poltava
Kharkiv
Slvyansk
Donetsk
Zaporizhzhia
Mykolaiv
Vonesensk

Accessible Cities (for now) - Cities still functional and accessible but under threat in the near future:

Odessa - could fall to a Russian amphibious assault at anytime
Dnipro - increasingly under air and missile attack
Kremenchuk
Cherkasy
Kropyvnytskyi
Bila Tserkva
Vinnytsia
Khmeinytskyi
Lviv
Ivano Frankivsk
Ternopil
Lutsk
Rivne
Sherpetivka

Increased Risk & Cost

All evacuations moving forward will be considered HIGH to EXTREME RISK based on the increased threat.
Evacuation Teams will NOW consist of only ARMED AGENTS with FULL TACTICAL EQUIPMENT and potentially ARMORED VEHICLES and additional time will be required in planning to assess the threat.
Cost will potentially increase for assets depending on the requirement.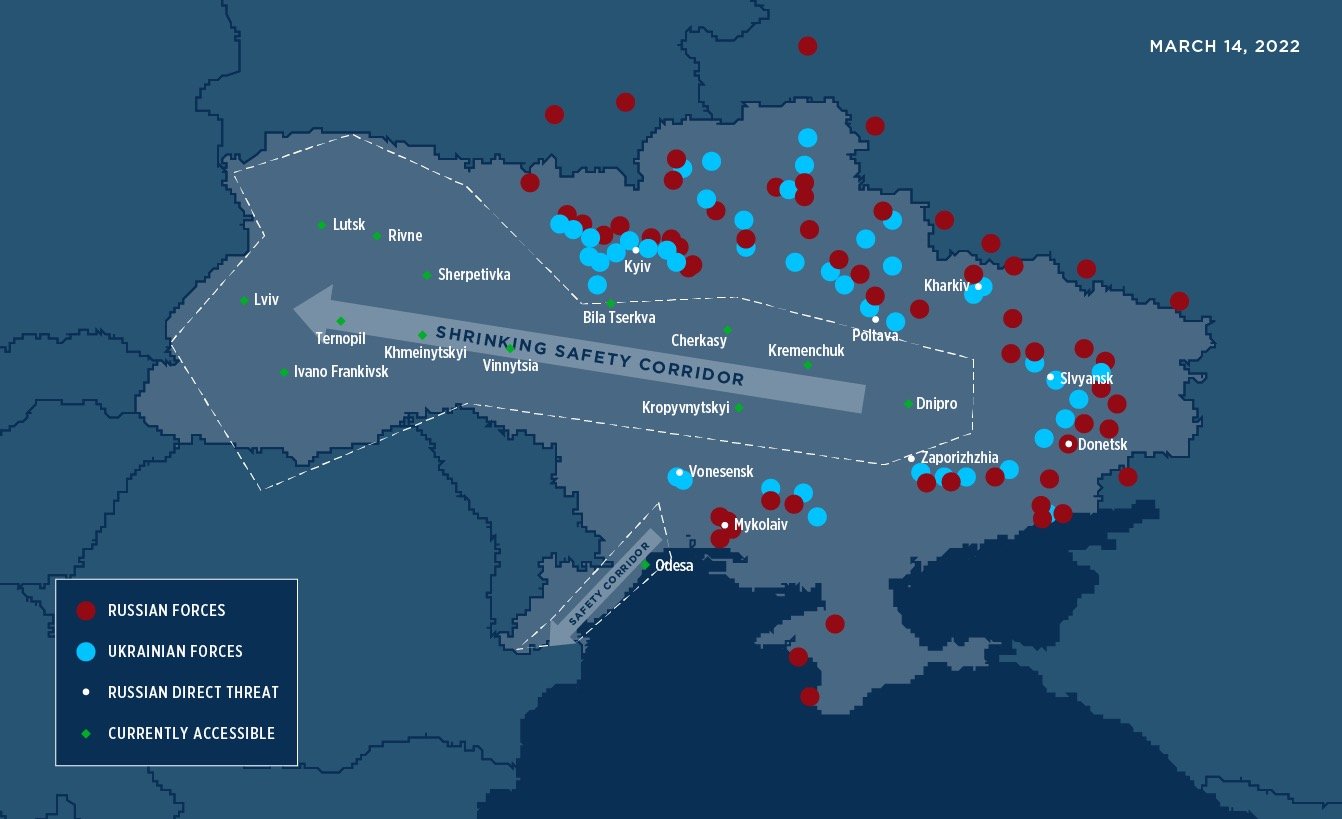 SITUATION UPDATE
Over the weekend, Russian forces increased strikes in Western Ukraine. Ukrainian airfields have been targeted and the Yavoriv International Centre for Peacekeeping and Security—a training center and key waypoint for western arms—was struck on 13 March, killing 35 Ukrainians. The attack was meant to signal that no part of Ukraine is safe from Russian missiles and that NATO weapons transfers will be targeted once they reach Ukrainian soil.
The last few days have seen very limited Russian advances as Russian forces have effectively paused most of their offensives as they regroup. Most of Russia's military gains have been in the Donbas and in the southern oblast of Mykolaiv.
Russia is drawing down its international deployments in Armenia and Nagorno-Karabakh and pulling troops from its far east to reinforce its operations in Ukraine. Other reports indicate that Russia has opened recruitment centers in Syria and Libya.
Western leaders have issued warnings—falling short of red lines—to Russia about potential chemical weapons usage. On Friday, President Biden said that there would be a "severe price" for Russia, while Polish President Duda warned on Sunday that weapons of mass destruction would be a "game-changer" for NATO.
President Putin has begun to purge military and intelligence personnel. Sergey Beseda, head of Russia's Federal Security Service (FSB) foreign intelligence branch was reportedly arrested along with his deputy, Anatoly Bolyukh. This high-level arrest follows other reports that Putin has replaced over eight generals and several other key figures in the FSB's Ukraine branch over significant operational failures.
According to U.S. officials, Russia has asked China for military equipment and economic assistance. This report was leaked as Jake Sullivan, US national security adviser, meets with a Chinese counterpart in Rome on 14 March.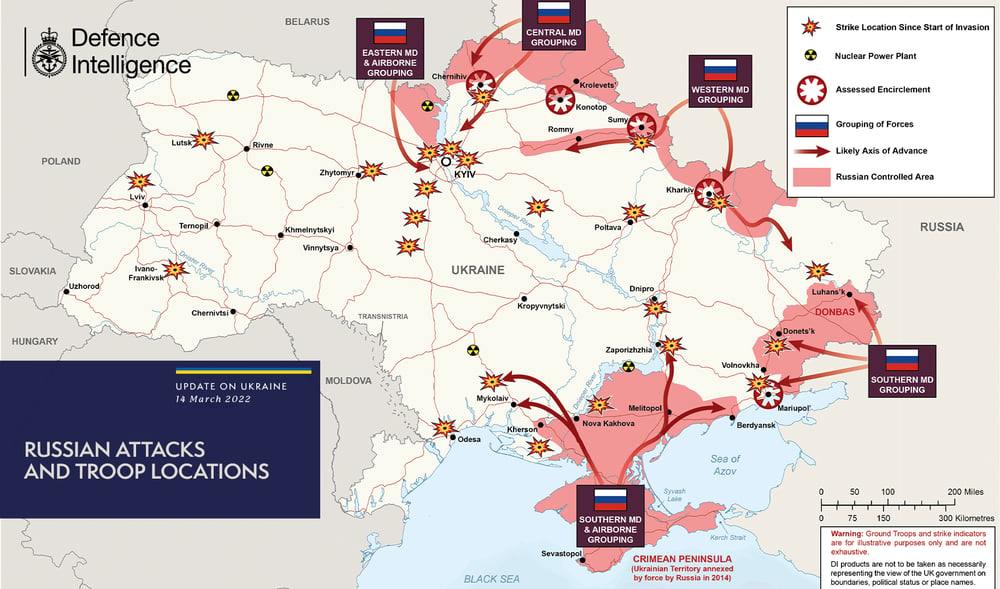 Support
Our team can respond immediately with the following capabilities:
Bespoke intelligence reports and briefings
Armed or unarmed security personnel
Satellite communications (phone and wireless internet)
Emergency medical and tele-medical support
Logistical support
Evacuation by ground where feasible
Click below to contact Global Guardian's 24/7 Operations Center or call us directly at +1 (703) 566-9463.