Strategic UPDATE
Russian forces continue to make incremental progress in the east under the cover of overwhelming artillery barrages. The main fighting is concentrated around the cities of Severodonetsk and Lysychansk in Ukraine's eastern Luhansk oblast. Overall, the war has slowed and morphed into an artillery slogfest in the Donbas as Russia has changed its tactics. It is unclear how much longer Ukrainian forces will hold their positions before retreating in Luhansk.
Per the Kremlin, Russian and separatist forces now control 97% of Luhansk oblast, one of the two regions that comprise the Donbas—the current main objective of Russia's campaign. From a public relations point of view, Moscow will undoubtedly claim a victory that will bring them closer to capturing the entire Luhansk oblast.
Over the last week, the U.S. and UK have announced that they will provide Ukraine with M142 and M270 multiple-launch rocket systems (MLRS). These advanced rocket systems will give the Ukrainian forces the ability to accurately attack Russian forces and artillery far behind their lines (50mi/80km range). When deployed in-theater, these systems will double the current effective range of Ukraine's artillery corps. If more than a symbolic number is given, these weapons could be very helpful for Ukrainian counterattacks and to destroy Russian artillery.
On 31 May, President Biden penned a New York Times op-ed to help offset the escalation risk associated with providing Ukraine with long-range artillery systems: "So long as the United States or our allies are not attacked, we will not be directly engaged in this conflict, either by sending American troops to fight in Ukraine or by attacking Russian forces. We are not encouraging or enabling Ukraine to strike beyond its borders..."
While Ukrainian Forces have already attacked positions in Russia near the border using Soviet-era weapons platforms, a deliberate or accidental usage of the U.S. or UK-supplied rockets against targets on Russian soil would escalate the situation, as Moscow has repeatedly issued threats regarding this scenario that will be difficult to back down from.
Additionally, multiple countries have re-opened embassies in Kyiv as risks from the conflict shift east. These include the U.S., India, Sweden, South Korea, and others.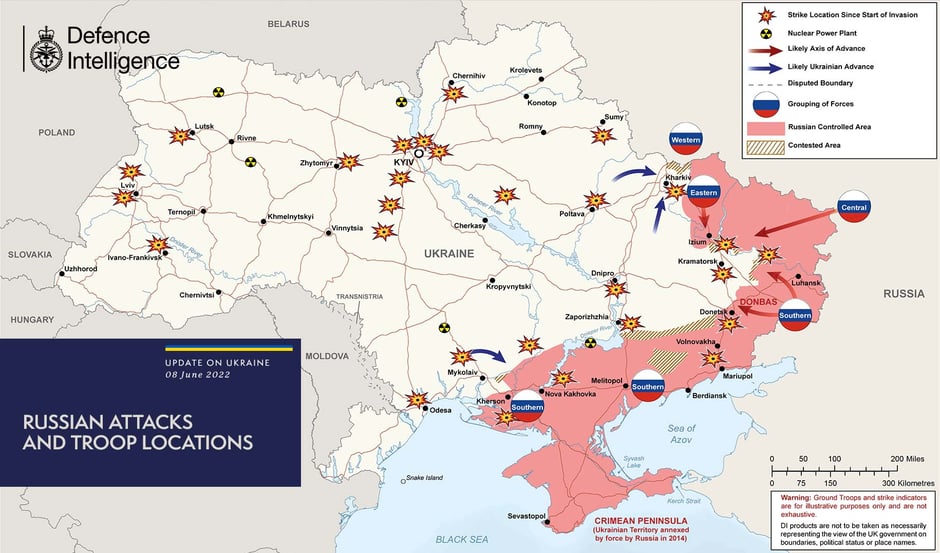 TACTICAL UPDATE
Ukrainian forces are making progress in the south, counter-attacking in the Kherson region, including regaining a foothold on the eastern bank of the Ingulets River.
Authorities announced that an overnight curfew from 23:00-05:00 local time was imposed across Kyiv oblast from 5 June until at least 12 June.
Russian cruise missiles continue to sporadically target railway infrastructure in Lviv oblast in an effort to stop Western arms transfers.


Support
Our team can respond immediately with the following capabilities:
Bespoke intelligence reports and briefings
Armed or unarmed security personnel
Satellite communications (phone and wireless internet)
Emergency medical and tele-medical support
Logistical support
Evacuation by ground where feasible
Click below to contact Global Guardian's 24/7 Operations Center or call us directly at +1 (703) 566-9463.