In Global Guardian's monthly Risk Barometer, our Intelligence Team highlights current global hotspots with the potential to impact your business operations and travels. Read below for analysis on the threats we are closely monitoring this month and click here to subscribe for regular intelligence updates.

Nigerien Coup Destabilizes Sahel. War Possible.
On 26 July, in Niamey, a military junta seized power and arrested President Mohamed Bazoum as well as his family. The Economic Community of West African States (ECOWAS) gave the junta until 06 August to reinstate Bazoum or face military intervention. The deadline passed and no intervention has yet taken place, but regional destabilization looms as opposing blocs form.
General Abdourahmane Tchiani — junta leader and former head of the Presidential Guard — instigated the coup amid escalating military dissatisfaction with Bazoum, and the likelihood of Tchiani's own impending dismissal. The junta, styling itself the National Council for the Safeguarding of the Fatherland (CNSP), has instituted a no-fly zone over Niger, broken up pro-Bazoum demonstrations, and suspended the constitution. Niger's neighbors — with the exceptions of Mali and Burkina Faso — have closed their borders and instituted sanctions on the putschists. France and the EU have also ended financial aid payments to Niger. Multiple flights have been re-routed and/or delayed to avoid use of Nigerien airspace. France, Australia, Italy, the United States, and others have evacuated their citizens from the country.
Global Guardian recommends against all travel to Niger.
We recommend travelers fully avoid all areas of Nigeria within 100km of the border with Niger.
For essential travel to the region, we recommend real-time intelligence monitoring of the political situation and having an extraction plan in place.
Context
Niger is situated in the western portion of the Sahel region of Africa. The countries of the Sahel have been contending with a complex set of insurgencies based on a variety of ethno-religious and socio-economic grievances for more than a decade. Making progress in countering these insurgencies has become an important component of legitimacy for the governments of Sahelian countries.
While Niger has generally fared better than its neighbors, violence has increased across the region, with the number of conflict-related fatalities doubling since 2021. Fighting in the region, particularly with ISIS-Sahel, escalated after coups in Mali and Burkina Faso in 2020, 2021, and 2022. Following these coups, President Bazoum was publicly critical of both Niger's military and those of its neighbors when he characterized the militants battling Sahelian state forces as "stronger and more battle-hardened" than regional armed forces. Bazoum also criticized Mali's decision to partner with the Russian mercenary firm Wagner Group, and Burkina Faso's decision to mobilize ethnic self-defense militias. Both policies resulted in deteriorations in the security situations.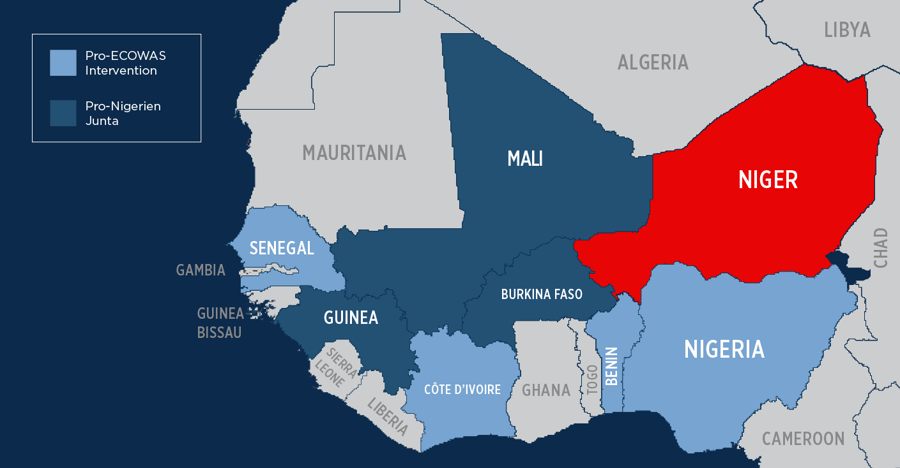 Dissatisfaction with civilian leadership amongst the Defense and Security Forces (FDS) had been developing for years by the time General Tchiani learned of his impending dismissal. Tchiani, who had previously prevented coup attempts against Bazoum's predecessor President Issoufou, was set to be dismissed by President Bazoum late last month following a souring of their relations. General Tchiani capitalized on the military's grievances against Bazoum's government and the perceived paternalism of that government's French backers to seize power in an act of self-preservation. After a brief initial opposition, the Nigerien Armed Forces (FAN), joined FDS in the coup "to avoid bloodshed."
Analysis
The CNSP adopted an anti-French line in keeping with patterns established by Mali, Burkina Faso, and the Central African Republic. The choice of demonstrators in Niamey to burn French flags while waving Russian ones indicates the growing regional presence of Russia and the success of Wagner's information campaigns. Nigeriens, like their neighbors in Burkina Faso and Mali, hold deeply negative attitudes toward France as a colonial and neo-colonial actor. The lack of progress in ameliorating the security situation despite the decade-long presence of French troops in the country, coupled with the continued operation of western commercial interests (such as uranium mines), paints a picture of a once-colonist more concerned with commercial exploitation than an equal partner in the war on terror. The CNSP has capitalized on this attitude by painting itself as a force against western colonialism as well as a more competent political force for battling the insurgency.
Alignment with the coup by senior officers of the FAN probably indicates opportunism rather than enthusiastic support for the putsch. By supporting the CNSP, senior officers position themselves to dismantle or assimilate the political and patronage systems that the ruling PNDS party had established and entrenched under Issoufou and Bazoum. They also free themselves of mediation in dealing with the French (1,500 troops) and American (1,000 troops) military missions to aid Niger with counter-terror and counter-insurgency operations.
Similar "anti-colonialist" power seizures played out in neighboring Mali and Burkina Faso. Cohorts of young colonels presented themselves as champions of independence and security. However, the dismissal of western military assistance, and in Mali's case, the introduction of Wagner fighters to the situation, has led to increased rather than abated violence.
For their part, the situation in Niger finds the leaders of the ECOWAS member states in an existentially precarious position. Niger's is the seventh coup since 2020 in a region where most countries share the same recipe for the kind of democratic unraveling seen in Niger, Burkina Faso, and Mali. Many of the ECOWAS countries share a history of exploitation by the French, ongoing farmer-herder conflicts infused with Jihadist elements, and lack the robust and legitimate state institutions needed to prevent coups. ECOWAS' present hardline position is understandable, then, in the face of a wave of anti-democratic and anti-western military uprisings when ECOWAS largely consists of western-backed, civilian-led democracies. ECOWAS has slated an emergency summit on 10 August in Abuja, the Nigerian capital.
Looking Forward
The outcome of this crisis, regardless of whether or not ECOWAS intervenes, will lead to regional instability. If Niger follows the pattern established by the Central African Republic, Mali, and Sudan, it will invite the Wagner Group to assist with security and regime stability in exchange for extractive concessions. While France's light footprint counter-terror approach proved itself incapable of addressing the underlying political sources of conflict for its security partners, Wagner has no illusions of creating a lasting security architecture. Wagner's continued access to the region is predicated on instability. And Wagner's ability to extract hard value through resources, extend influence, and upset western plans are all predicated on continued access. Wagner, therefore, has no incentive — let alone capability — to address the region's deeply rooted political issues, but will rather tend to exacerbate them.
Should ECOWAS intervene, the region, already in need of humanitarian aid, could slip into a protracted war where Nigeria, its ECOWAS partners, and their western backers face off against Niger, Burkina Faso, Mali, and Wagner in a proxy-war. In the case of a protracted war, all of the ECOWAS states participating would be at a significantly elevated risk of coup as they shift precious military and economic resources out of their domestic arenas. The possibility of a swift victory and reinstallation of President Bazoum exists but is improbable.


Key Takeaways
The Sahel region is approaching a period of accelerated destabilization regardless of the outcome of this crisis. Open war between participating ECOWAS states and the Nigerien-Malian-Burkinabe alliance would profoundly disrupt travel and commerce throughout the region. An ECOWAS capitulation to the CNSP could result in more coups as national militaries see the inability of regional and international actors to stop or reverse military coups. This dynamic could spread to the traditionally more stable coastal countries in the region as well.

Gang Violence Leads to States of Emergency, Curfews Ahead of Election
Ecuador is experiencing a wave of drug gang-driven violence that began in 2022 and is worsening. There were 4,600 homicides in 2022, an 82% increase from the previous year, as a small number of powerful drug trafficking organizations fight for control of the increasingly lucrative transport corridors in Guayas, Esmeraldas, Manabí, Los Ríos, and El Oro provinces. Through June 2023, homicides were up 74% over the same period in 2022. Shootouts, prison riots, and bombings continue in 2023 ahead of the 20 August general elections which could be directly impacted by violence, if not indirectly, as voters consider their government's response to the violence.
Global Guardian advises against any non-essential travel to Ecuador, and especially to the provinces of Guayas, Manabi, and Esmeraldas.
Travel to Quito should be carefully considered.
Global Guardian strongly recommends the use of low-profile secure transportation for essential travel within Ecuador.
Context
The rapidly increasing high crime rates in Ecuador are attributed to the country's role as a transit route for cocaine produced in Colombia and Peru. The areas around the Guayaquil port in Guayas province and Esmeraldas port in the Esmeraldas province are particularly violent, as they are the primary exit and entry points for cocaine. In February 2023, 8.8 tons of cocaine were seized at the Guayaquil port. As a result of the violence in and around these cities, the government declared states of emergency and curfews in multiple provinces and across the entire prison system. Prison riots have been a hallmark of the violence in Ecuador, with hundreds of people killed in riots at prisons in Guayaquil and Esmeraldas specifically.
The influence of Mexican cartels on the drug trade in Ecuador is exacerbating the situation. The Sinaloa Cartel and Jalisco New Generation Cartel (CJNG) control the majority of the country's drug trade, while Los Choneros, Los Lobos, Los Lagartos, Los Chone Killers, Los Tiguerones, and the Latin Kings are among the biggest local criminal groups. As a result, crime scenes featuring bodies hanging off bridges and decapitated persons have been seen in Guayaquil.
Violent tactics associated with Mexican cartels, such as bomb blasts and ambushes, have targeted police officers, particularly in Guayas, Esmeraldas, Manta, and Manabí provinces. Bomb blasts targeting several government buildings took place in Esmeraldas in July 2023. The Ecuadorian government has since blamed the Sinaloa Cartel.
Notable Events
22-25 July 2023 : A prison riot in the Litoral Penitentiary in Guayaquil left 31 inmates dead and 14 injured. The riot was between rival gangs Los Lobos and Los Tiguerones.
23 July 2023: The mayor of Manta, Agustín Intriago, and a bystander were shot and killed in an assassination attempt.
24-25 July 2023: A series of bomb blasts targeted police stations and other government buildings in Esmeraldas.

The Ecuadorian government has blamed the bomb blasts on the Sinaloa Cartel, who is fighting for control of the drug trade in Esmeraldas province. The bombings are viewed as an attempt to intimidate the government and the police.
The blasts were all carried out by motorcycle riders who attached the bombs to the buildings and then fled the scene. The bombs were made with gunpowder and nails, and they caused significant damage to the buildings they targeted.

17 May 2023: President Guillermo Lasso dissolved the National Assembly amid an impeachment trial against him over alleged embezzlement charges.
04 April 2023: At least four people were killed following a shooting incident and a riot in La Roca maximum security prison in Guayaquil.
18 November 2022: At least nine prisoners were killed in clashes between two organized crime groups inside the El Inca Prison in Quito.
LOOKING FORWARD
The spike in violence comes amid heightened political tensions. In May of this year, President Lasso dissolved the National Assembly and is ruling by decree until 20 August snap presidential and legislative elections, with runoff elections scheduled for 15 October, if needed. Unlike in neighboring Peru, the actions of Lasso were widely viewed as legitimate, despite the conspicuous timing around his impeachment trial due to allegations of embezzlement. He received support from the military and police. As such, nationwide protests did not erupt following the dissolution of government, unlike in Peru.
The election will be a referendum on the widespread rise of gang violence along with the economic situation. Ecuador suffered during the pandemic and its economy remains slow to recover amid declining export income due to low oil prices, inflationary pressures, and a strengthening U.S. dollar. Additional austerity measures may be required which would be politically unpopular, possibly leading to unrest.
Key Takeaways
Widespread violence is likely to continue across the key drug trafficking transit points in Ecuador as the powerful drug gangs vie for control over profitable territory. Meanwhile, the upcoming elections are drawing much of the attention of decision makers and politicians. The violence may get worse before a stable government is in place to deal with the problem. The drug gangs and their Mexican partners — the Sinaloa Cartel and CJNG — may seek to take advantage by carrying out additional attacks on security forces. Bombings and other acts of intimidating violence cannot be ruled out on election day.

Civil War Nears New and Dangerous Phase
Ethiopia declared a state of emergency following clashes in Amhara between the federal military and local armed fighters on 04 August. The situation rapidly devolving into a security and economic crisis. In late July, violence intensified in the Amhara region with clashes between the Fano militia and defected Amhara paramilitaries on one side, and federal and regional forces on the other. Escalated clashes were reported in North Shewa, North Wollo, and Gondar areas. Given the widespread resentment toward the central government and the deep ethnic and social cleavages, the current crisis threatens to widen into a broader civil conflict as it did in 2020 with the Tigray Conflict.
Several countries, including the U.S. and Canada, have issued advisories for their nationals in the Amhara region to shelter-in-place. Ethiopian Airlines flights from Addis Ababa Airport (ADD) to Bahir Dar (BJR) and Kombolcha (DSE) airports were suspended until further notice, due to the ongoing violence. Flights to Lalibela (LLI) and Gonder (GDQ) were also suspended. Mobile internet in Amhara was shut down and the A2 highway blocked at multiple points amid deadly clashes and roadblocks in Gonder, Lalibela, Bahir Dar, Kobo, Debre Tabor, Weldiya, Burie, Amanuel, Sanka, Jiga, Finote Selam, Stayish, Kulmesk, Shewa Robit, Dega Damot, Quarit, Dembecha, Dega Damot, Debre Markos, Yejube, Arefa, Wegel Tena, and other areas.
Global Guardian advises against non-essential travel to Ethiopia.
Personnel in the Amhara region should gather as much food and water as possible and prepare to shelter-in-place.
Context
Fano is a part-time Amharan militia without a formal command structure. It previously supported federal troops during the two-year civil war in the neighboring Tigray region, which ended with a truce in November 2022. But the relationship between Fano and the federal government has soured due to concerns over the perceived disregard for Amhara's security.
Between 02-03 August, clashes occurred between Fano fighters and Ethiopian National Defense Forces (ENDF) troops near Debre Tabor. Given the situation's gravity, Amhara's regional government has requested additional assistance from federal authorities to restore order in the region.
Recent Events
06 August: Ethiopia's security official confirms armed groups in Amhara have "taken control" of several districts and towns in the region and released prisoners.
04 August: Ethiopia declares state of emergency in Amhara.
26 July: Fano gunmen ambushed the federal army in Gondar.
14 July: Gunmen killed the police commander of Debre Berhan town (North Shewa).
13 July: A Tigray official reportedly said that holding a referendum while parts of the region remain under Amhara's control would be illegal.
06 July: Prime Minister Abiy pressed Tigray and Amhara to resolve territorial disputes through peaceful consultations. Western and parts of Southern Tigray have been under Amhara's administration since November 2020.
03 July: Gunmen (likely Fano) shot the police chief and his deputy in Dejen District (East Gojam Zone).
Analysis
Despite the reduction in hostilities in Tigray, the persisting tensions among various regions, armed factions, and the federal government — exacerbated by the aftermath of the civil war — pose a significant challenge to President Abiy's endeavors to consolidate authority and foster national cohesion. In May 2022, Ethiopia apprehended over 4,000 individuals in Amhara as part of an effort to weaken Fano. This action was motivated by concerns about the militia's increasing influence potentially posing a threat to the state. In the subsequent month, government forces did little to prevent the loss of numerous lives among the Amhara population, caused by an armed group in Oromia. Concurrently, security forces in Afar apprehended and relocated around Amharan 9,500 residents from a town situated along its border with Tigray.
In April 2023, Abiy made an announcement regarding the integration of all regional forces into the national police and army. This decision led to protests in Amhara, and efforts to implement this integration have encountered resistance from militias. Consequently, Abiy has pursued a combination of negotiations and coercive measures to achieve his objective. Additionally, in April 2023, Ethiopia initiated peace discussions with the Oromo Liberation Army (OLA), a rebel faction with a longstanding history of opposition against the government. The OLA had aligned with the Tigrayan People's Liberation Front during its advance towards Addis Ababa. In June 2023, Abiy pledged to persist with military operations in Amhara until only his federal security forces remained.
Politically isolated without security guarantees, or concessions for their contributions to Abiy's war against the Tigray, many people in Amhara feel betrayed by the central government.
Looking Forward
An increased military presence in Amhara has the potential to intensify rather than ameliorate the situation. This is especially true if the Amharan public rallies behind Fano, a scenario that is quite plausible given the considerable local backing for the militia. It is possible that Abiy will begin to enact repressive measures against ethnic Amharans in the capital and outside the Amhara region, which would inflame the situation. With Ethiopia's ever shifting regional political dynamics, should any of the recent peace treaties with the TPLF or OLA begin to falter, a wider civil conflict is possible.


KEY TAKEAWAYS
President Abiy's divide and rule strategy has started to backfire. After "betraying" the Fano, other groups who have sided with the federal government or signed agreements with it may begin to question Abiy's guarantees. In a country that has seen intense sectarian conflict over the last three years, the conflict in Amhara is rapidly escalating.
CUSTOM INTELLIGENCE
Our intelligence analysts provide in-depth custom reports—including critical insight from on-the-ground resources—for clients and organizations in need of real-time analysis of world events with the potential to impact business operations. To learn more—and start building your report—complete the form below.