Latest DEVELOPMENTS
At approximately 08:24 local time, a shooting occurred on a subway train inside the 36th Street Station (Sunset Park neighborhood) in Brooklyn, New York.

As the northbound N train entered the station, a lone assailant donned a gas mask before deploying a smoke grenade and opening fire.

10 people were shot on the train and platform. Five of those shot are in critical but stable condition – no victims are in life-threatening condition. An additional six people were injured by smoke inhalation, shrapnel, and in the chaos following the attack.

A manhunt is ongoing for the assailant, who escaped and remains unidentified. Police found a weapon in the station but it is unknown if the suspect is still armed.

The incident is not being investigated as a terror attack, and no explosive devices remain at the scene or in the rest of the subway system.

Authorities have advised the public to avoid the area between 3rd Ave and 5th Ave from 20th St to 40th St due to the ongoing police response.

Subway service on D, N, and R trains in parts of Brooklyn and Manhattan are suspended and major delays on D, F, M, N, Q, and R trains are expected.

While the subject is still at large, the incident appears to be isolated.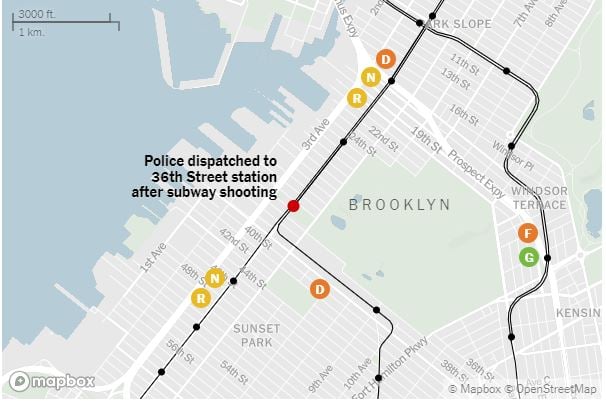 STANDING BY TO SUPPORT

Global Guardian is standing by to support your security and safety needs. To learn more about our Duty of Care Membership, global tracking and intelligence platform, and medical evacuation capabilities, click below or call us at +1 (703) 566-9463.