The 02 January assassination of Iranian IRGC General Qassem Suleimani has increased the risk profile of the Middle East, Europe, and the United States. While at this point, we expect Iran's retaliation to be limited, the menu of response options at Iran's disposal is vast and geographically expansive.
We view continued attacks on US forces in Iraq and cyberattacks on US government and corporate sites to be Iran's most likely target options. Though we also see an increased likelihood of attacks against US interests in Lebanon and the Persian Gulf as well as rocket attacks directed at Israel. Overall, the situation in the Middle East is fluid and unpredictable, and we expect tensions to remain high for the medium term. Any attacks in the coming days and weeks should not be considered a "one-off."
For additional intelligence, security, or logistical support, please contact Global Guardian's Operations Center directly.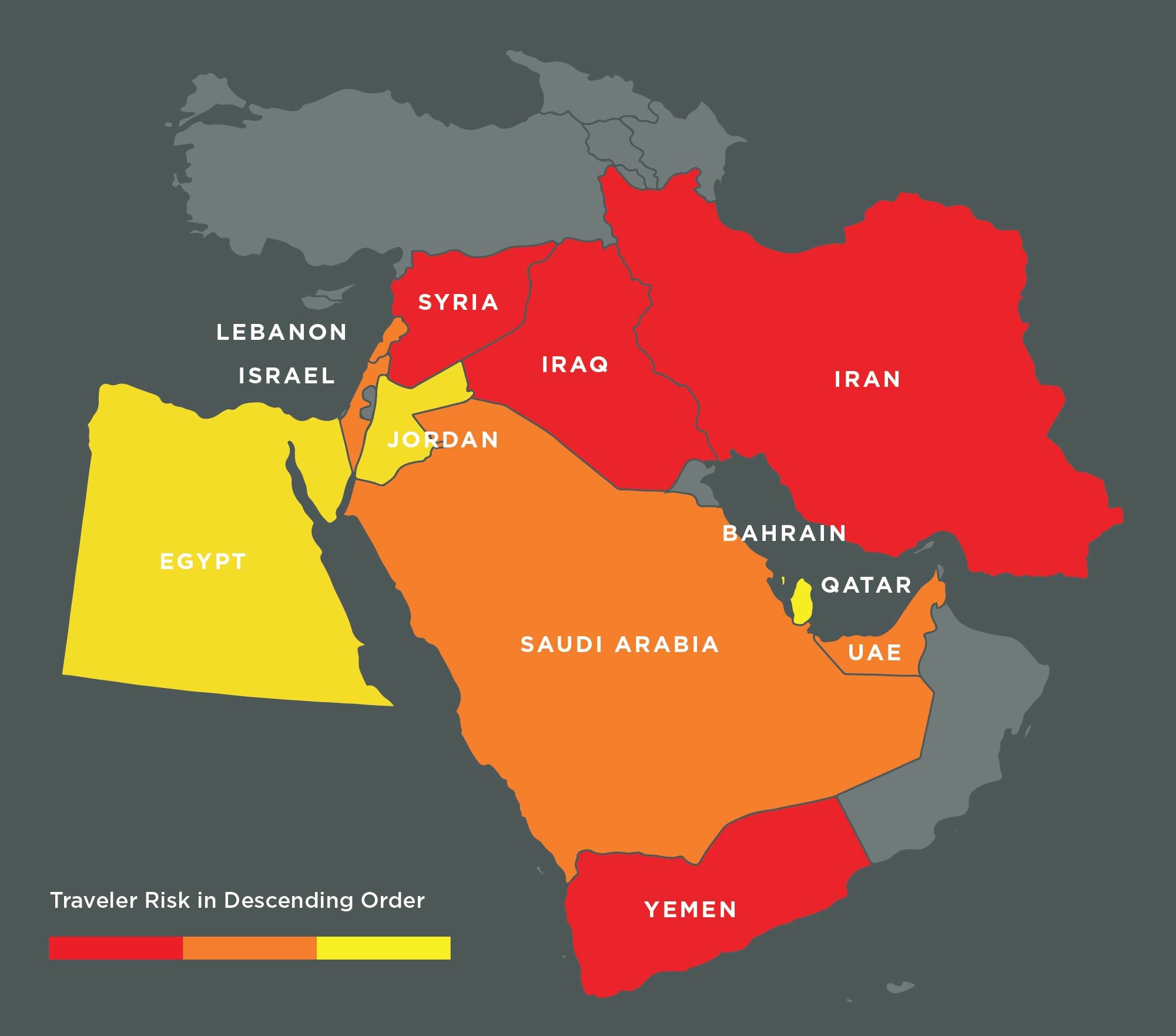 TRAVEL ADVISORY
We highly recommend against all travel to Iraq, Syria, Yemen, and Iran.
We recommend against non-essential travel to Lebanon.
The U.S. Embassy in Israel issued a warning that heightened tensions in the Middle East may result in security risks to U.S. citizens abroad.
Oil & Gas infrastructure in Saudi Arabia and the United Arab Emirates could be targeted by Iran.
While Qatar shares economic interests with Iran, it houses a large U.S. military base which could be targeted.
ADVICE
Remain vigilant and take appropriate steps to increase security awareness.

In the event of mortar, drone attacks or rocket fire, a red alert siren may be activated. Treat all such alerts as real; follow the instructions from local authorities and seek shelter immediately. Know the location of your closest shelter or protected space.

If in a home or a building, go to the lowest level of the structure with the fewest exterior walls, windows, and openings; close any doors and sit near an interior wall, away from any windows or openings.

If you are outdoors, immediately seek cover in a hardened structure; if that is not possible, lie down and cover your head with your hands.

[Israel] For additional information on appropriate action to take upon hearing a siren or explosion, see the Israel Defense Forces Home Front Command website (link only available on devices within Israel) or view the Preparedness Information PDF.

Keep a low profile

Be aware of your surroundings

Avoid locations frequented by tourists

Have travel documents up to date and easily accessible

Avoid all demonstrations

Monitor local media and Global Guardian mobile application alerts.

Follow the instructions of local authorities

Enroll in the Smart Traveler Enrollment Program (STEP). STEP enrollment gives you the latest security updates and makes it easier for the U.S. Embassy to contact you in an emergency.
ABOUT GLOBAL GUARDIAN
Global Guardian is a McLean, VA based global security firm that provides its clients with access to a comprehensive suite of security services. Its capabilities include personnel tracking supported by a dedicated 24-hour Operation Center, a full range of personnel-based security and executive protection services, medical support and transportation, travel intelligence and emergency response and evacuation services in over 100 countries. Global Guardian's suite of risk mitigation services provides organizations with innovative and cost-effective solutions to help them protect their staff and business operations around the world.
Find out how our team can support your security needs. For assistance, call our 24/7 Operations Center at 703.566.9463 or click below.