SITUATION UPDATE
The first two weeks of August saw a significant increase in cartel-related violence across multiple areas of Mexico, including in Tijuana, Ciudad Juarez, Guanajuato, and Guadalajara. The violent clashes, including shootouts, vehicle blockades, fires, and car-jackings followed the arrest of cartel leaders in Guadalajara and gang clashes inside a prison in Ciudad Juarez. This uptick underscores the omnipresent risk of violence in Mexico, and the need for low-profile, secure transportation for travel within the country.
Recent Incidents
09-10 August - Overnight violence erupted in Guadalajara and Guanajuato after the arrest of high ranking CJNG member "El Doble R" on 09 August. Cartel members clashed with security forces, set fire to convenience stores, and set several vehicles ablaze to prevent the passage of security forces. At least three people were killed, 19 vehicles destroyed, and eleven suspects arrested.
11 August - At least 10 people were killed in Ciudad Juárez after suspected cartel members attacked multiple fast food restaurants and convenience stores. The attacks were linked to deadly gang clashes that occurred at a Ciudad Juárez prison (Cereso No. 3) earlier in the day.
12-13 August - Overnight cartel violence broke out across northern Baja California, including in Tijuana, Mexicali, Ensenada, and Rosarito. Multiple vehicles, including buses and taxis, were car-jacked and set ablaze, forming burning blockades. It is believed that CJNG members carried out the blockades in response to the arrest of "El Doble R" in Guadalajara several days before. At least 17 people were arrested in connection with the burning blockades.
Impact
As a result of the violence, the Mexican Army sent 350 soldiers and National Guard personnel to Tijuana to be deployed across Baja California state to help shore up security. A similar deployment occurred in the Quintana Roo area last year following an uptick in cartel violence.
Further violence is possible in the near-term, and can be expected following future arrests of any high-ranking cartel members. The homicide rate in Mexico remains high, and the country is on track to report more than 30,000 murders this year.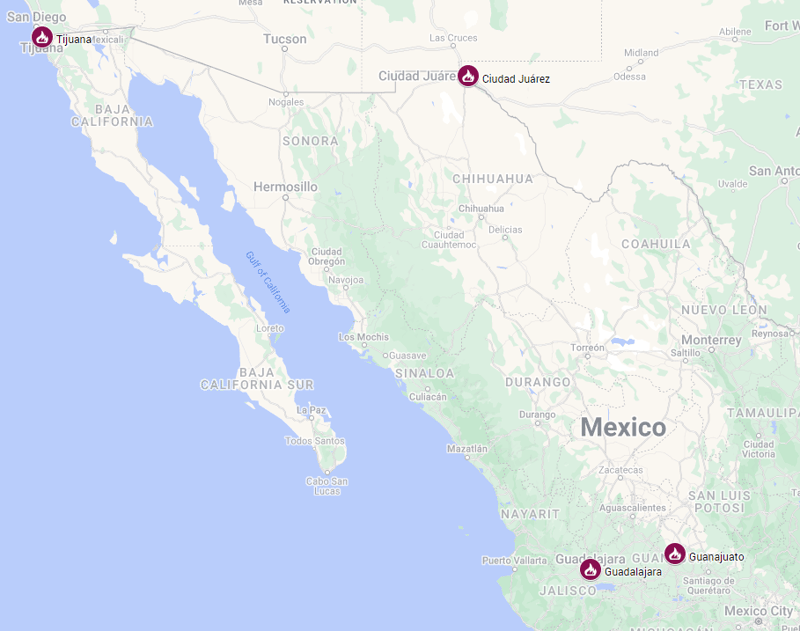 Support
Our team can respond immediately with the following capabilities:
Bespoke intelligence reports and briefings

Deployment of security personnel

Satellite communications (phone and wireless internet)

Emergency medical and tele-medical support

Logistical support

Evacuation planning
Click below to contact Global Guardian's 24/7 Operations Center or call us directly at +1 (703) 566-9463.