On 03 March 2023, four North Carolinian travelers crossed over to Matamoros, Mexico from Texas. Shortly after entering Mexico, their vehicle came under fire from Gulf cartel gunmen. The exact circumstances of the encounter remain unclear. However, it is possible the Americans were mistaken for Haitian smugglers, as some have suggested, or that they crashed their vehicle into a Gulf vehicle as the cartel gunmen were eluding police during a car chase. Either way, these Americans were in the wrong place at the wrong time.
Video footage of the scene showed one unharmed female being forced into the back of a pickup truck and several bodies being loaded into the vehicle. The four Americans were found several days later after an intensive search by Mexican security forces. Two had been killed, while another was injured but alive. The fourth remained alive and uninjured.
Risks to Travelers
Like other border cities in Mexico, Matamoros is a hotspot for cartel activity, including drug smuggling, human trafficking, extortion, and kidnapping. It is located in Tamaulipas state, a Gulf cartel stronghold, and is one of six states on the U.S. State Department's Do Not Travel list within Mexico. The others are Colima, Guerrero, Michoacan, Sinaloa, and Zacatecas.
Shootouts between cartel gunmen and security forces or between rival cartel groups or factions are common, especially in highly contested areas. Border cities in Mexico are at particular risk, as control of the lucrative drug trafficking routes through ports of entry is crucial for the cartels. Cities like Tijuana, Nogales, Ciudad Juarez, Reynosa, Matamoros, and Nuevo Laredo all share this risk with civilians often getting caught in the crossfire.
Outside of border cities, significant violence often breaks out when security forces attempt to arrest high-ranking cartel leaders. In January of this year, Mexican authorities conducted an operation in Culiacan to arrest Ovidio Guzman, a son of "El Chapo" Guzman. Sinaloa cartel gunmen clashed with some 3500 security forces deployed across Sinaloa, setting vehicles ablaze, firebombing buildings, and shooting at aircraft. Multiple airports in the region suspended operations. At least 21 gunmen were killed and dozens of security personnel were injured.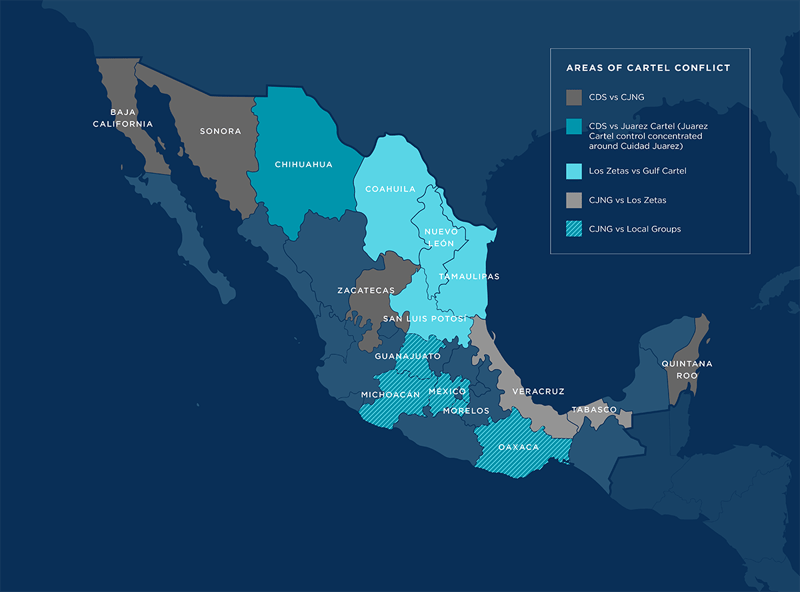 Recommendations
While millions of Americans visit Mexico each year without issue, incidents like what happened in Matamoros show that trips into high-risk areas should only be undertaken if necessary, and with proper precautions.
Global Guardian recommends low-profile, secure transportation for all travel in Mexico, but especially in high-risk areas.
Utilize pre-trip intelligence to gauge current risk levels of proposed travel areas.
Impact
The incident in Matamoros has prompted calls from politicians in the U.S. for the Department of Justice to officially label Mexican cartels as foreign terrorist organizations, and to take military action against them, as well as deploy financial tools to cripple the cartels.
While such a designation is unlikely, there is a real risk of escalating violence across Mexico if the Mexican government takes a heavy-handed approach to security. The militarized war on drug cartels started in earnest in 2006 under President Calderon. In the following years, homicides increased dramatically as cartel leaders were arrested, leading to power vacuums, infighting, turf battles, and the formation of dozens of smaller but just as deadly organizations. In Ciudad Juarez alone, homicides increased from 1600 in 2008 to more than 3100 in 2010.
Going forward, things may get worse before they get better. For more information on Mexico's cartels, read our analysis from the 2023 Risk Map.
Support
Our team can respond immediately with the following capabilities:
Bespoke intelligence reports and briefings
Executive protection and secure car and driver
Kidnap, ransom, and extortion services
Emergency medical and tele-medical support
Logistical support
Evacuation planning
Click below to contact Global Guardian's 24/7 Operations Center or call us directly at +1 (703) 566-9463.