Tropical Storm Laura rapidly intensified to a
major Cat. 3 hurricane
over the last 24 hours. It is forecast to strengthen further to a Cat. 4 hurricane before making landfall overnight tonight along the Texas-Louisiana border. While the predicted landfall cone is not focused on a major city, the storm is massive, and impacts will be felt over 100 miles from the center of the storm, including in Houston and New Orleans.
Global Guardian is standing by to support with rescue boats and helicopters, communications systems, and power generators. To read more about our capabilities, click here.
Hurricane Laura
Currently located just south of Louisiana in the Gulf of Mexico, with maximum sustained winds of 115 mph.


Expected to rapidly strengthen to a Category 4 hurricane by the time it makes landfall overnight tonight. Cat. 4 storms have wind speeds in excess of 130 mph.


Hurricane-force winds are expected in the areas from San Luis Pass, TX to west of Morgan City, Louisiana.


Major storm surge could penetrate up to 30 miles inland along the coastal areas of southwestern Louisiana and southeastern Texas.



Gov. Greg Abbott of Texas said that shelters in the state will be stocked with personal protective equipment, use social distancing to separate people, and have COVID-19 testing available. Hurricane response has been complicated by the pandemic.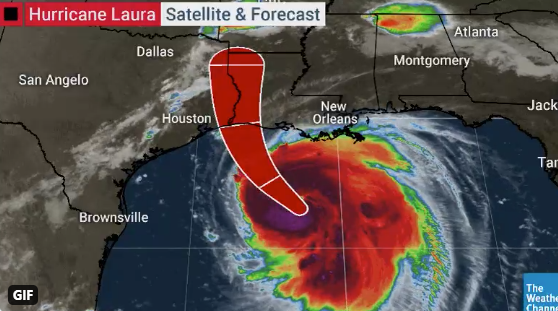 Support
In response to these threats, Global Guardian is standing by to deploy helicopters, rescue boats, experienced security and medical personnel, power generators, and communications gear – satellite telephones, Broadband Global Area Network (data/internet) – to support our clients in the affected path.
If you are in need of assistance, please call our 24/7 Operations Center at +1 (703) 566-9463 or email us by clicking below.