SITUATION REPORT
A calculated or unintentional return to sustained hostilities looms as Moscow and Kyiv sabre-rattle over eastern Ukraine. After Russian troops failed to leave the Russia-Ukraine border region following the completion of training exercises on 23 March, U.S. European Command elevated its watch level to "potential imminent crisis," its highest threat level.
---
On 26 March, four Ukrainian soldiers were killed near the separatists' de facto capital of Donetsk, marking the most intense fighting in recent months, with cease-fire monitors reporting more extensive artillery and more advanced weaponry being used. Russian-aligned separatists and Ukrainian forces have been engaged in low-intensity conflict since Russia's annexation of Crimea in 2014. The U.S. estimates that there are currently approximately 80,000 Russian troops amassed in Crimea and around Ukraine, nearly double Russia's force posture in early March. The recent Russian military buildup has sparked fears that the frozen conflict on Europe's eastern flank is heating up.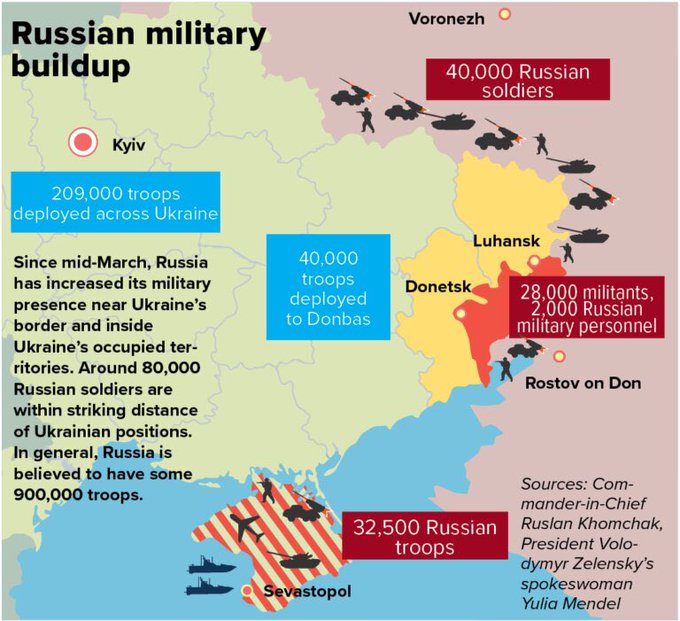 Source: Kyiv Post (17 April)
HOW DID WE GET HERE?
Both domestic issues in Russia and Ukraine as well as new strategic opportunities for Moscow are driving the current state of affairs.
Ukraine – Since the onset of 2021, there has been a radical change in Ukraine's policy towards Russia. Campaigning as an outsider who promised to root out corruption and bring peace to Eastern Ukraine, President Zelensky began his tenure signaling a rapprochement with Russia. However, when domestic realities began to set in – souring public opinion over his handling of the pandemic, anti-corruption policies, the economic turndown, and discontent from anti-Russia nationalists – and with Zelensky's political survival in the balance, his tone changed. To this end, Zelensky has:
Ordered sanctions on over 20 pro-Russian Ukrainian leaders, including oligarch and Putin ally, Viktor Medvedchuk, and over 80 Russian-linked businesses, including three media outlets.
Augmented the normal eastern troop rotation process in March to include heavy weapons as a show of force.
Russia – For Russia, Ukraine, home to a sizeable Russian-speaking minority, is the most integral part of Russia's "near abroad," a strategic buffer with the West. Ukraine's Western orientation, and more importantly, its potential accession into the North Atlantic Security Organization (NATO) alliance is a major redline for Russia. A NATO summit is planned for June 2021 where Moscow fears Ukraine may be granted a Membership Action Plan (MAP).
Not only is the prevention of Ukraine joining NATO a strategic imperative for Russia, but President Putin's legitimacy also rests on it. Over the last year, Putin's approval ratings have reached lows (59% April 2020) due to the pandemic, Russia's economic outlook, and the jailing of opposition leader Alexei Navalny. Nationwide protests erupted in late January – the largest Russia has experienced in almost a decade. With legislative elections called for September, Putin – like his Ukrainian counterpart – sees increasing tension as a method of rallying his constituents around the flag. Indeed, as the chart below demonstrates, Putin's approval rises during national security crises, noticeably seeing bumps in the lead-up to military campaigns in Georgia (2008) and Ukraine (2014).
PUTIN's APPROVAL RATING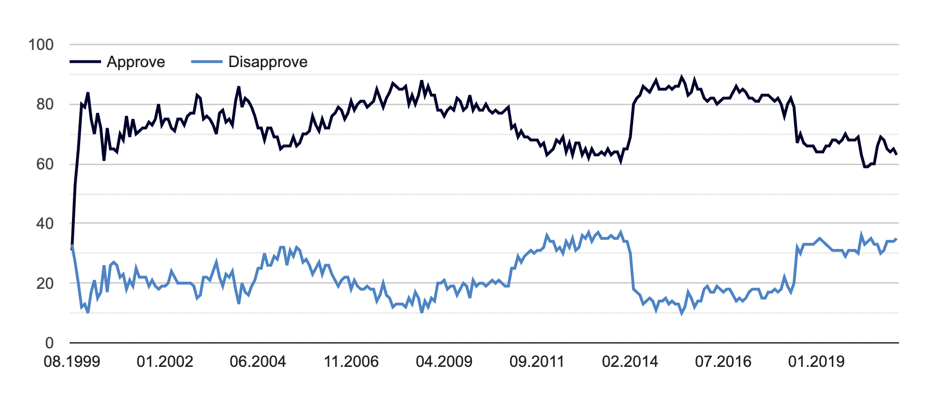 Source: Lavada Center
WHAT'S NEXT?
While the future remains uncertain, it is possible to look at the objectives of the of the key actors to glean insights as to what may happen next.
UKRAINIAN OBJECTIVES
Satiate nationalist constituency
Distract political opposition and drum up support
Garner international political, financial, and military support (weapons)
Obtain NATO MAP
RUSSIAN OBJECTIVES
Shape a political settlement in the Donbas to extract concessions from Kyiv

Cement the autonomy of the Donetsk People's Republic (DNR) and Luhansk People's Republic (LNR) through formal recognition
Resume water supplies from mainland Ukraine to Russian-occupied Crimea

Prevent Ukraine's accession to NATO or the EU by raising the costs
Bolster domestic support
Distract the West from moves to integrate Belarus politically and militarily
Prevent the obstruction or cancellation of the Nord Stream II gas pipeline to Germany
No side wants an actual outbreak of war but both sides have reasons to escalate to the brink. Putin has said that a major Ukrainian attack against Donetsk and Luhansk would provoke a massive Russian response. In effect, Ukrainian President Zelensky has stepped into a trap, wherein, Putin has called the bluff and raised the stakes.
The most likely scenario is a continuation of the status quo with high regional tension as the new normal. The current situation benefits both parties with relatively low costs. Meanwhile, Germany and France – the other key parties – would like to continue business as usual with Russia and Russia does not wish for Nord Stream II to be canceled. Some of the conditions of the 2015 Minsk II agreement, the process for ending the Donbas conflict, are politically untenable for Zelensky. But completely walking away from Minsk II may reignite the civil war.
It is also possible that Moscow goads Kyiv into an escalation in the Donbas, which would justify Russian military action similar to what happened with Georgia's breakaway territory of South Ossetia in 2008. Any small miscalculation on the ground could trigger a larger conflict with serious repercussions.
While possible, it is unlikely that the Kremlin would respond by invading Ukrainian territory outside the breakaway regions. A more likely scenario would be that a Ukrainian "provocation" – real or false-flag – gives Russia license to deploy Russian or Belarussian "peacekeepers" to protect ethnic Russians in the DNR and LNR. Similarly, Russia could instruct (and direct) its proxy forces to further escalate on the frontlines to reach the same ends.
Given the powerful domestic forces at play and the relative unpredictability of President Zelensky as a political outsider, the situation continues to be fluid and volatile. We are monitoring the situation for several key developments:
Navalny's Health – The declining health of the imprisoned Russian opposition leader remains a critical concern. His death and the potential unrest it may foment could change Putin's risk calculus.
Russia's Force Structure – At present, Russia's force structure surrounding Ukraine lacks the logistics capabilities required for sustaining a major and prolonged offensive.
Diplomatic Developments – Bilateral talks between Russia and Ukraine or formal discussions as part of the Normandy Format (France, Germany, Russia, and Ukraine) would mark positive signs. In contrast, Russia's formal recognition of the DNR and LNR could push Zelensky to either capitulate diplomatically or escalate militarily.
Standing by to Support
Comprehensive security and threat mitigation and management require intelligence: "you can't mitigate what you don't know". Global Guardian can provide incident alerts, security assessments, active shooter training, and more enhanced security services, including security agents, remote camera and access control monitoring, and rapid emergency response across the U.S. and around the world.