The Food and Drug Administration (FDA) issued an emergency approval for the antiviral drug remdesivir as a treatment for COVID-19. The drug, originally developed to treat ebola, was shown to help COVID-19 patients recover more quickly, but did not significantly reduce fatality rates. It will be used to treat severely ill patients.
New Jersey has reported more deaths than New York in the last several days. New York has more than twice the population of New Jersey. On 01 May, New York reported 289 deaths, the first time daily deaths were below 300 since 30 March.


J. Crew filed for bankruptcy on 04 May, becoming the first major retailer to do so due to the pandemic shutdown. Brick and mortar retailers, especially in malls, were already on the decline in many markets before the lock down hit.


Stay-at-home orders were extended in several states, including:



New Hampshire - 31 May

Washington - 31 May

Minnesota - 18 May



Anti-lockdown protests and rallies occurred over the weekend in several states, including Virginia, New York, Maine, Wisconsin, and North Carolina.


Restrictions were eased on 04 May in the following states:



Missouri

Kansas

Ohio

Nebraska

Indiana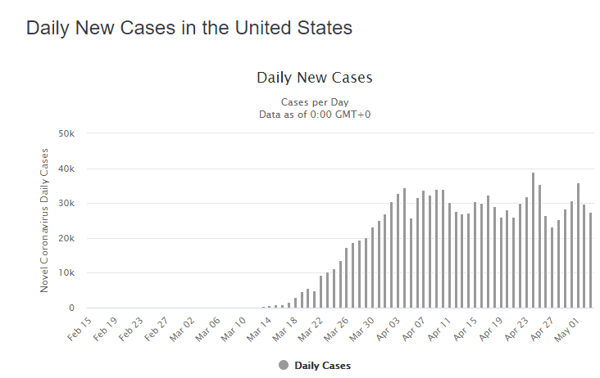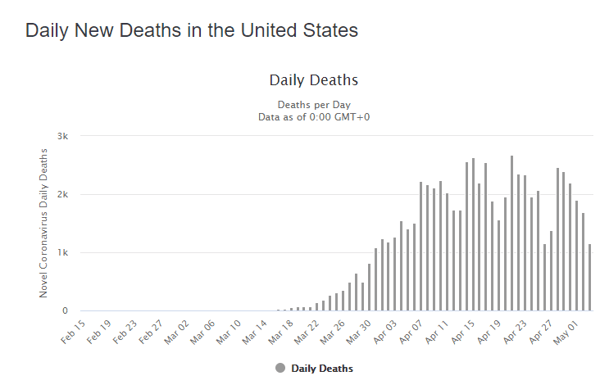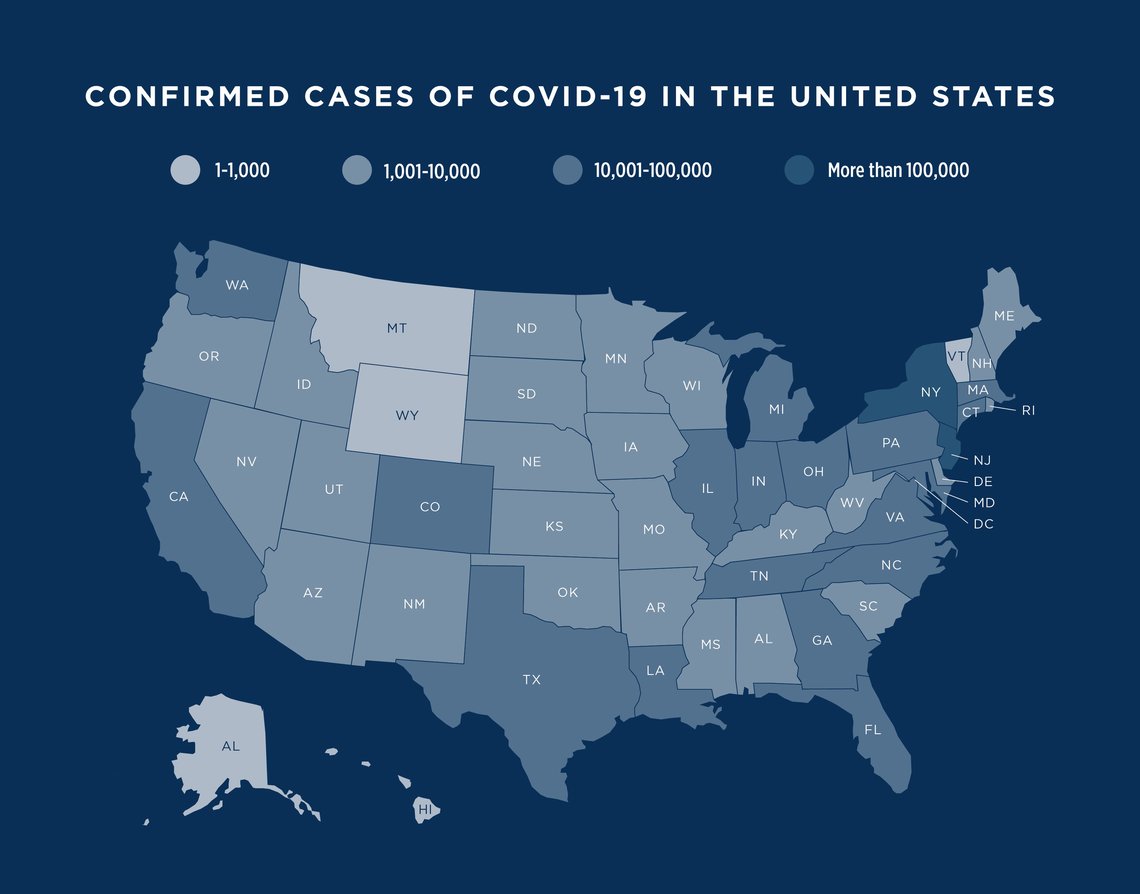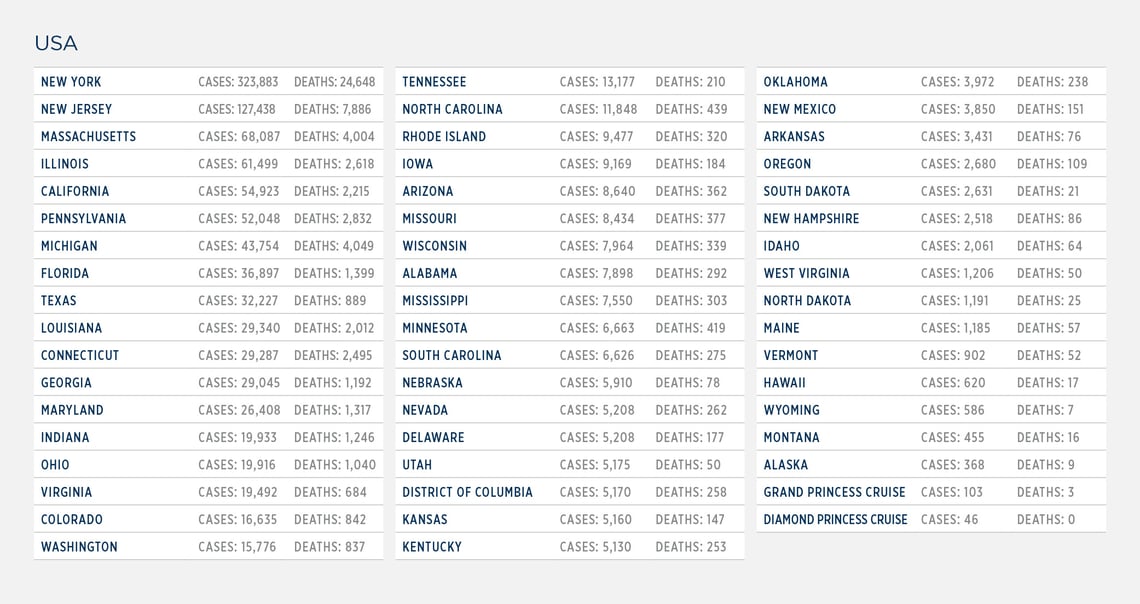 Latest global updates:
Italy

lifted many of its nationwide lockdown restrictions on 04 May, and millions of people returned to work. Residents are required to wear masks while in indoor public spaces.


Serbian authorities are expected to lift an ongoing nationwide state of emergency and curfew on 7 May, following a considerable decline in cases.


Russia has reported significant daily increases in new cases, with more than 7,000 recorded on 01 May and over 10,500 recorded in the last 24 hours. The country now has nearly 150,000 cases and 1,356 deaths.


New Zealand transitioned to "Alert Level 3" after Prime Minister Jacinda Ardern reported that there was "no widespread undetected community transmission". The island nation reported less than 10 daily new infections for several days at the end of April.


India extended it's airspace closure from 04 May to at least 17 May. All non-cargo flights remain suspended.


France's lockdown has been extended to 24 July, though some schools and shops are being gradually re-opened starting 11 May.


What we know:
Nearly 3,600,000 confirmed cases worldwide

250,000 deaths

1,165,000 recovered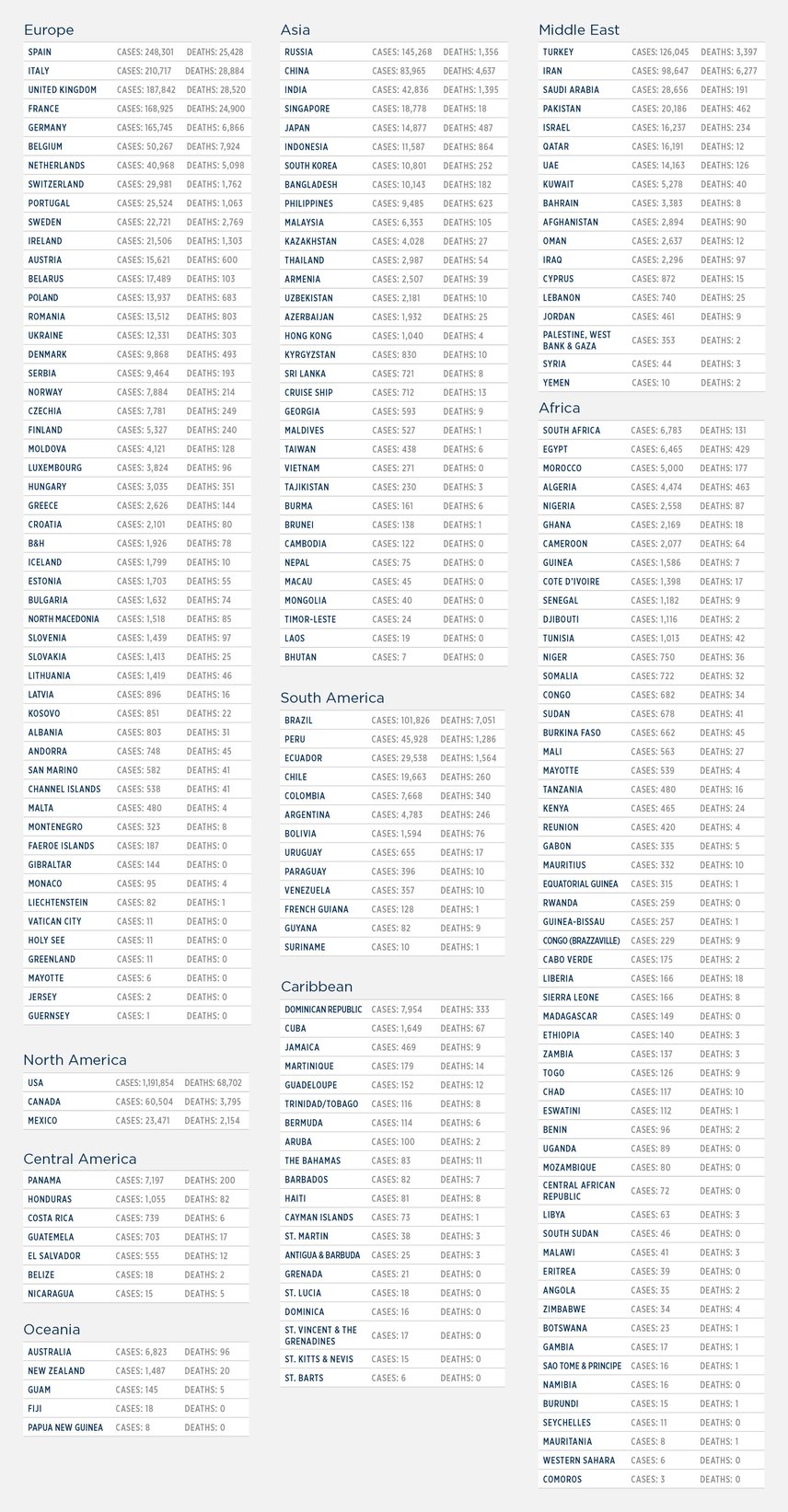 TRAVEL ADVICE
The U.S. State Dept. has issued Level 4: DO NOT TRAVEL guidance for the entire world amid the COVID-19 pandemic. In addition, Global Guardian recommends the following:

Return to the U.S. if currently abroad while commercial means are still available. Otherwise, prepare to remain abroad for an indefinite period.
Avoid all international travel.

Practice advanced careful hygiene measures, including frequent hand washing and sanitizing.

Practice "social distancing" while in public spaces.
OUTLOOK
The outlook remains optimistic as several European countries are starting to see a significant decline in new cases 20-30 days after instituting aggressive lockdown measures. Many are now starting to re-open limited parts of their economies and the success of those restarts will be key for how other nations handle lifting of restrictions. However, others, like Russia, are seeing daily increases in new cases and are several months behind on likely re-opening.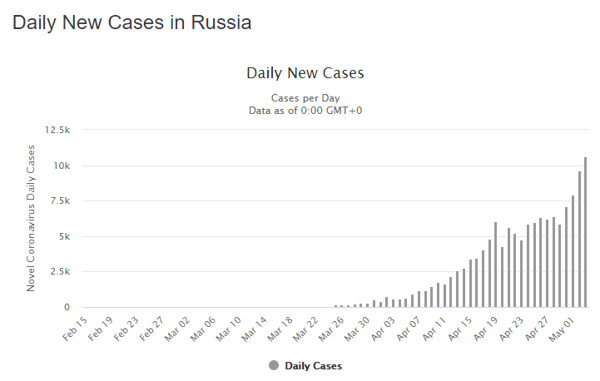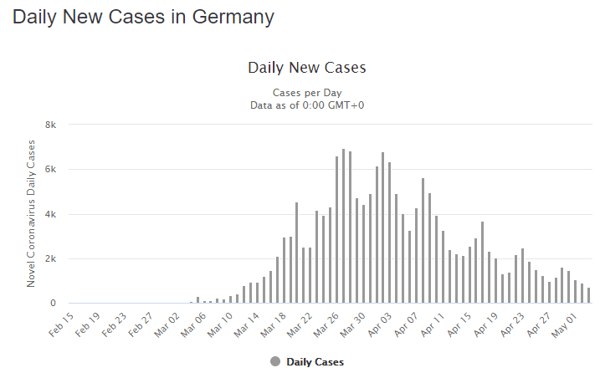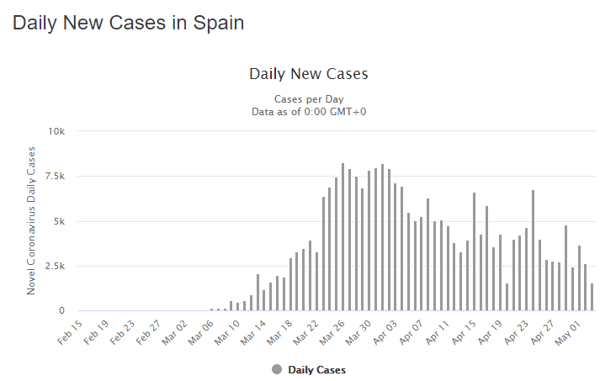 Support
It is our goal at Global Guardian to continue to support the health, safety, and security of our clients throughout the COVID-19 pandemic. From Medical Support, including Mobile Medical Units and supplies to Emergency Evacuations and Custom Intelligence Reports, please reach out to us at intelligence@globalguardian.com to learn more about how we can provide assistance during this time.