United States Latest Developments
The Biden administration hit its goal of 100 million shots in its first 100 days on 19 March, six weeks early. They have set a new goal, 200 million doses by the 100th day. The country appears to be on track to meet this goal as vaccine supply ramps up.

Nearly 2.8 million shots were administered on average in the last seven days. This compares with just over 2.5 million doses administered per day on average two weeks ago. So far, around 96 million people have received at least one vaccine dose.

At current pace, 50% of the population will have been at least partially vaccinated by early May, with herd immunity, estimated around 70%, reached in mid-June. These projections continue to improve as more vaccine supply reaches states.

Pfizer announced strong preliminary results for it's vaccine in 12-15 year old children, noting a 100% efficacy against COVID-19 in the clinical trial.
For the latest United States case counts, click here.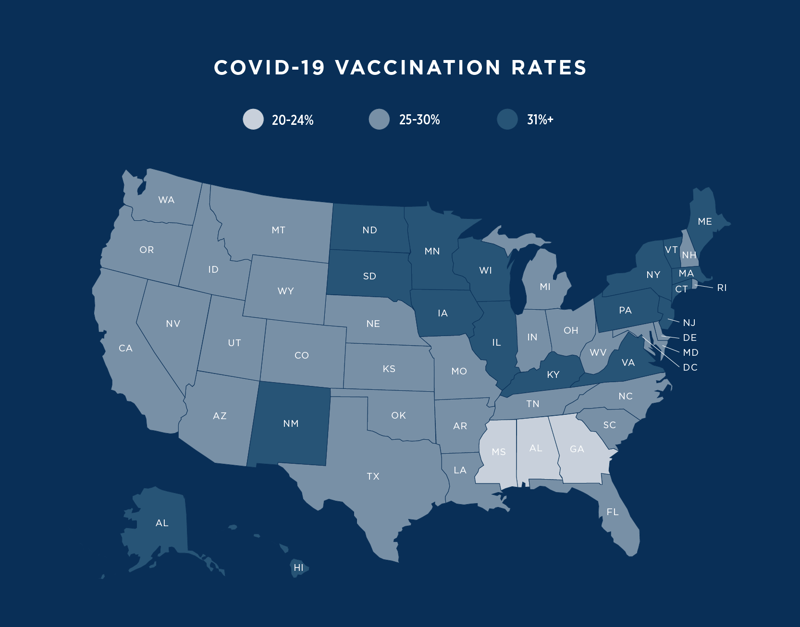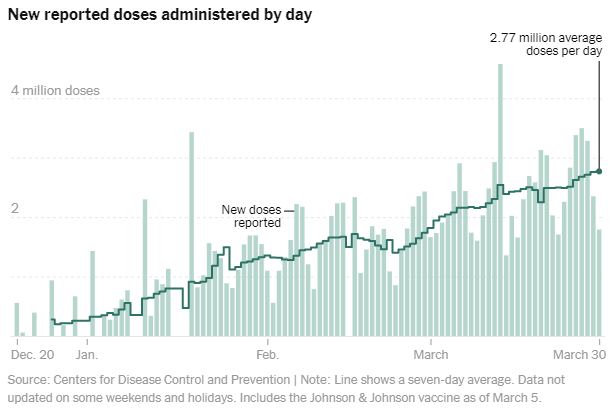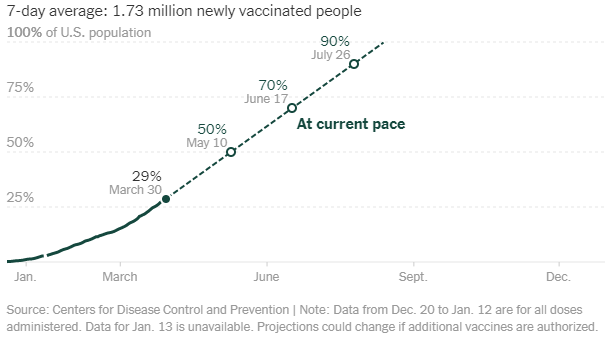 Latest global updates:
Vaccine distribution from the European Union could face delays and disruptions due to new export rules designed to keep more vaccine doses inside the EU.

India

has reported delays in production of the AstraZeneca vaccine amid material shortages. They have also limited exports due to rising cases in India. As such, COVAX shipments have been delayed to countries such as Indonesia, Morocco, Vietnam, and the Philippines.

Brazil

is facing the worst current outbreak, with over 75,000 daily new cases being reported on average and nearly 3,000 deaths per day on average. The P.1 variant is straining ICU capacity, with 15 of Brazil's 26 states facing greater than 90% ICU occupancy.



For the latest Global case counts, click here

.



RESOURCES
Working Safely During COVID-19
In this course you will learn...
How to reduce the exposure and spread of COVID-19 at work, at home, and in public.

What changes you might encounter in the workplace due to COVID-19, and how it might affect your day-to-day activities.

Proactive steps to equip yourself with the resources and knowledge to be better prepared for changes to your work.

About the COVID-19 vaccine and how it is an effective way to stop the spread of COVID-19.
---
Personal Preparedness and resilience during covid-19
In this course you will learn...
How to build resilience, and the ways resilience helps us bounce back from challenging and traumatic events.

The ways we can manage stress, proven ways to build healthy habits and how to support both your well-being and the well-being of those you care about.

How planning and preparedness can lessen the impact of stress, anxiety and uncertainty.

Actions to take, so you, your family, and your household can be better prepared to manage a crisis.
---