New cases and hospitalizations continue to rise across the country. The U.S. saw a record high 229,000 new cases on 04 December. Over the past week, there has been an average of 207,064 cases per day, an increase of 18 percent from the average two weeks earlier. Hospitalizations are up 22 percent across the country compared to the same period two weeks ago. At least 104,000 Americans are hospitalized with COVID-19.
The U.S. has now recorded over 286,000 deaths. Daily deaths are increasing and remain high, up 39 percent from two weeks ago. The seven-day rolling average for daily deaths stands at 2,260 per day, up from 1,500 two weeks ago. The Dakotas, Nebraska, and Kansas have the highest per-capita death rates over the last week.





While new cases are dropping in previously hard-hit areas of the Midwest, they are rising rapidly in major cities from Miami to Los Angeles, prompting some states to issue stay at home orders or mandate shutdowns of bars and restaurants. Most of Southern California, the San Joaquin Valley and the Bay Area are now under stay-at-home orders as ICU capacity falls below the 15% minimum laid out by Gov. Newsom.





Pfizer's vaccine received approval by the UK for emergency use, and the first patient, a 90-year-old woman, received the first dose of the vaccine on 08 December.




Pfizer's vaccine received approval for use by Canada on 09 December following an independent review.

For the latest United States case counts, click here.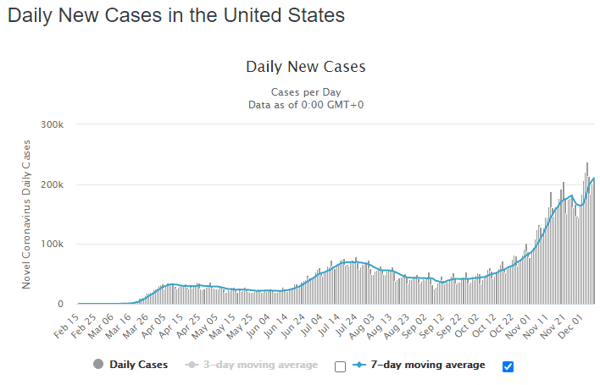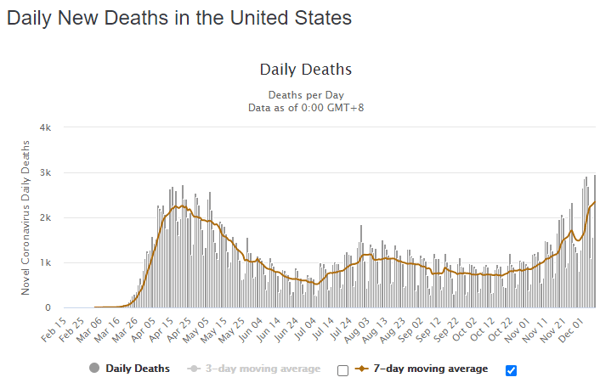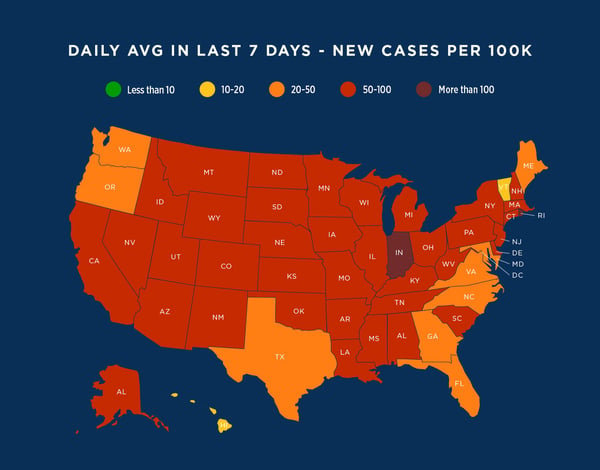 Latest global updates:
The United Arab Emirates approved a Chinese coronavirus vaccine on 09 December, citing preliminary data showing that it was 86 percent effective. It is the first full approval of a Chinese vaccine by any nation including China.

Greece has extended its nationwide lockdown to 07 January. Measures include a daily curfew, closure of non-essential businesses a ban on non-essential travel between regional units and a requirement for people to obtain permission to leave their houses.


Alitalia and Delta announced the opening of travel corridors from 8 December between New York JFK Airport in the United States and Rome Fiumicino Airport in Italy and 19 December between Atlanta and Rome. Passengers must present a negative COVID-19 PCR test administered no more than 48 hours prior to boarding. The travel corridors will remain in place through at least 15 February 2021.


KLM and Delta announced the opening of a travel corridor from 15 December between Amsterdam Airport Schiphol in the Netherlands and Atlanta Airport in the United States. Passengers must present a negative COVID-19 PCR test administered no more than five days prior to boarding and a rapid antigen test immediately prior to boarding their flight. The corridor will remain in place for at least three weeks.


Starting 05 December there are exemptions for High-Value Travelers to visit England. Individuals undertaking specific business activity which would deliver a significant benefit to the UK economy – including activity that creates or preserves 50+ UK jobs – will no longer need to self-isolate when travelling or returning from non-exempt countries. Individuals will only be exempt when undertaking the specific business activity and will only be able to meet with others as required by that specific activity.
For the latest Global case counts, click here.
RESOURCES

Business Travel Network (BTN) Group Presents: 30 Minutes with Global Guardian CEO Dale Buckner & HospitalityLawyer.com Founder Stephen Barth I Thursday, December 17, 2020 I 11:00 am to 12:00 pm ET
Join Global Guardian CEO, Dale Buckner, and HospitalityLawyer.com Founder Stephen Barth as they discuss the year ahead and the state of global affairs beyond COVID-19. The discussion will include an overview of current global affairs and risk factors, business travel projections for 2021, and new considerations for your Duty of Care program.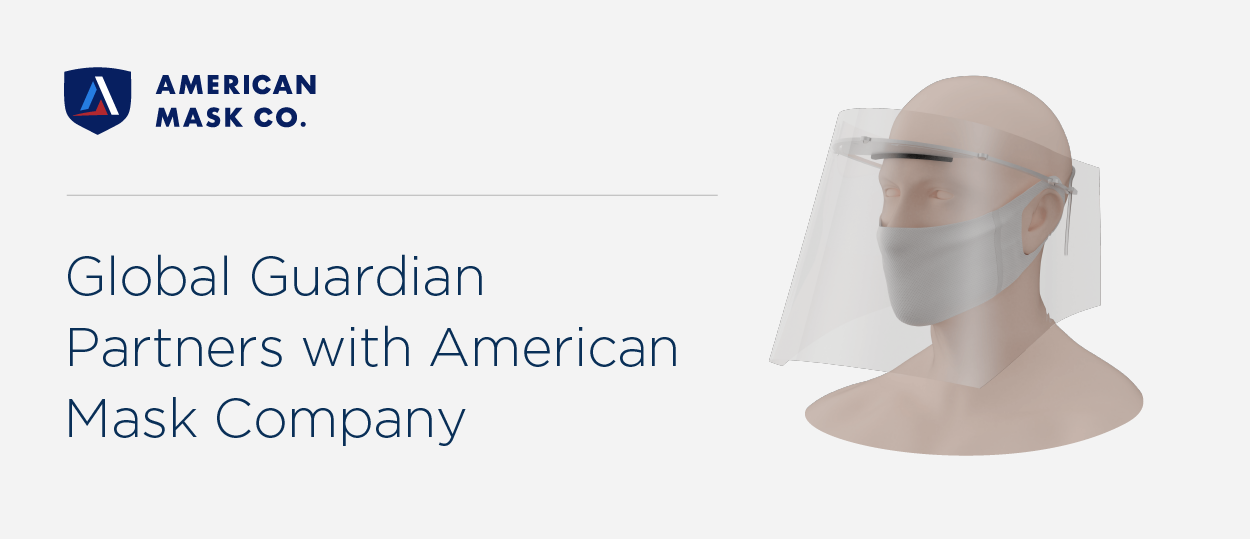 As COVID-19 cases continue to surge, high quality PPE remains an ongoing need. Global Guardian is pleased to partner with American Mask Company to support our client base and deliver high-quality PPE to businesses and organizations of all sizes and industries.
The American Mask Company was created to address the shortage and quality issues the U.S. has faced in securing protective face gear. Driven by the mission to deliver high-quality products that also support American jobs, all AMC products are proudly 100% made in the U.S. with American materials, by American workers.
All products meet government regulations, have been rigorously tested prior to distribution, and are 30% - 60% less expensive than the current market price. To learn more about the products, including the face shield, medical mask, and half mask respirator, click below.
Protecting Your Workplace and Employees: COVID-19 and Duty of Care Solutions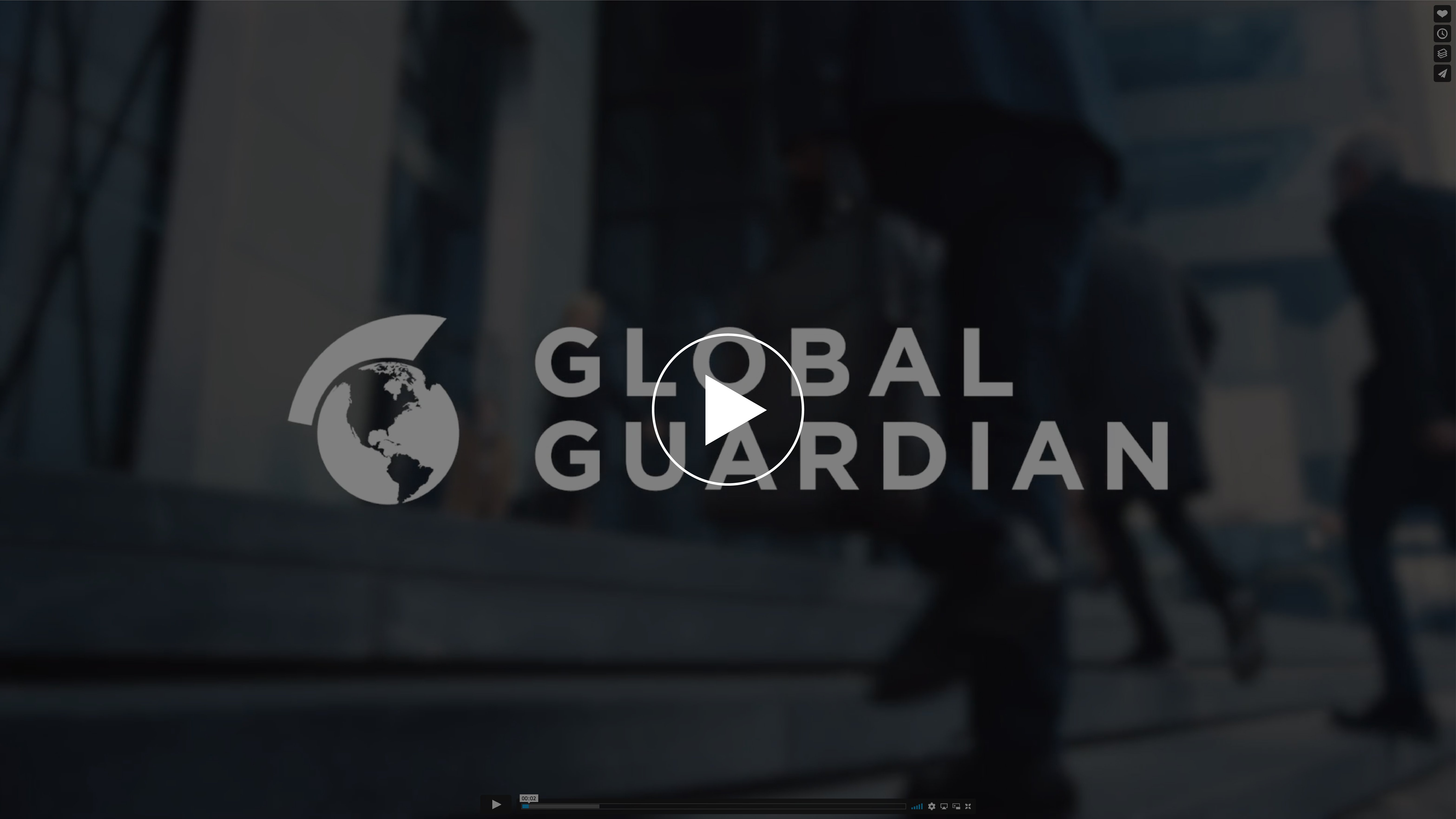 Ensuring the health and safety of employees is accounted for is crucial for employers as offices reopen amid COVID-19. Global Guardian is now providing Facility Duty of Care and Contact Tracing solutions to provide clients with turn-key technology needed to alert employees in real-time of potential infection and prevent further spread should a colleague test positive for COVID-19. Watch our quick introduction video to learn more.