Latest DEVELOPMENTS
The European Union removed the United States from its "Safe List", causing several European nations to alter their entry restrictions on American travelers. For example, Spain now requires unvaccinated Americans to provide proof of a negative test, while Switzerland removed the U.S. from its own list of approved traveler countries.
Pfizer expects to report data needed for vaccine approval in five to 11-year-olds later in September and could potentially submit an application for emergency use shortly after. It said data for kids aged two to under five could arrive soon after. For children between six months and two years, Pfizer has said it could have safety and immunogenicity data as early as October or November. It is likely all children in the U.S. 6mo and older will be able to receive Pfizer's vaccine by the start of 2022.
Hospitalizations in the U.S. appear to be flattening as the Delta variant wave looks to have peaked in much of the South. Hotspots are now in Kentucky, Tennessee, and West Virginia. Daily deaths now average nearly 2,000/day and will likely peak in the next 10-14 days.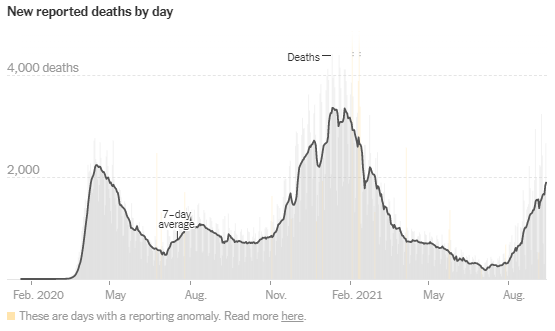 STANDING BY TO SUPPORT
The Global Guardian team is standing by to support your security and safety needs. To learn more about our corporate Duty of Care and Family Memberships, global tracking and intelligence platform (including COVID-19 updates and customized travel information), and medical evacuation capabilities, click below or call us at + 1 (703) 566-9463.