Global Guardian's Mike Coleman discusses why on-the-ground networks are critical to providing duty of care in a foreign country.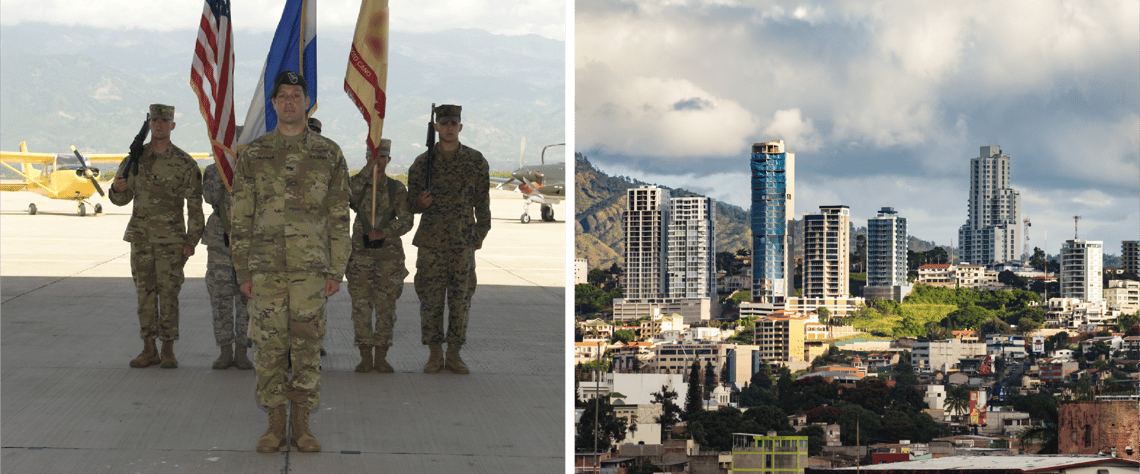 U.S. Army Col. Michael Coleman as garrison commander, Soto Cano Air Base outside Tegucigalpa, Honduras (U.S. Army photo by Martin Chahin*)
While serving with the U.S. Army in Honduras as Garrison Commander at Soto Cano Air Base, Mike Coleman regularly came across American tourists in a crisis. He recalls seeing many often stranded by the side of the road, unable to communicate in Spanish. "They would be so relieved to see an American and especially someone who could speak English," Coleman said. "In that moment if you don't have somebody whom you can trust and call then you are really on your own."
From 2018 to 2019, Coleman was unofficially the "mayor" of the base. He was responsible for everything from the condition of the roads to the recreational facilities. He liaised with the Honduran government as well as the U.S. Embassy in Tegucigalpa. In his new role at Global Guardian, Coleman serves as senior vice president of strategic partnerships, government and corporate solutions — a position that harnesses his vast experience.
Coleman's time in Honduras made him appreciate the facilities and services many take for granted in the United States. "In the United States, if you get into a car accident, an ambulance with trained paramedics comes and takes you to a hospital with proper facilities. It's not even a second thought. That doesn't happen in many countries," he said.
---
"You can't surge trust"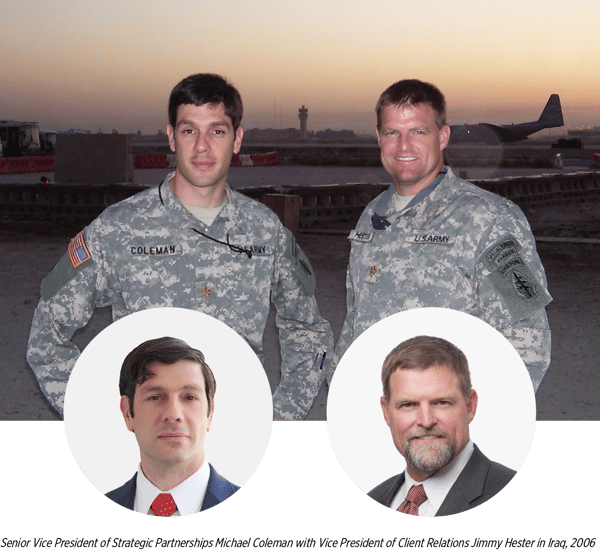 Global Guardian has networks in 130+ countries, unlike many of its competitors who fly or drive services in from the outside. Explaining the significance of a well-developed local network, Coleman cites the words of a former mentor: "You can't surge trust."
He explains: "You can't call someone and ask them a favor if you don't have an existing relationship with them."
"That's what sets Global Guardian apart," he said. "We do know someone in the country where a client is located whom we do trust, and we can call on to help in a crisis. We have a trusted person you can look in the eye and rely on while you are probably in the worst circumstance of your life."
A 26-year U.S. Army veteran and retired colonel, Coleman has served as a Special Forces officer participating in Special Operations in the Middle East and Central and South America. Special Operations forces are a small, tight-knit community—they see and work with the same people in other countries over and over again and forge bonds that often last a lifetime. "People want to go above and beyond for you when they know you. They don't want to let you down," Coleman said of this community.
Trust is one of the foundational pillars of Global Guardian's business model. As a consequence, "our clients can now enjoy the benefits of those same kinds of trusting relationships" as those in the military, said Coleman.
Coleman was attracted by the diversity of the expertise of the team at Global Guardian. "The FBI, the CIA, the Secret Service, you really have all that resident expertise at your fingertips," he said. "When you have a client who has a specialized need, I have someone on my left and my right whom I can immediately turn to for advice."
Coleman's own areas of expertise include risk assessment and planning. "The risk is always going to be there," he said, "but if you have a plan to deal with that risk it makes it much less threatening."
---
Duty to Care
While "duty of care" is often thrown about in corporate America, Coleman takes exception to the term.
"The way I see it, it is an employer's duty to care for their employees, especially when they are putting them in unusual situations. When you have an employee who is traveling, there is a necessary responsibility of the employer to provide some kind of care," said Coleman. "That change of one little word from 'of' to 'to' is very important when you are talking to an employee."
In the military, Coleman took duty of care for granted. He always had access to key services and technologies while traveling in a foreign country and his boss was able to track his whereabouts. The military had his back.
As corporations begin to pay attention to duty of care, they are increasingly turning to security service providers to ensure this care. "It is a capacity issue for so many employers who don't have the ability to have somebody on the phone 24/7 or somebody with the correct medical background to give sound advice if something were to happen," said Coleman, "especially when you are overseas in a country where you don't speak the language or understand the culture." This is a niche Global Guardian fills well, he added.
While corporate America has started to realize the importance of duty of care, some departments and agencies in the U.S. government are just coming around, said Coleman. "Where corporate America pivots very quickly after a major event, it takes a long time for the government," he said. He sees an incentive for the government to outsource such services. "The government customer gets a much better product if they outsource [duty of care], and it is more cost-effective for the government in the long run," he said. "And because it is such a large scale, it is a relatively small monetary commitment on behalf of the government, but it means a lot to the person who is getting coverage."
---

Bridging the Gap
At Global Guardian, one of Coleman's goals is to help the U.S. government realize the importance of its duty to care. He especially wants government travelers to enjoy the same duty of care and peace of mind that a corporate traveler and their manager does.
Coleman said Global Guardian can provide situational awareness to the U.S. government about the location of its employees in other countries.
"When a crisis hits, you need to know where your people are," he said. "That is something that a lot of government agencies cannot answer at a moment's notice."
Global Guardian can help government agencies provide duty of care to their employees, no matter where in the world they may be located. The duty of care package includes a Travel Tracking Platform, which has a management control center where managers can see where in the world their employees are traveling. This eyes-on capability is critical, and even lifesaving, in a crisis; managers are quickly able to locate their employees and extract them to safety. The government currently does not have this capability.
Global Guardian also provides pre-trip intelligence reports so that government employees know what to expect even before they board a plane to a foreign destination. These reports include real-time updates on local COVID-19 data and restrictions. Currently, government employees who are traveling overseas need to search for this data themselves.
"The risk of something happening to your employees is probably very small. It's when it does happen, do you have a system in place to deal with it?" said Coleman.
The bottom line, Coleman said, is that "people really are your most valuable asset. Government employees should have the same protection and availability of care that someone in corporate America does."
*The appearance of U.S. Department of Defense (DoD) visual information does not imply or constitute DoD endorsement.
---
STANDING BY TO SUPPORT
To learn more about Global Guardian's government solutions, click here or complete the form below to get in touch with a member of our team. We are standing by to support.