The level of crime in Mexico — particularly murders, kidnappings for ransom, and extortion — continues to rise. This trend is, in part, fueled by a dramatic increase in unemployment as a consequence of the COVID-19 pandemic.
On February 3, Global Guardian hosted a webinar in which experts examined the security, business, and public health landscape in Mexico. To watch the full recording, click below.
A Narco-State
"Narcoterrorism is an attempt to influence the government and society, which is exactly what drug cartels in Mexico are doing", said Mike McGarrity, Global Guardian's Vice President for Global Risk Services. A former Assistant Director for Counterterrorism at the FBI, McGarrity played a critical role mitigating the risk of terrorist attacks in the United States and against U.S. interests abroad.
The Mexican drug cartels have "figured out that by owning the [drug] distribution networks they were able to take control of the supply and demand for distribution" and this is "really dangerous… because they have so much influence," explained McGarrity.
As the cartels became successful, McGarrity said, they diversified their operations to include kidnapping for ransom, extortion, stealing oil from pipelines, and even white-collar crime.
Yet, even as these cartels have evolved they have also suffered some setbacks, most prominently the arrest of notorious drug lord Joaquín "El Chapo" Guzmán in 2016 and the fragmenting of the cartels themselves.
As a consequence of the fragmentation, said McGarrity, "lower-end networks will try to make a play and be more forceful" and areas that have been left alone in the past, including tourist spots and Western business interests, have become targets. This is because as the cartels devolve into more fragmented gangs they are looking for crimes of opportunity such as carjackings and extortion, he added.
The fragmentation of gangs has made it difficult for law enforcement to gather intelligence and identify the networks, said McGarrity. The situation is further complicated by rampant corruption in politics, the military, and law enforcement. In one prominent example of such corruption, Mexico's former defense minister, Gen. Salvador Cienfuegos Zepeda, was arrested in the United States on drug and money laundering charges in October. The United States later released Cienfuegos back to Mexico, where authorities dropped the charges.
Dale Buckner, Chief Executive Officer of Global Guardian, said the demand for illicit drugs in the United States is fueling the drug trade from Mexico. "We are supplying billions of dollars into this global industry… we own some of that responsibility," he said. "Ultimately, if there is going to continue to be this much money in the system poured into Mexico, Mexico is a narco-state forever… Just recognize that we are operating in a narco-state to a certain degree and it is not going away."
The Mexican government reorganized law enforcement and the federal response to the drug cartels in 2019. However, the impact of this reorganization has yet to be seen. McGarrity said for the reorganization to succeed it should seek to create a positive culture and ensure officers have the necessary expertise and training. He further stated that these new enforcement agencies need to have a comprehensive strategy.
---
Kidnappings and Homicides on the Rise
At the FBI, McGarrity helped stand up and then led the U.S. government's Hostage Recovery Fusion Cell, which has a mission of safely recovering U.S. nationals held hostage or kidnapped abroad. As Director of the Cell, he was involved in the safe recovery of close to 200 hostage and kidnapping incidents. The highest number of U.S. nationals are kidnapped in Mexico, according to McGarrity. "Most of them are dual [citizens] and Green Card holders," he said.
But most kidnappings go unreported and very few perpetrators are prosecuted. Buckner said one of the reasons for this is that most companies "don't want the reputational risk" that comes with acknowledging a kidnapping. He estimates that between 250 and 400 Americans are kidnapped in Mexico every year.
McGarrity described kidnap for ransom as a "business model" of the cartels. "At the end of the day… this is a business," agreed Buckner. "They don't want to kill your employee, they don't want to hold your employee. They want to leverage them and they want to get paid, in most cases."
The ransom sought in a typical kidnapping of a U.S. citizen ranges from $30,000 to $100,000, according to McGarrity. If the demand is excessive, McGarrity said he would be alarmed because "they want you to pay. They don't want to hold the victim for more than 48 to 72 hours."
Meanwhile, Mexico's homicide rate has increased 50 percent between 2015 to 2020, according to McGarrity. However, Buckner noted murder rates have also gone up considerably in U.S. cities, including Baltimore and Seattle. "Yes, there are some very dangerous parts of Mexico that are direct threats to Western citizens and Corporate America, no question about it," said Buckner. "At the same time, we, right here at home, have seen the largest murder increase in our history just in this last year."
---
Impact of COVID-19
According to the Johns Hopkins University of Medicine's Coronavirus Resource Center, Mexico had 1.8 million cases of COVID-19 and 159,000 deaths related to the virus as of early February — the third-highest number of deaths in the world after the United States and Brazil. Mexico has struggled with its response to COVID-19. Mike Ballard, Director of Intelligence at Global Guardian, said cases of infections and deaths are underreported and undercounted, and testing capabilities limited.
The high rate of unemployment as a consequence of the pandemic is pushing many Mexicans into the hands of the cartels. As people lose their jobs it is likely they will get recruited by a gang.
"It is almost as if when you lay them off they are now in talks with someone who can extort, who can commit violence. That is a risk for a lot of companies operating in Mexico," said McGarrity.
Buckner echoed McGarrity's point that the heavy economic toll of the pandemic means that a lot of unemployed people will "become dangerous because they are desperate." This means incidents of crime will be "exponentially higher" when compared with before the pandemic, he said.
---
Violence Engulfs Avocado Trade
Mexico is the world's largest producer of avocados, most of which are grown in the state of Michoacán. The cartels have been vying to dominate this lucrative trade. This has resulted in incidents of intimidation, extortion, and even murder.
Lime growers, too, are targeted by the cartels. Ballard recalled that almost a decade ago, lime growers in Michoacán rose up against the cartels, arming themselves and forming self-defense groups. Today, the region is wracked by violence among a variety of armed groups.
"Part of the reason for avocado prices increasing in the U.S. lately is not just demand — it's not just avocado toast — it's because of the threat that growers are under, the kidnapping, the extortion," said Ballard. "There is a good chance that if you've had guacamole or a margarita in the last 10 years you have probably contributed on some level to the cartel violence down there," he added.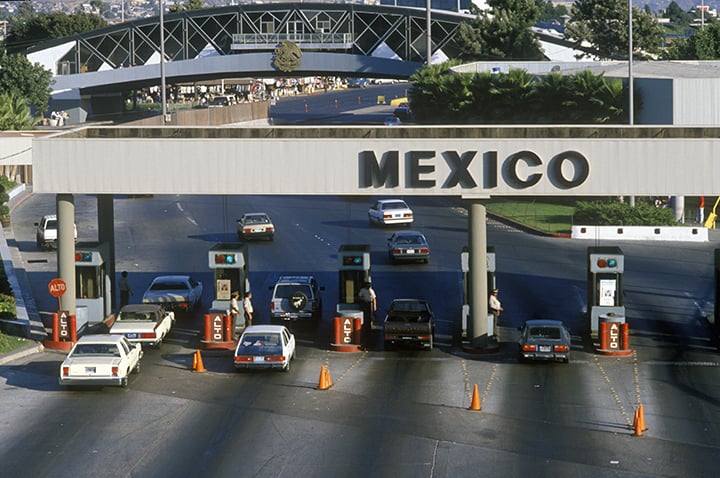 Supply Chain Vulnerabilities
Tony Strickland, Chief Security Officer at CSL Limited, said that in a typical supply chain it is the transportation piece — when the cargo is in the hands of one person, the trucker — that is the most vulnerable. Mexico's Nuevo León state is a major border crossing into Laredo, Texas.
"There's around 12,000 to 13,000 trucks that pass over that border… every day," said Strickland. "That's a lot of opportunity for hijackings, theft, the introduction of cargo, contraband, and human smuggling."
Strickland recalled how at a previous job he dealt with incidents in which criminals would cut open and unload the contents of shipping containers as they were traveling from ports on flat-bed rail cars in Mexico. "When the container arrived at destination, sometimes it was often found to be empty," he said. "The supply chain threats in Mexico are vast and real, and sadly there are no signs of those threats slowing down," he added.
---
How to Prepare for Travel to Mexico
Despite the rampant risks, Buckner said: "Corporate America will continue to do business in Mexico because it is a good business opportunity. There is no getting around that."
The panelists said that as people look to start traveling for work or leisure to Mexico they should take steps to protect themselves. These include:

Institute a two-man rule. Buckner said people, particularly female executives, should not be traveling solo to Mexico. He recommends companies have a "two-man rule" for such travel.

Rethink policies on transportation and accommodation. Noting the rampant corruption in Mexico's transportation sector, Buckner said taxi drivers often serve as scouts on the lookout for vulnerable people. "That is a business, frankly, within certain parts of the country," he said. He advises companies rethink policies on using taxis as well as ride-sharing services like Uber and Lyft, and housing services like Airbnb.

Plan transportation ahead of time. Both Ballard and Buckner cautioned against walking off a plane and hailing a taxi at the airport. Instead, Ballard said, transportation should be arranged ahead of time either through a company like Global Guardian or through the resort or hotel

Be properly indemnified. In order to prepare for the likelihood of a kidnap and ransom incident, Buckner said: "You want to be properly indemnified and insulated financially from this event and you want professionals to get you through that event… that mindset is really important."

Do not stray from resorts. Ballard said people traveling to tourist destinations like Cancun should not be tempted to leave the safety of their resorts. "The issue is folks want to go and try and explore the city and that's where they get into trouble," he said. Noting that Acapulco in the state of Guerrero on Mexico's Pacific coast used to be a major vacation spot, Ballard said: "We haven't recommended that anyone travel there in 10 or 12 years."

Protect your jet. Buckner warned of the risk of parking a private jet at an airport in Mexico without appropriate security measures. He said information about jet tail numbers is often used to track the jet's owners and target its passengers. "Don't assume that people can't figure out who you are," he cautioned.

Duty of care obligations. Strickland emphasized the importance of employees being trained on response plans, situational awareness, travel security protocols, and maintaining communications and a high level of readiness. Buckner said: "You have got to go beyond your standard duty of care and you have got to have real policy." He suggested firms run a tabletop exercise to make clear what the response will be to a crisis — before it strikes.

Conduct due diligence. Strickland said companies looking to do business in Mexico need to thoroughly vet their local partner and secure their premises. He also emphasized the importance of businesses being aware of anti-corruption and anti-bribery legislations.
---
'It is Not Quite That Simple in Mexico'
"Ultimately," said Buckner, "as you look at doing business or travel to Mexico, acknowledge what it is for what it is and take appropriate steps, and be prepared to be hacked, to be kidnapped, to be assaulted, to be injured, to be caught up in a hurricane, to be caught up in an earthquake. Whatever that direct threat might be, have an actual answer to those problems when they occur. Don't just say 'I have insurance, therefore, I am good to go'… It's not quite that simple in Mexico."
"If you ask yourself 'What do I do if I am injured, sick, kidnapped, assaulted, find myself in a natural disaster' [and] if you can't answer that question in 10 seconds or less… our advice is this: 'Don't get on the airplane,'" he said.
---
STANDING BY TO SUPPORT
The Global Guardian is standing by to support your security requirements. To learn more about membership options, including our Duty of Care membership, and customized security services, click below or call us at + 1 (703) 566-9463.